Estimated read time: 3-4 minutes
This archived news story is available only for your personal, non-commercial use. Information in the story may be outdated or superseded by additional information. Reading or replaying the story in its archived form does not constitute a republication of the story.
HOLLYWOOD, Calif. — The three-man race to become Utah's next starting quarterback will be a great competition to watch during fall camp.
But there were a couple of players at Friday's Pac-12 Media Days who know one of the candidates well.
Former Washington signal caller Troy Williams spent at year in junior college after leaving the Huskies, who he represented for two games. Now he's trying to make his case to start at Utah.
Former teammates called Williams "a true competitor" on and off the field.
"If you want to compete with him in shooting marbles, he's going to do it, and that's the type of guy you want," the Huskies' Kevin King said.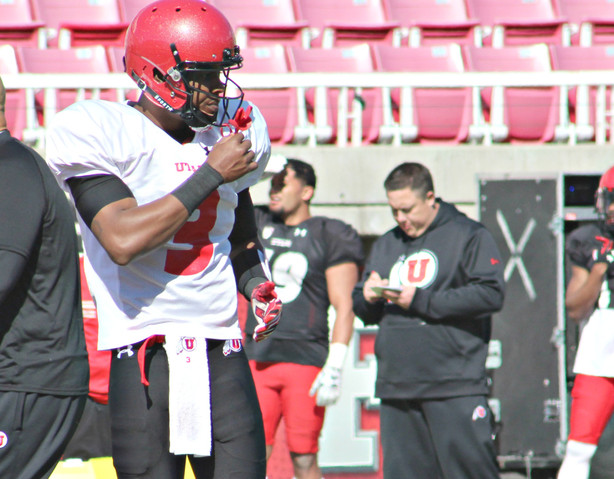 The pro-style quarterback from Carson, California, went 1-3 as a starter with the Huskies in 2013, with a career-best 139 passing yards against Arizona State as a Huskie. He missed most of the Utes' spring practice session with an injury to his throwing arm.
"He's got very good accuracy and he can take off if he feels threatened in the backfield," Washington tight end Darrell Daniels said. "He's gonna be a great athlete for you guys."
Now he can't wait to go out against his former teammates, who the Utes will face Oct. 29 at Rice-Eccles Stadium.
"We talk to him a lot about that game," King said. "It's coming up and it's in October and he knows the date. We all want Troy to get that spot so we can play against him. It's gonna be a game, for sure."
Williams and the quarterback competition is the big question mark for the Utes ahead of fall camp. But the defensive line is the group getting a lot of hype, both locally and nationally.
Utah's trench warfare is a major reason the Utes have earned so much respect in their fifth season in the Pac 12.
Oregon St. HC Gary Andersen's take on Utah's defensive line. @CoachPowell99 will enjoy it. pic.twitter.com/etCfrrH3zA — Jeremiah Jensen (@JJSportsBeat) July 15, 2016
"Lewis Powell does a great job with those kids, and they are a talented crew," said Oregon State coach Gary Andersen, a former Utah assistant. "The way they played week in and week out was fun to watch. They leverage dudes, they're physical, they've got guys who come off the edge in pass rush.
"They're just as prideful as hitting that move and a rip or a swim, and knock the tackle right back into the quarterback. The physicality is very obvious. The one thing you get the most respect is talking to other coaches in the league. They tell me 'Utah's D-line is real good,' and I tell them it has been since the '90s. It's going to be really good now and in the future."
×
Photos
Related Stories