Estimated read time: 8-9 minutes
This archived news story is available only for your personal, non-commercial use. Information in the story may be outdated or superseded by additional information. Reading or replaying the story in its archived form does not constitute a republication of the story.
THE RURAL WEST — If you live in an urban area — as more than 90 percent of all Utah residents do — you may have never seen the Milky Way. That is, you may never have really seen it in all its glory — bright, vivid, with thousands of stars stretching across the sky almost from horizon to horizon.
Most city dwellers never see that because there's too much light pollution.
But rural Utah and adjacent areas in the West are exceptionally blessed with dark skies, particularly in the national parks, and a lot of people hope to keep it that way.
"Most people aren't aware of what a value we have in the national parks in these dark locations," said Dr. Charlie Bova of Park City during a middle-of-the-night photo workshop at Bryce Canyon National Park.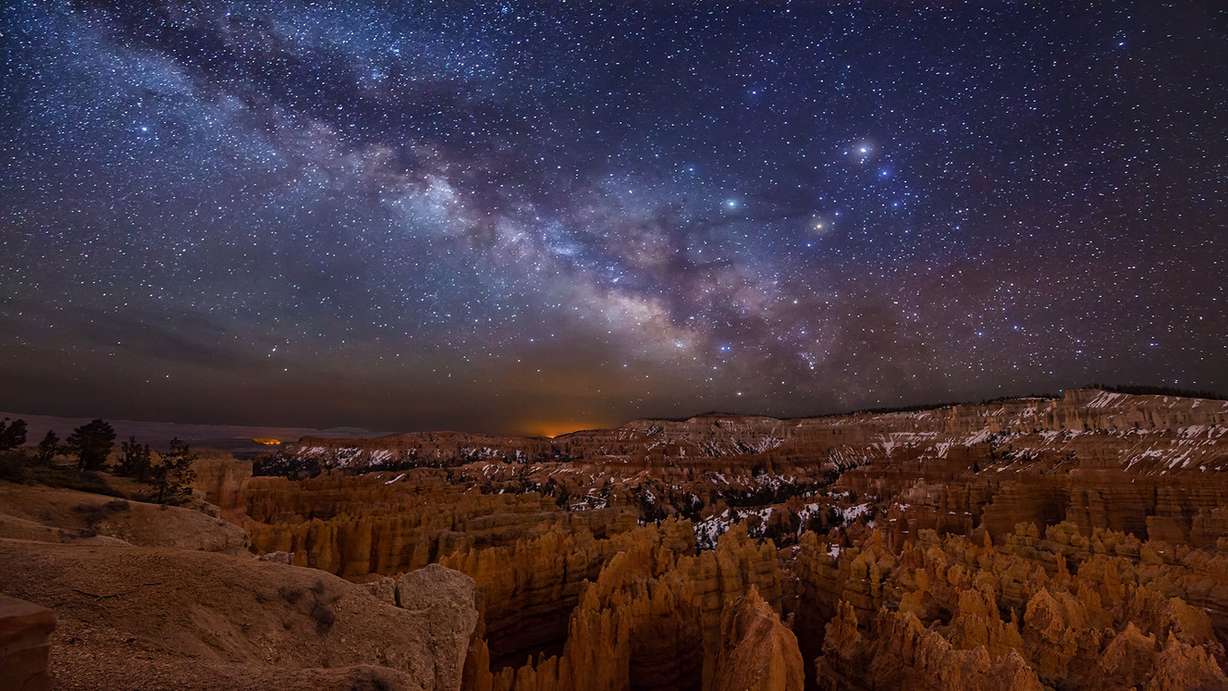 Bryce Canyon
Most people enjoy the national parks in the daytime when the spectacular scenic features are as plainly visible as the nose on someone's face. But the National Park Service encourages visitors to try it at, say, 3 a.m., when you often can't see your hands in front of your face.
"Half the park is after dark," said Lisa Eckert, superintendent at Bryce Canyon, quoting a marketing slogan adopted by the National Park Service. "Coming out at night and looking at night skies is an amazing way to connect with the Earth and with the planet and with nature."
"Right there in front of us, that's Sagittarius," said photographer Royce Bair as he launched a photo workshop — in the dark — at the invisible rim of Bryce Canyon. "If you will sit here with all the lights off for 30 minutes, you will be able to see the Milky Way. And it's glorious."
Bair's photo speciality comes to life after dark. He shoots images of the night sky, mixing his nightscapes with stunning Utah landscapes. His images have appeared in major magazines such as National Geographic. His nighttime photo of Delicate Arch was on the cover of a recent issue of Discover magazine.
Such images are impossible without very dark skies, and Bryce Canyon has the dark sky trifecta: high elevation, dry air and very little light pollution — the enemy of those who value the night sky.
"You go back East," Bair said, "you go 25 or 50 miles away from a big city, you're in another big city. They just can't get away from it."
Bair brought some of his former students together in the middle of the night to demonstrate his workshop techniques. He typically leaves the camera shutter open for long exposures, about 30 seconds, to make the Milky Way more vivid than it actually appears to the naked eye.
"All we're doing is enhancing that," Bair said, "making it a little bit brighter." He sets up portable lights to highlight nearby scenery, creating double exposures that combine scenery with sparkling nighttime skies.
"The images are amazing," said workshop student Teresa Meachum, "but it's also amazing what you can just see."
"Living in a city you never see anything like this," said fellow student Michael Braunstein of Las Vegas.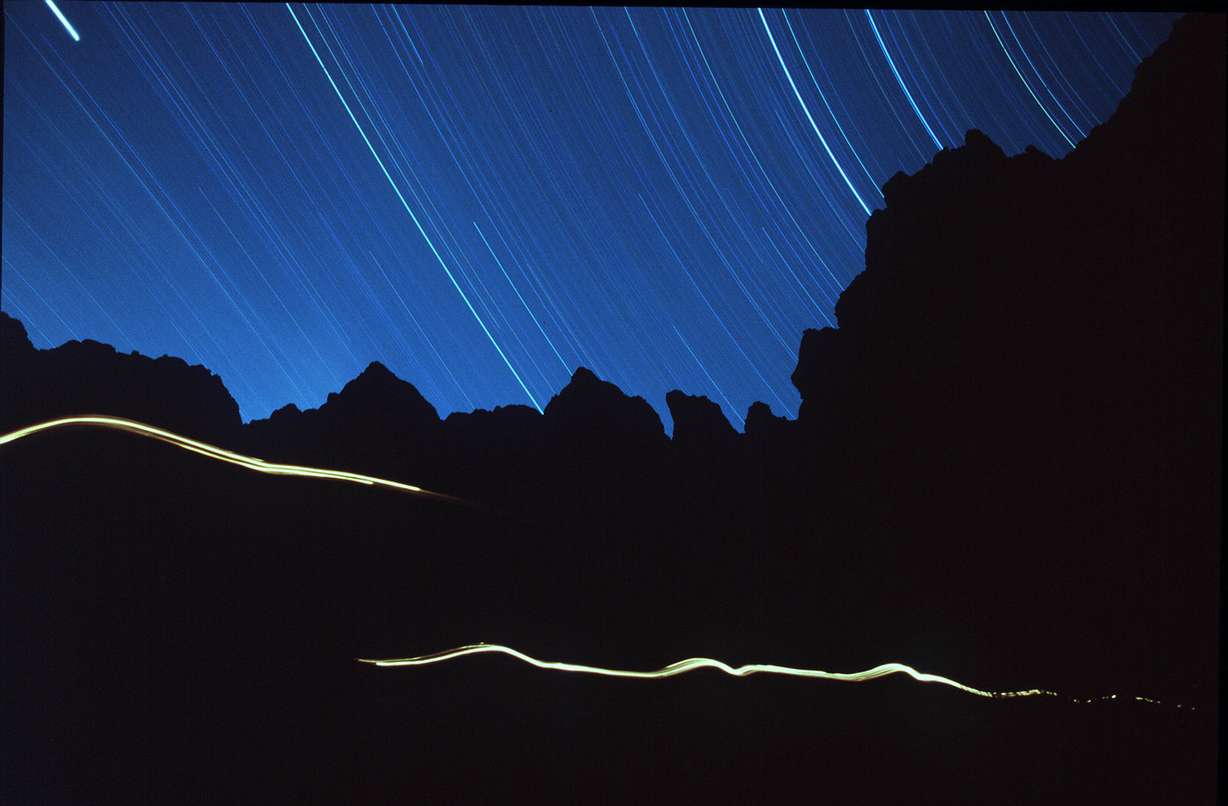 Great Basin
A couple hundred miles away, just over the Nevada border, a crew at Great Basin National Park has been preparing a small plot of ground for something new: an astronomical observatory.
"This is one of the darkest sites on the continent," said Cameron Pace, assistant professor of physics at Southern Utah University in Cedar City.
SUU is one of several educational institutions that are teaming up to operate the first astronomical observatory ever built in a national park.
While standing on the construction site, Pace said: "So here, where you have absolutely dark skies untouched by light pollution, it's just a phenomenal thing."
"It's a 28-inch telescope, mid-size telescope," said Steve Mietz, the park superintendent. "It will allow world-class research to be done right here at Great Basin National Park."
Universities, high schools, even middle schools will be able to operate the scope remotely, managing its controls through the internet and viewing its images from hundreds of miles away. A private entity, the Great Basin National Park Foundation, raised $820,000 for the project.
"You know, the scientists are going to do their thing," said foundation board member Dave Tilford. "But if we can get one child interested in astronomy and send him off or her off to college someday to become an astrophysicist, then we'll have accomplished what we want to do."
Long term, though, there's a threat from population growth and the urbanization of the West.
"Dark skies are becoming increasingly rare," Pace said.
Bair's photo techniques often employ carefully controlled lighting. But uncontrolled lighting sometimes invades Bair's images, even at a place as pristine as Bryce Canyon.
Pointing to an image in his camera's viewfinder, Bair said, "There's a town right there that's giving kind of an orange glow on the horizon." The glow is from the tiny town of Cannonville.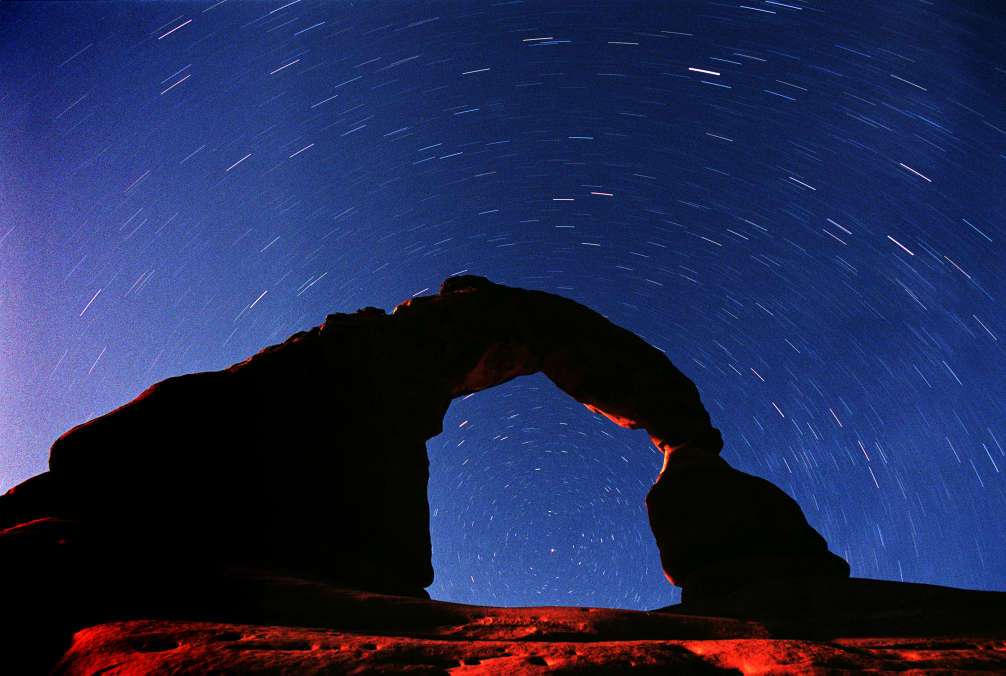 Dark sky city
Far to the south, in Flagstaff, Arizona, city officials long ago decided to do something about light pollution.
The world-famous Lowell Observatory is on a hill above downtown. It's a historic institution where scientists discovered Pluto and observed the first evidence of the expanding universe.
Decades ago, light pollution in the Flagstaff area forced the observatory to open remote facilities miles away. That prompted the city a half-century ago to ban outdoor searchlights; violators were subject to 90-day prison sentences. Over the years, the city adopted more and more restrictive measures until, in 2001, Flagstaff became the world's first certified "International Dark Sky City."
The city's zoning code now requires strict limits on the intensity of outdoor lighting and sets firm requirements for shielding of lights.
"The purpose of our code is to make sure that you have light where you're walking, where you're driving, where you're eating, rather than up in the sky," said Roger Eastman, Flagstaff's planning and code administrator. "And the idea is, with good lighting design, putting light where it's needed, you can satisfy the need for safety and security, and illuminating the building and landscaping and so on."
The result? When Flagstaff gets dark, it really is dark.
Walking their dog in a Flagstaff neighborhood, Linda McCusker and Will Hayes are barely visible in the inky darkness.
"I love it," McCusker said. "We can see the Milky Way from our street, and that's really nice."
Hayes agreed. "It's great to be able to see objects in the sky that you wouldn't be able to see in other cities, for sure," he said.
Walking across a shopping center parking lot in Flagstaff, retired astronomer Christian Luginbuhl noted that it has one-fifth to one-tenth the light that such places typically have in other cities.
"Perfectly adequate for visibility and safety," Luginbuhl said. "I think we can see each other well. We can certainly find our cars."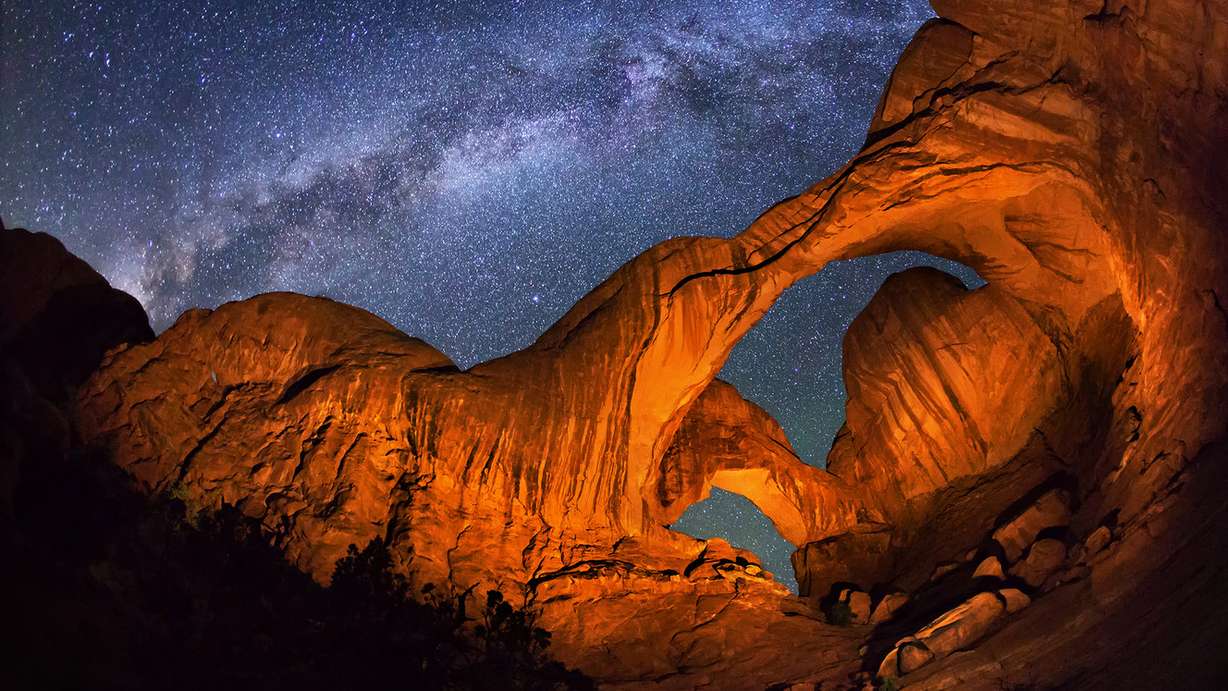 The codes are based on the lumen, a unit of measurement for light output. "So our standards limit how many lumens you can use per acre of your development project," Luginbuhl said.
He stresses that the dark sky philosophy benefits everyone, not just scientists.
"Thinking of protecting the sky just for astronomers would be like thinking of protecting Grand Canyon for geologists, or Bryce Canyon for geologists."
Luginbuhl admits there was significant opposition decades ago from residents who worried about safety and crime. "Since that time, we've heard almost no complaints," he said.
At least one Flagstaff resident continues to worry about safety, though. Strolling on a commercial street that is exceptionally dark by most cities' standards, Kathy Jones said, "I like it. There's a certain peacefulness to it. But it's hard for me to see at night. It's hard for me to drive. Sometimes it's hard to see a lot of people are walking."
Such concerns are quite rare, according to city officials who say most residents willingly and voluntarily comply.
"Most often, folks in Flagstaff especially value their night skies," said Tom Boughner, the city's code compliance manager. "There's nothing more special than coming out and being easily able to pick out the Milky Way above. That's all easy to explain to folks and how easy it can be to comply with that."
Luginbuhl argues that most people are isolated from the natural world and darker skies are one way to overcome that.
"If a child grows up under a sky glowing with artificial light and never sees the Milky Way, never sees a sky full of thousands of stars, I think that child is going to grow up a poorer person," he said.
"We all come from the stars," said Pace, noting that a connection to the nighttime sky is a meaningful way to experience nature. "We're largely made of carbon. And that carbon came from stars, many stars, that died billions of years ago. So, despite the stars being far away, we're all made of star-stuff in the end."
An opportunity for a dark skies experience is coming up soon. The 16th annual Bryce Canyon Astronomy Festival will be held June 1-4.
×
Photos
Related stories
Most recent Utah stories