Estimated read time: 4-5 minutes
This archived news story is available only for your personal, non-commercial use. Information in the story may be outdated or superseded by additional information. Reading or replaying the story in its archived form does not constitute a republication of the story.
The Relief Society general president of The Church of Jesus Christ of Latter-day Saints asked LDS women across the globe on Saturday evening to help refugees.
"It is our hope that you will prayerfully determine what you can do according to your own time and circumstances — to serve the refugees living in your neighborhoods and communities," said Sister Linda K. Burton during the General Women's Session of the church's 186th Annual General Conference. "This is an opportunity to serve one-on-one, in families and by organizations to offer friendship, mentoring and other Christlike service and is one of many ways sisters can serve."
Sister Burton's message to reach out to refugees and to serve the Lord's children was echoed by other speakers and short video clips presented during the women's session.
A unique choir at the session represented the languages and cultures of more than 50 countries. The choir, which included many members who are refugees, "symbolizes the worldwide unity we feel as daughters of God in the Gospel of Jesus Christ," said Sister Rosemary M. Wixom, Primary general president, who conducted the meeting.
Thousands filled the Conference Center in downtown Salt Lake City for the meeting, which was translated and sent to millions around the world.
In addition to Sister Burton, President Henry B. Eyring, first counselor in the First Presidency; Sister Cheryl A. Esplin of the Primary general presidency; and Sister Neill F. Marriott of the Young Women general presidency also spoke. President Thomas S. Monson presided at the broadcast, which was also attended by President Dieter F. Uchtdorf, second counselor in the First Presidency; other church leaders; and members of the Relief Society, Young Women and Primary general presidencies and boards.
During her remarks, Sister Burton said the invitation to help refugees was extended by the Relief Society, Young Women and Primary general presidencies of the church and follows a First Presidency letter sent to members on Oct. 27, 2015. The letter expressed "great concern and compassion" for the millions of people "who have fled their homes seeking relief from civil conflict and other hardships." In the letter, the First Presidency invited individuals, families, and church units to participate in Christlike service in local refugee relief projects, and to contribute to the church humanitarian fund, where practical.
Acknowledging that Latter-day Saint women come from all walks of life and live in varied circumstances, Sister Burton promised the Lord's help to those who "ask for divine guidance to bless his children."
"As we consider the pressing calls of those who need our help, let's ask ourselves, 'What if their story were my story?'" she said. "May we then seek inspiration, act on impressions we receive and reach out in unity to help those in need as we are able and inspired to do so."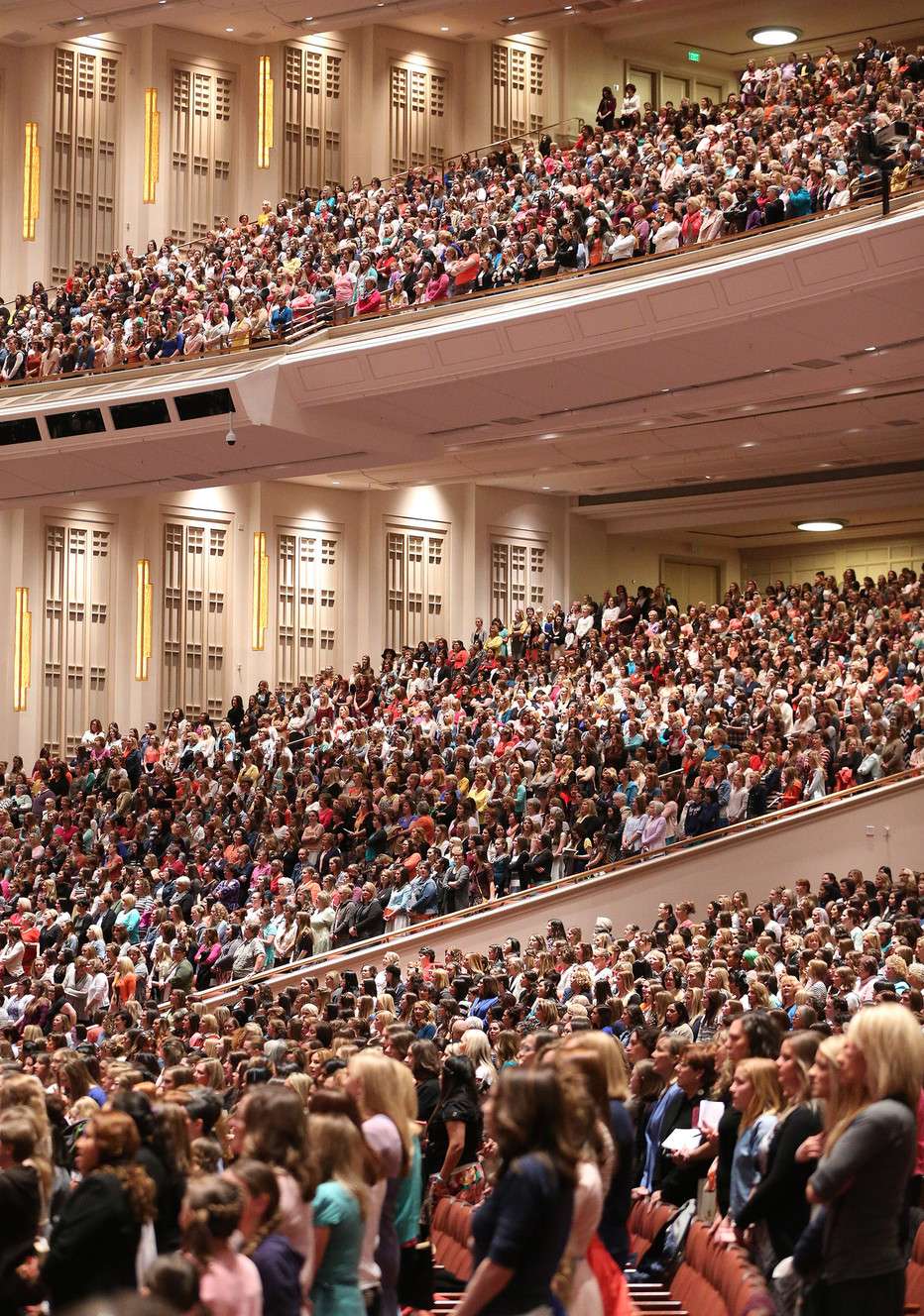 President Eyring said the faith of Latter-day Saint women — "wherever they may be or in whatever circumstances" — will lead them to do all they can for those God asks them to serve.
"As they do, I promise that they will move up the path to become holy women, whom the Savior and our Heavenly Father will welcome warmly, and reward openly," he said.
President Eyring said that women have been "inspired to do more to help our Master in his work to lift up and to succor the children of our Heavenly Father."
The desire of church members to serve others is magnified by their gratitude for what the Savior has done for them, he said.
"When our faith in Jesus Christ leads us to qualify for the joy of his forgiveness, we feel a desire to serve others for him," he explained.
Sister Esplin told the women that when they we reach out in love and service in even the smallest ways, "hearts are changed and softened as others feel the love of the Lord."
All women can incorporate some service into daily living, she said. "We live in a contentious world. We give service when we don't criticize, when we refuse to gossip, when we don't judge, when we smile, when we say thank you, and when we are patient and kind."
Service often takes time, intentional planning and extra energy, Sister Esplin said. "But they are worth our every effort."
Two days after addressing the topic "Fostering World Leadership in Young Women Starting with the Role of the Mother," at the United Nations in New York City, Sister Marriott encouraged women to help build the Lord's kingdom through nurturing others.
"The Lord's Church and kingdom need spirit-directed women who use their unique gifts to nurture, to speak up and to defend gospel truth," said Sister Marriott. "Our inspiration and intuition are necessary parts of building the kingdom of God, which really means doing our part to bring salvation to God's children."
Contributing: Carole Mikita
×
Photos
Most recent Utah stories