This archived news story is available only for your personal, non-commercial use. Information in the story may be outdated or superseded by additional information. Reading or replaying the story in its archived form does not constitute a republication of the story.
SPACE — The Hubble Space Telescope has spotted a galaxy that is 13.4 billion light-years away, according to NASA. That's really far away.
The galaxy, named GN-z11, was spotted by a team of international astronomers using NASA's Hubble Space Telescope.
"We've taken a major step back in time, beyond what we'd ever expected to be able to do with Hubble. We see GN-z11 at a time when the universe was only three percent of its current age," said principal investigator Pascal Oesch of Yale University.
The observation takes astronomers beyond what they thought was possible with the 26-year-old space telescope. NASA plans on launching the new James Webb Space Telescope in 2018.
"This new discovery shows that the Webb telescope will surely find many such young galaxies reaching back to when the first galaxies were forming," said investigator Garth Illingworth of the University of California, Santa Cruz.
NASA said in a press release that astronomers are closing in on the first galaxies that formed in the universe. For the first time for a galaxy at such an extreme distance, the team used Hubble's Wide Field Camera 3 to precisely measure the distance to GN-z11 spectroscopically by splitting the light into its component colors, according to NASA.
"Our spectroscopic observations reveal the galaxy to be even farther away than we had originally thought, right at the distance limit of what Hubble can observe," said Gabriel Brammer of STScI, second author of the study.
"It's amazing that a galaxy so massive existed only 200 million to 300 million years after the very first stars started to form. It takes really fast growth, producing stars at a huge rate, to have formed a galaxy that is a billion solar masses so soon," Illingworth said.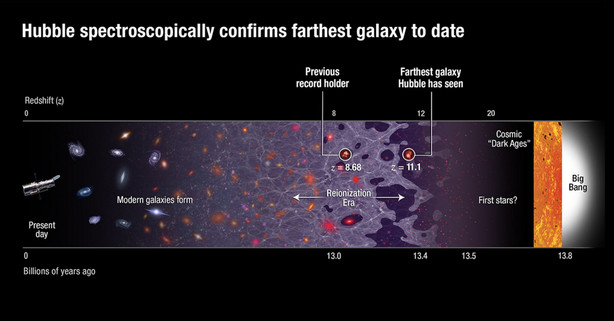 ×
Photos
Related Stories