Estimated read time: 5-6 minutes
This archived news story is available only for your personal, non-commercial use. Information in the story may be outdated or superseded by additional information. Reading or replaying the story in its archived form does not constitute a republication of the story.
SALT LAKE CITY — A man who was 14 when he violently beat his girlfriend to death along an isolated area of the Jordan Parkway before dumping her body into the river unexpectedly pleaded guilty Monday.
Darwin Christopher Bagshaw, now 18, pleaded guilty as charged in 3rd District Court to murder, a first-degree felony, for the 2012 death of 15-year-old Anne Kasprzak. A jury trial was scheduled to begin next week.
For the family of Kasprzak, hearing Bagshaw admit that he was guilty of killing the girl was something they had been waiting to hear for nearly four years.
"I think we're happy to be done, or as close to done as we're going to get today," Veronica Kasprzak-Bratcher, Anne Kasprzak's mother, said outside the courtroom Monday.
"To have him finally admit guilt, for the first time he has taken responsibility. Since the very beginning, we've known that he's the person who did this. So to finally take responsibility is hopefully in the right direction for him moving forward," added the girl's father, Dennis Kasprazak.
In 2012, Bagshaw lured Kasprzak to the Jordan River Parkway late at night where he killed her in a violent assault. Her body wasn't found until the next day. She was reported missing on March 10 from her Riverton home. Although Bagshaw was questioned immediately by police, he wasn't arrested until 2014 due in part to Draper police originally arresting a man who had nothing to do with the case.
Kasprazak's family has previously said their pain was drawn out longer than it should have been because of Bagshaw's failure to step forward and take responsibility.
On Monday, standing at the podium in a blue Salt Lake County Jail jumpsuit, Bagshaw answered, "Yes, your honor" and "No, your honor" in very clear tones as Judge James Blanch made sure he understood his rights. After the hearing was concluded and Bagshaw was being led back to his holding cell, he looked to where his parents were sitting in the courtroom and mouthed the words, "I love you."
While Kasprzak's family says that are grateful not to have to relive her death with a three-week trial, they are struggling to find a balance between peace and forgiveness with the pain of not having her.
"I would like him to remember that every moment he gets to have, Annie doesn't get to have. I don't feel happy that he graduated (high school while incarcerated), I don't feel happy he has done any of these other things. I don't want to punish him. But every little happy moment he gets is a happy moment that she doesn't get to have," Kasprzak-Bratcher said.
"I don't hate him. I'm just glad he finally took responsiblity to understand that he has taken this life from this world and nothing can ever return it. Just happy he finally took responsiblity for it," added James Bratcher, the girl's stepfather.
Kasprzak would have been 19 this year and looking forward to doing something she had wanted to do for a long time, her mother said: get out of her teenage years.
"For years we've just waited to focus on the joy and the love we have for Annie and the positive parts of her life and not the way she left us," said Jennifer Kasprzak, the girl's stepmother.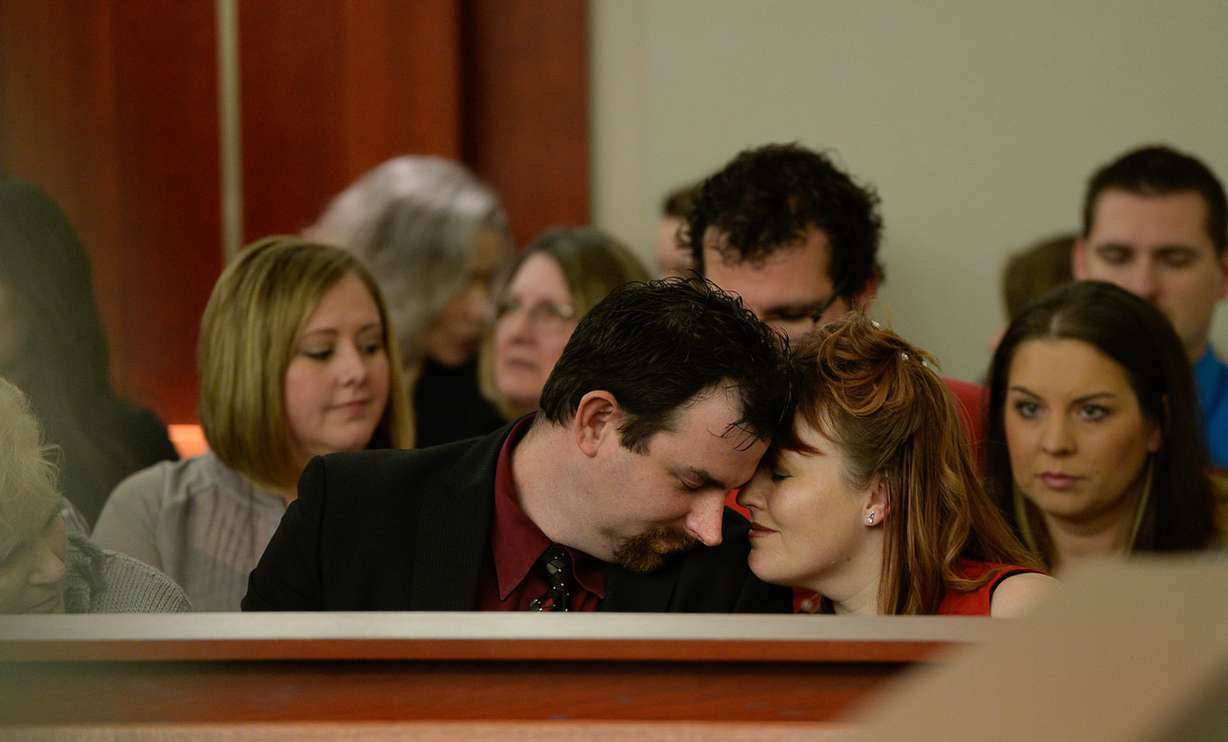 No plea deal was officially offered in the case. Chris Bown, Bagshaw's defense attorney, said the state agreed to request that his client get credit for time served since being arrested in the juvenile system. But otherwise, the judge will be bound to sentence Bagshaw to a mandatory 15 years to life in prison when he returns to court on April 25. Under the current sentencing matrix, Bagshaw will likely serve at least 20 years in prison before being considered for parole.
Bown believes it's a flaw that Utah law allows someone to be sentenced to a potential life sentence for something they did at age 14.
The difficult decision to plead guilty, he said, was made by Bagshaw on Friday after looking over the evidence that would be presented against him in court.
"He took a look at that and he made a decision he thought was best for himself," Bown said. "My job as an attorney is to give him the best information, show him the evidence, discuss how we're going to proceed and it's his decision to make. It's hard. As an 18 year old I can't imagine having to decide if I'm going to potentially serve life in prison. But he's the one that had to make that decision. I can't make that for him, nor could his parents, not could anybody else."
Although there were reports during Bagshaw's prior court hearings that he was angry at Kasprzak for telling classmates she was pregnant with his child, even though she wasn't pregnant, no motive has ever been offered for why Bagshaw attacked her. Bown said his client planned on addressing Kasprzak's parents at sentencing and possibly speak to motive.
Both Kasprzak and Bagshaw had many family members in the courtroom when he pleaded guilty. Each side had many tissues in hand before the hearing started.
Bagshaw's parents left the courthouse without comment. Bown said they were taking the guilty plea "as best that can be expected" as they were "coming to terms" with it.
Sherrie Crouch, Kasprzak's grandmother, was still crying outside the courtroom.
"We just don't have Annie anymore. It's hard to get past that," she said. "His family still has him and we don't have Annie."
×
Photos
Related stories
Most recent Utah stories