Estimated read time: 2-3 minutes
This archived news story is available only for your personal, non-commercial use. Information in the story may be outdated or superseded by additional information. Reading or replaying the story in its archived form does not constitute a republication of the story.
Thousands of people will converge on downtown Salt Lake tomorrow morning for the annual Days of '47 parade. In fact, people are already starting to gather along the parade route.
City ordinance says people can't start setting up their parade campsites until 8 p.m., but we saw several places where some anxious people were scoping out their spots.
Kim Watts, like a lot of people who are here already, has been doing this as long as she can remember. She likes the parade and the "parade" before the parade.
"What makes it worth it, I think, is a combination of getting to hang out with people you like and getting to watch and observe people you don't know," Watts said.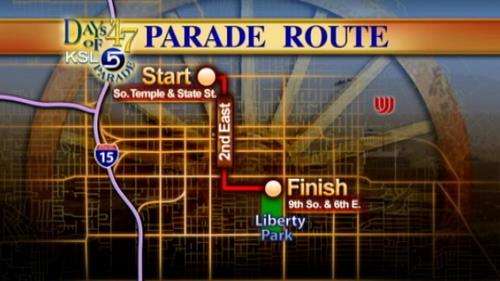 There's one minor change as to the parade starting line this year. In the past, the official start was at Main Street and South Temple. But because of construction on Main Street, the parade will start off a block east at State Street. The route then makes a right turn and heads down 200 East to 900 South, then heads east to Liberty Park.
This parade draws thousands of people from all over the region. For the Salt Lake City Police Department, it means all hands on deck tonight and tomorrow.
Officers will patrol in cars, on bikes and on foot. They'll be out enforcing the city's parade route rules.
Some of those rules are quite specific:
- You can't save spots for others who are coming down later. In other words, no roping off big areas.
- No alcohol
- No dogs unless they are service dogs.
- If you bring a tent, the tent cannot have solid walls that you can't see through.
"This is something that each year it requires a lot of our resources. This year is no different," Detective Jeff Bedard, spokesman for the Salt Lake City Police Department. "We're going to be out on the parade route the night before to make sure that the people who are camping out are safe."
If you can't make it to the parade, you can see it on KSL Channel 5 in HD tomorrow morning. Pre-parade activities begin at 8 a.m. and things get rolling at 9 a.m. Bruce Lindsay and Nadine Wimmer will be announcing the play by play.
For a complete list of parade route restrictions, click the related link to the right of the story.
E-mail: kmccord@ksl.com
E-mail: mgiauque@ksl.com
×
Related links
Most recent Utah stories