Estimated read time: 3-4 minutes
This archived news story is available only for your personal, non-commercial use. Information in the story may be outdated or superseded by additional information. Reading or replaying the story in its archived form does not constitute a republication of the story.
SALT LAKE CITY — Six-year-old Tayton Timothy has been in a medically induced coma ever since a freak accident occurred while she was roller skating last weekend.
But the family got good news on Saturday, and new hope came with it.
"It's been very tough. It's been very hard. But she's doing good and that's all I care about," said Sammi Timothy, Tayton's mom. She said no one witnessed the Dec. 26 accident, in which an adult skater who had been skating backward while helping another skater bumped into Tayton and then landed on top of her on the ground.
Tayton suffered a skull fracture, broken vertebrae and an eye injury and was flown from Rammie's Roller Skating Rink, in Delta, to Primary Children's Hospital, where she will remain for some time, Sammi Timothy said. She said she harbors no ill will for the man who knocked her daughter down, even saying, "he was quick to respond" to Tayton's needs before paramedics could arrive.
"It was pure accident," her mother told media on Saturday at the hospital. She hasn't left her daughter's side, but once or twice, and knows Tayton is aware of that, even though the formerly spunky little girl isn't conscious.
"She can hear us, you can tell," Sammi Timothy of Delta, said. "It's good I can see that and it helps."
Extended family members set up a fundraising webpage* to help Tayton's parents with mounting medical expenses and the cost of traveling back and forth from Delta. The response so far, the obviously heartbroken mother said, "has been amazing."
"I never thought I'd be in this situation, but being in it now, seeing all this, it's awesome," she said, fighting back tears.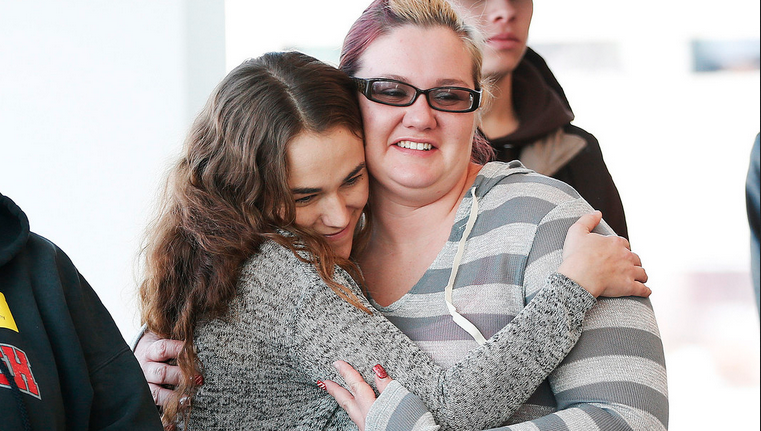 Rebecca Marshall, Tayton's grandmother, said she can hardly sit still and "bounces around" waiting for answers. She wants her usually silly granddaughter back.
"I go to bed at night and it's like, 'please, please, please, let her be OK,'" she said. "We hope for good news as we go throughout the day."
Doctors were finally able to perform an MRI on Tayton's brain early this weekend, because swelling had prohibited it until now, and the results show there is still function, according to updates from the family posted on Facebook. Doctors have also been taking her off of some of the heavy medications to see how the little girl responds and it seems she's requiring less and less of it, Marshall said.
"That's a step," she said. "She's a fighter. A little fireball. And she should hopefully be back with us soon."
In addition to the critical injuries received in the skating accident, Tayton has acquired a strep infection and meningitis during treatment at the hospital, which Sammi Timothy said is likely causing her daughter a lot of pain. She said she trusts that doctors know what they are doing and she is seeing little improvements along the way.
While it isn't clear whether Tayton will recover completely, the family has come together in prayer and support and is feeling the love of an extended community of people throughout the state. They're appreciative of every thought toward them and for Tayton, Sammi Timothy said.
"Everybody she meets, they just love her," she said. "She's such a fun little girl."
Contributing: Alex Cabrero
---
*KSL.com does not assure that the monies deposited to the account will be applied for the benefit of the persons named as beneficiaries. If you are considering a deposit to the account, you should consult your own advisors and otherwise proceed at your own risk.
×
Photos