Estimated read time: 3-4 minutes
This archived news story is available only for your personal, non-commercial use. Information in the story may be outdated or superseded by additional information. Reading or replaying the story in its archived form does not constitute a republication of the story.
SALT LAKE CITY — The season of giving has wrapped up in many of our homes. But the need for generosity continues for those who serve Utah's low-income families. The Utah Food Bank and pantries it stocks need holiday giving to extend into 2016.
At the Crossroads Urban Center's Emergency Food Pantry volunteers are in constant motion.
"This is every day, non-stop," a volunteer named Joey said as he restocked shelves and the pantry's cold food freezer. His work won't let up after the holidays.
"The food that goes in here (the pantry) is out just as fast as it comes in," Joey said.
It goes right back out to people like Gene Kent, a husband and father who lost his job right before Christmas. "If it wasn't for places like this, we wouldn't have the opportunity to be able to feed our families," Kent said.
Kent recently took his brother and sister-in-law into his home after they moved to Utah from New Jersey in search of work. Still, Kent is optimistic since he's already applying and interviewing for new jobs.
"Hopefully things will be working out for me (so) that I can get back on my feet again," he said.
As holiday donations poured into the Utah Food Bank this year, it was pantry clients like the Kents who were on Ginette Bott's mind.
"Pantries need to be prepared, we need to be sure that there's enough inventory on shelves to assist a family who is kind of recuperating, if you will, from holiday cheer," said Bott, who is the chief development officer for the Utah Food Bank.
Bott and her staff need the holiday giving — both food and volunteer time — to keep flowing after the calendar flips to 2016.
"Just let people understand that, first of all, hunger knows no season," Bott said.
Reed Esparza, a junior at Westminster College, knows Utah families need help year-round. She's been volunteering to help with food drives at Rowland Hall, and now Westminster, since she was in the second grade.
"It's a year-round problem, every day, and it's great that people feel charitable, you know, during this time of year, but it's an everyday issue; and if you can give back, everything helps," Esparza said.
She feels like most people would donate throughout the year if they understood the need.
"I think the biggest thing is just educating people about certain problems just to have them be aware of them," the college student said.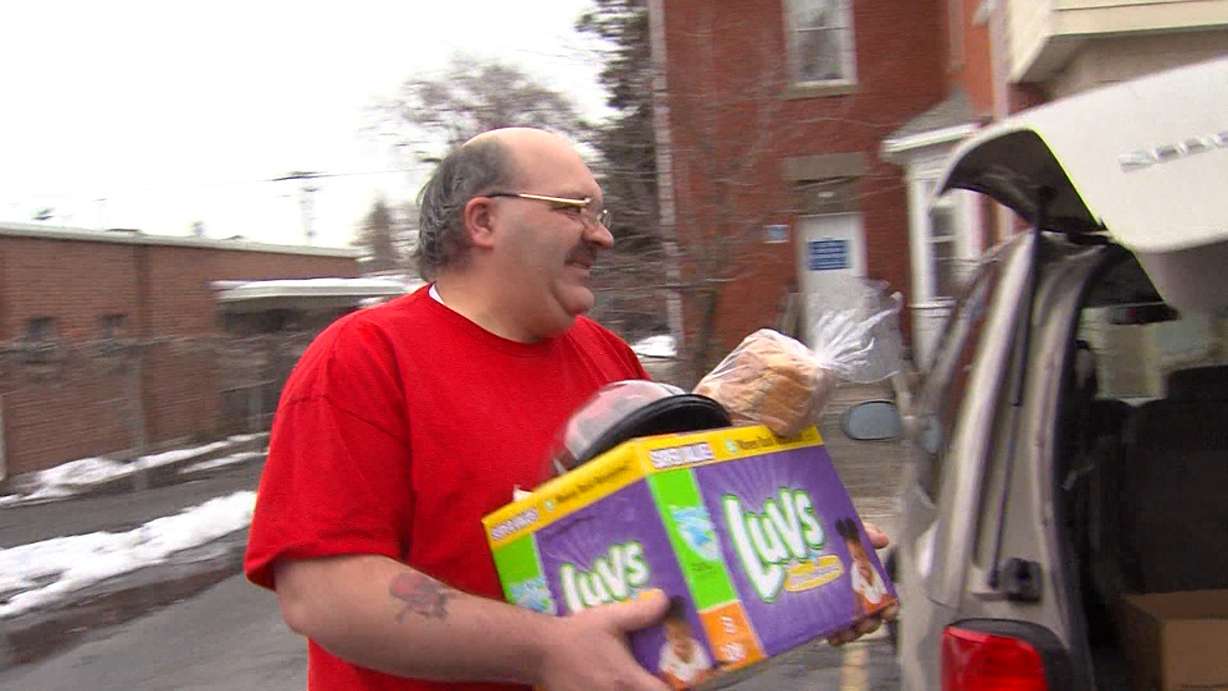 At Rowland Hall, there are plenty of opportunities to educate parents and their children — the next generation to potentially get involved — about the need for food and clothing. Dozens of kids and their parents show up to help with the annual Christmas Food Giveaway at the school.
"It's a great activity to get them involved, and also just to teach them about their community and how to give back," Esparza said.
Students are learning how to give back to people in the community who are working hard but just can't seem to get ahead, especially at the start of a new year.
"There's always rent or a house payment, a car or transportation, medical needs, whatever it might be. Food continues to move down the list," Bott said.
The Emergency Pantry at Crossroads Urban Center will have served more than 22,500 families in 2015 before the clock strikes midnight on Thursday.
Andrew Kettles is one of those clients who visits the Emergency Pantry throughout the year. He is disabled but works several shows each year at the Salt Palace and collects disability. There's still a gap to fill.
"This place (the pantry) always gives you a loaf of bread, something sweet every time, and some type of meat," Kettles said. "They always make sure that you get a little bit of everything."
It is food that is much needed going into the promise of a new year.
"This is most appreciated. It helps tremendously, especially this time of year when things are hopefully not going to get too tough," Kent said.
Contributing: Dave McCann
×
Photos
Related links
Most recent Utah stories