Estimated read time: 3-4 minutes
This archived news story is available only for your personal, non-commercial use. Information in the story may be outdated or superseded by additional information. Reading or replaying the story in its archived form does not constitute a republication of the story.
SALT LAKE CITY — In the cold and dark of a Utah winter night, Josef Swartout said goodbye to the love of his life by writing a message in magic marker on a makeshift memorial in Pioneer Park.
"See you again in heaven - J."
Myra Sue, Swartout's wife of 10 years, was one of nearly 100 people honored Thursday during the annual Homeless Persons' Memorial and Candlelight Vigil.
Swartout said he came to the event "to honor her memory, to say goodbye. May she rest in peace."
Pamela Atkinson, a longtime advocate for people experiencing homelessness, said the event honored "44 Utahns and still counting who died on the streets of our city and county while struggling with housing security."
The event, organized by Fourth Street Clinic and members of its Consumer Advisory Board, also paid tribute to more than 50 formerly homeless people who passed away while living in permanent supportive housing, she said.
"Let us never ever forget the correlation between health and housing is irrefutable. Those who live on the streets are sicker and die younger than those with housing," Atkinson said.
Nineteen of the dead were women, she said. The youngest was just three months old.
While Thursday's event was intended to memorialize those who had passed away, it was also a reminder that more work lies ahead to better serve people experiencing homelessness and create more affordable housing, she said.
"Let us pledge to continue working toward the day when all Utahns are afforded the honor of dying with dignity," Atkinson said.
Friends and family members of the homeless people honored, homeless services providers, health care providers, judges, clergy, government officials and community members took part in the vigil.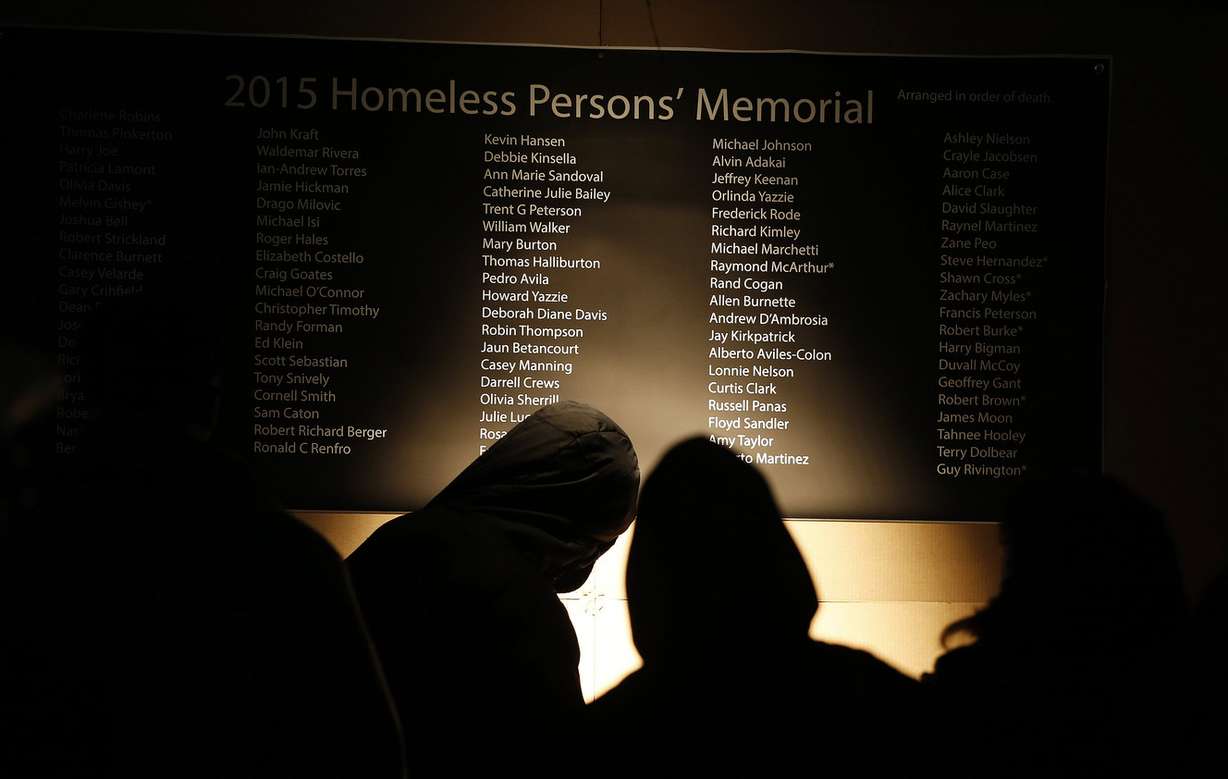 Rachel Santizo, a single mother recovering from a heroin addiction who was formerly homeless, asked people attending the service to point to the sky to remember the lives that had been lost.
She then asked them to point to their hearts and ponder how they can help people experiencing homelessness.
"It starts with compassion without judgment," said Santizo, a member of the Fourth Street Clinic's consumer advisory board.
Santizo said she spent many years hating herself. But people working at places such as Fourth Street Clinic, Odyssey House and NAMI helped her learn to see herself as a person of worth.
"For the first couple of years of my recovery I couldn't even look in the mirror. They gave to me when I had nothing and I believed I was nothing. Instead, they saw a human being who was worth their time, their compassion and their help," she said.
Swartout, who is living on the streets, said the candlelight vigil enabled him to honor his wife along with others who passed away during the year. The couple had been living on the streets prior to her death, he said.
"She was in a lot of pain before she died. Think maybe her cancer may have been active again. She'd been spitting up blood for the last month and a half," Swartout said.
"I tried to get her to go in and see a doctor a couple of times but was just too stubborn. She finally decided just to let her health go. I'll miss her. I'll miss her real bad."
×
Photos
Most recent Utah stories