This archived news story is available only for your personal, non-commercial use. Information in the story may be outdated or superseded by additional information. Reading or replaying the story in its archived form does not constitute a republication of the story.
OAKLAND, Calif. — A hot controversy has been boiling around San Francisco Bay for months and it's all focused on the state of Utah.
The issue: Should Oakland's waterfront become a gateway for Utah coal that's headed for overseas power plants?
At angry street demonstrations earlier this year, activists chanted, "No coal in Oakland!" and "Stop coal now!" They argued that Utah coal exports will aggravate the international problem of climate change.
At a jam-packed public hearing weeks ago, residents of nearby neighborhoods complained to the Oakland City Council about health issues. "Asthma exacerbation, emergency room visits," one resident intoned, claiming the Utah coal will threaten the neighborhood with toxic dust.
But to four counties in central Utah, the port proposal means jobs and an economic future for Utah's troubled coal country.
"It could shore up our economies for the next 66 years," said Carbon County Commissioner Jae Potter, "and do it in a world-class facility that is very conscious as far as the environmental issues."
San Francisco Bay is already home port for many Utah exports, but the prospect of coal coming by rail from Utah has stirred up a big fight.
Residents of Oakland are, by no means, unanimously opposed. At the City Council hearing, construction workers wore T-Shirts proclaiming, "I support Oakland jobs." Many residents believe the project will give an economic boost to troubled neighborhoods.
In fact, a local minister, Pastor Kevin Barnes of Oakland's Abyssinian Missionary Baptist Church seemed to be preaching to the critics.
"You mean to tell me," he said to the crowded council chamber, "with all of this cocaine that's around here that's killing our young men, you're worried about coal?"
Proponents say the proposed facility will be a net plus for Oakland.
"We will be viewed as an enhancement to the community, not a detriment," said Jerry Bridges, CEO of Terminal Logistics Solutions. His company will run a new bulk-shipping facility if it ever gets built.
"Anything that ships in bulk, we will have the capability of shipping here," Bridges said.
Most export goods leave the Oakland waterfront in big truck-sized containers that are loaded onto gigantic cargo ships. But the port currently doesn't have a facility for handling the kinds of commodities that are typically shipped in bulk. Developers are planning to build a large bulk terminal on the grounds of the defunct Oakland Army Base at the foot of the Bay Bridge connecting the city to San Francisco. The bulk terminal would be capable of transferring bulk goods quickly — in large volumes — from rail cars to the holds of ships.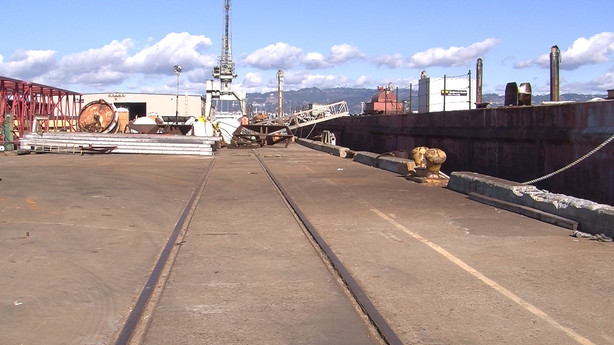 Money from Utah is a key ingredient in the development package. The four Utah counties — Carbon, Emery, Sevier and Sanpete — arranged a $53 million loan from Utah's Community Impact Fund Board which disburses funds from federal mineral royalties. The loan is essentially an investment, a share in the $250 million project, to guarantee the counties' use of the facility for shipping Utah's commodity exports.
Supporters of the project — in Oakland and in Utah — have deliberately tried to downplay the coal issue. They point out that the proposed facility could also handle Utah export commodities like potash, hay, grains and salt. But coal is expected to account for at least half of their shipping business.
"Why wouldn't any inland state be interested in having a port capacity?" said Potter, who is spearheading the project on behalf of the four Utah counties.
He said the counties would get a share of the revenues from the Oakland shipping facility, allowing them to pay back the loan over 30 years and possibly earning a surplus for the counties.
Potter said the coal mining areas of central Utah have been hard-hit by a recent downturn in the domestic coal business. The nation has turned more and more to natural gas and to renewable energy, largely for environmental reasons. Potter said about 400 jobs were lost in the Price area recently due to the shutdown of Pacificorp's Carbon Power Plant and the closure of a nearby mine.
"The use of coal is being attacked on many fronts," Potter said. "We have a very high-quality, ultra-clean coal in this area. Every ton of coal that is shipped overseas is going to have a minimizing effect in developing countries as far as pollution goes."
But critics are not appeased by such claims.
"My message for Utah? We don't need (it). I want you to keep your money," said activist Margaret Gordon, founder of the West Oakland Environmental Indicators Project. "We are really worried about elevated … asthma."
"We think there will be no dust," Bridges said, promising that the coal cars coming from Utah will be covered and the bulk terminal itself will be enclosed to contain any potential dust. That claim is scoffed at by critics who say they have never seen a legally enforceable commitment from developers to contain the dust.
For many opponents, the biggest issue is that Utah would be exporting millions of tons of climate-changing carbon dioxide.
"Coal is the dirtiest fossil fuel that we have on Earth," said Jess Dervin-Ackerman of the San Francisco Bay Chapter of the Sierra Club. "And it's the most carbon-intensive fossil fuel. And so we know that we need to leave coal especially in the ground."
The Oakland City Council could stop the project because the defunct Army base is now city property. A decision is expected in early December. Even then, the project's future may be clouded by a lawsuit filed by the environmental group Earthjustice.
"I think it is a dirty and dangerous commodity," said Earthjustice attorney Irene Gutierrez. "Before any exports happen, the city needs to do the environmental review that's required by law."
The project also faces a legal challenge in Utah. Opponents argue that the loan from Utah's Community Impact Fund is illegal because the fund is supposed to be used for the benefit of communities, not for helping specific businesses.
The four counties dispute that interpretation. The loan is under review by the Utah Attorney General's office.
×
Photos