Estimated read time: 4-5 minutes
This archived news story is available only for your personal, non-commercial use. Information in the story may be outdated or superseded by additional information. Reading or replaying the story in its archived form does not constitute a republication of the story.
This story is sponsored by Jean Brown Research. Participants that are selected for the study will receive study related; medical care, surgery medication and will also be compensated for their time and travel.
Love the look of high heels? Stylish as they may be, try to wear them only sparingly. A recent BuzzFeed video reported that even a 1-inch heel puts "22 percent more pressure on the ball of the foot than flat shoes" and a 3-inch heel packs on an impressive 76 percent increase in pressure.
Recent studies are finding a plethora of health problems can stem from your feet being subjected to this amount of pressure for extended periods of time. Women have reported side effects ranging from bunions to stress fractures to to back pain. Find out more about these and other signs you need to watch for that can indicate damage is being done to your feet.
Calluses and bunions
Oftentimes the first sign of the overwearing of high heels is the presence of calluses on the big toe or the outside of the foot near the pinky toe. Severe calluses on toe knuckles can create a hammertoe effect, while calluses on the inside ball of the foot may cause bone malformations known as bunions. Both ailments require medical treatment for reversal and both can recur if high heel wearing persists.
Bunions can be extremely painful. The image below illustrates how they form.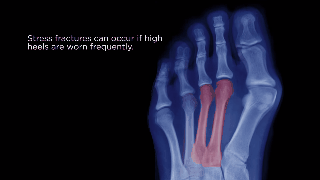 Ingrown toenails
Though ingrown toenails might be caused by a number of problems — small shoes, repetitive movement — they, too, can be a sign your high heels are getting the better of you.
Natalie A. Nevins, DO, an osteopathic physician from Hollywood told Osteopathic.org, "Extended wear of high heels and continually bending your toes into an unnatural position can cause a range of ailments, from ingrown toenails to irreversible damage to leg tendons."
Early onset osteoarthritis
Everyone runs a risk of developing joint problems as they age, but those with a history of high heel wearing run a higher risk than most for early onset osteoarthritis in their knees.
Dr. Constance Chu, a professor of orthopedic surgery at Stanford, explained to Time.com, "Combining walking in very high heels for long periods of time every day with obesity and aging would be a perfect storm for knee osteoarthritis."
If you're not ready to give up your pumps, Chu suggested saving them for only special occasions and waiting to put them on until you're at the event. Then make sure throughout the time you're there to take sitting breaks and rotate your knees through their full range of motion.
Achilles tendon strain
Your Achilles tendon is also at risk for damage due to repeated high heel wearing. When your foot remains in an unnaturally pointed position for long periods of time, the Achilles tendon shortens and tightens, causing pain when you finally step out of your heels. "This tendon is designed to be flexible, so the foot can lie flat or point. With repetitive wear, you can develop unhealthy patterns that can persist even when you're not wearing high heels," said Nevins.
Plantar fasciitis
The result of Achilles tendon strain might be plantar fasciitis, a condition that the American Orthopaedic Foot and Ankle Society says is characterized by inflammation of the tissue connecting your heel to the base of your toes. Untreated, it leads to chronic pain that restricts normal physical activity, contributes to hip and back problems, and might even change the way you walk.
Ankle sprain
High, narrow heels can also raise your risk of lateral ankle sprains, according to WebMD. This type of sprain occurs when your foot rolls outward, stretching and sometimes even tearing your tendons. Sprains like this can also contribute to osteoarthritis of the ankle and may need physical therapy to heal properly.
For more information on treatment options for bunions, visit jeanbrownresearch.com. You may even be compensated for time and travel.
×
Most recent Utah stories