Estimated read time: 4-5 minutes
This archived news story is available only for your personal, non-commercial use. Information in the story may be outdated or superseded by additional information. Reading or replaying the story in its archived form does not constitute a republication of the story.
SALT LAKE CITY — With vote-by-mail ballots in the hands of voters this week, a group supporting a tax increase for transportation projects aimed to draw attention to local road funding needs this week by putting a twist on potholes.
Supporters of Proposition 1, which would raise sales tax by a penny for every $4 spent, staged a photo shoot Wednesday with a Salt Lake pothole for a social media campaign depicting equivalents of the tax's cost. They doubled the pothole as a tailgating drink cooler, a dog food dish, and a Halloween candy bowl.
"The dollar amount for Prop. 1 is the same amount of a football ticket. It's the same amount as a bag of dog food. The average household spends about $120 on Halloween every year, but the price of this tax is about $40 a year," said Abby Albrecht, campaign director with Utahns for Responsible Transportation Investments.
The Salt Lake Chamber-affiliated political issues committee was formed specifically to raise money to advocate for the tax increase.
If approved by voters in the 17 counties proposing the tax, Proposition 1 would fund improvements for roads, sidewalks, trails and transit. Forty percent of the revenue would go to the Utah Transit Authority in the six counties the agency serves, and the remaining funds would go to city and county budgets.
Campaign finance disclosure forms show the group has raised nearly $425,000 in donations and has spent at least $300,000, including more than $106,000 for advertising and campaign consulting from Exoro Group, and more than $188,000 for TV and postcard ads from Penna Powers.
Most of the campaign's donations come from construction or mass-transit companies.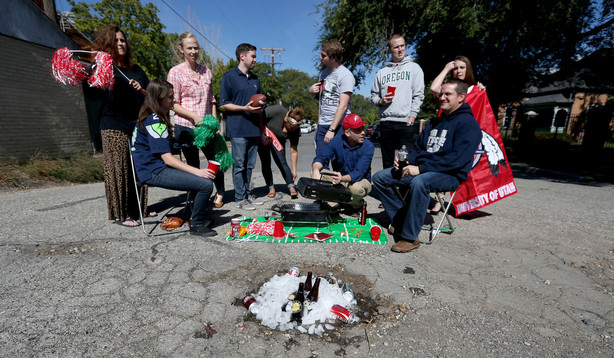 Evelyn Everton, director of the Utah chapter of Americans for Prosperity, said voters should be wary of the Proposition 1 campaign's lavishly funded messages.
"Certainly they have a lot of money on their side, so voters need to see past the glossy mailers and feel-good commercials, and understand where exactly this sales tax increase is going," she said, specifically noting the 40 percent earmarked for UTA.
Everton referenced a 2014 audit that revealed within UTA questionable development deals, extravagant executive pay and bonuses, and concerns over massive debt. Earlier this year, the agency's board of trustees decided to cut bonuses and salaries to improve its public image.
Everton also said construction companies backing the campaign are looking to take advantage of a "new $100 million pot of taxpayer dollars."
"It's a concern when businesses can band together and spend some money to get a tax increase on the ballot, and then convince voters with hundreds of thousands of dollars so they can benefit," she said.
---
Certainly they have a lot of money on their side, so voters need to see past the glossy mailers and feel-good commercials, and understand where exactly this sales tax increase is going.
–Evelyn Everton, Americans for Prosperity of Utah
---
Albrecht disagrees, saying everyone benefits from a good transportation system.
"It's getting your kids safer to school. … It's getting us to and from work easier so we're not sitting in congestion as long. It helps clean the air. So it's a benefit to all of us," she said.
A recent Utah League of Cities and Towns study showed a gap of more than 60 percent between local transportation needs and current allocation of road funds, resulting in statewide deterioration of local roads.
"It's really important that we give the communities these options to actually fix this problem," Albrecht said, indicating that 50 percent to 60 percent of most cities' transportation funding already comes from general fund budgets.
Everton said Proposition 1 opponents face a frustrating task while the supporting campaign group enjoys ample funding, and that's why she's encouraging voters to take the time to research the issue.
"It's hard to compete when you have one side that's so well-funded, but we are going to keep working with our grass-roots network to educate voters," Everton said. "We all have to be more aware and engaged in the process."
Related:
The Proposition 1 campaign's website features an interactive map and a free smartphone app, Prop 1 Utah, that shows users what kind of projects could be funded in their areas if the tax passes.
The 17 counties that will be placing the proposed sales tax increase on the Nov. 3 ballot are: Beaver, Box Elder, Carbon, Davis, Duchesne, Grand, Juab, Morgan, Rich, San Juan, Salt Lake, Sanpete, Sevier, Tooele, Uintah, Utah and Weber.
×
Photos
Related Links
Related Stories