Estimated read time: 3-4 minutes
This archived news story is available only for your personal, non-commercial use. Information in the story may be outdated or superseded by additional information. Reading or replaying the story in its archived form does not constitute a republication of the story.
PROVO — A Brigham Young University illustration professor has reimagined Lady Liberty in the new collector's item coin he designed for the US Mint.
Justin Kunz's version of Lady Liberty is supposed to represent modern sensibilities, such as increasing cultural diversity, according to Brigham Young University.
The American Liberty 2015 High Relief 24-karat Gold Coin features a Lady Liberty whose appearance tries to bring a contemporary sensibility to a traditional American icon.
"It was difficult to portray Lady Liberty as a modern figure," Kunz said in a statement. "I studied, sketched and, finally, meditated on what Lady Liberty represents. I wanted the idea of her to be a simple visual statement expressed in an elegant way."
"I wanted her to be recognizable as Liberty," Kunz said. "I didn't want to put her in a hoodie."
The new Lady Liberty has a rounder face than the original, with smaller eyes, ears and nose.
Rather than wearing a crown with spikes that represent the seven seas, she wears a crown with the laurel leaf, which represents victory.
Additionally, she wears fitted robes that have a V-neck and holds the staff of an American flag in her left hand and a torch representing freedom in her right.
Kunz created rough sketches and took photos of two models posing as Lady Liberty before producing his drawings in graphite.
He scanned those drawings, using "2D graphics software to edit and arrange the images with typography in a circular format," BYU reported.
Kunz experimented drawing Lady Liberty with a sword but thought reviewers might think it was too combative.
Just two out of fifteen artists' designs were chosen for the coin, one for the front and one for the back.
The Citizens Coinage Advisory Committee and the U.S. Commission of Fine Arts looked at all the designs and made recommendations, but the treasury secretary made the final decision on the winners.
Kunz's design is on the front of the coin, as are his initials.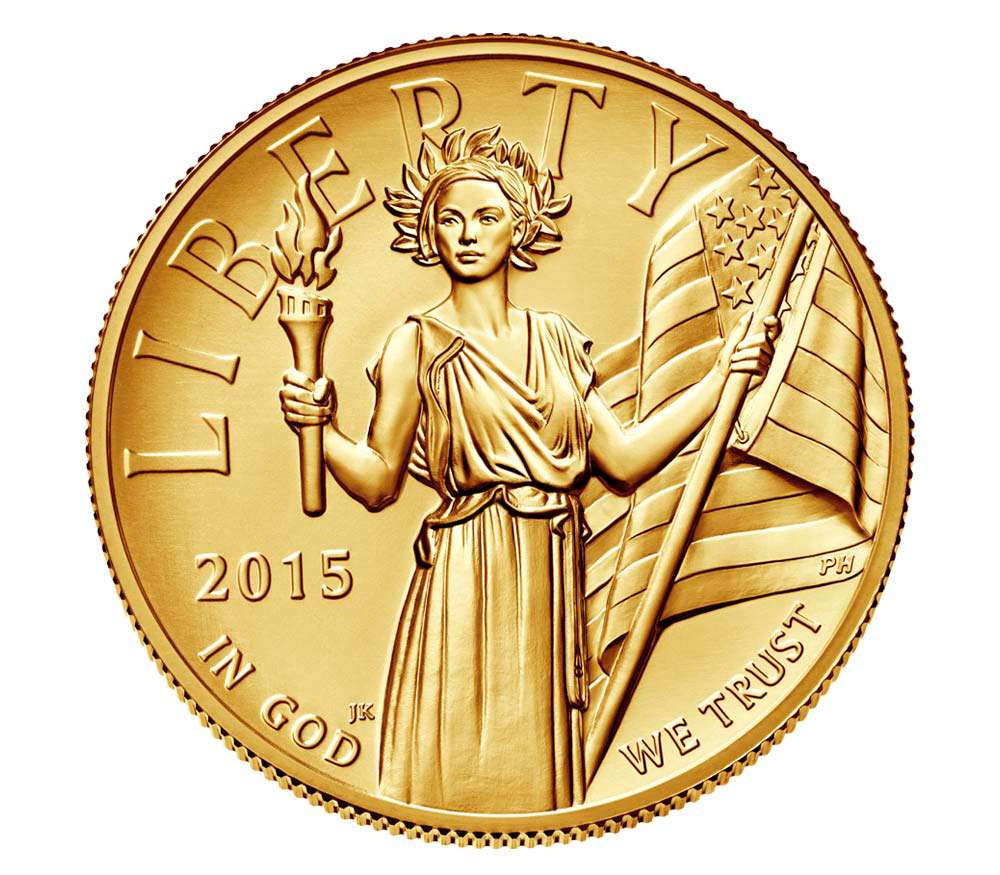 "It was an exciting experience to listen in on the CCAC's meeting while they evaluated the designs," Kunz said in a statement. "When they came to my design each member of the committee seemed to understand what I was trying to communicate, which is thrilling for an artist."
Kunz's designs are also on the back side of the 2008 Andrew Jackson's Liberty coin and the front side of the 2009 Abraham Lincoln Commemorative Silver Dollar and the 2014 Civil Rights Act of 1964 Commemorative Silver Dollar.
In 2016, Kunz's America the Beautiful Quarter will come out with a design of the Shawnee National Forest on it.
"It's such a privilege to work with the U.S. Mint," Kunz said in a statement. "My skills and creativity as an artist have grown while working with them and it's very rewarding to have my designs seen by thousands of American collectors all over the U.S."
Fifty thousand of the Lady Liberty coins will be released. The coin is worth $100 but is sold for $1,500.
The initial inventories of the coin sold out the first day it was released. It is on backorder until October.
×
Photos