Estimated read time: 4-5 minutes
This archived news story is available only for your personal, non-commercial use. Information in the story may be outdated or superseded by additional information. Reading or replaying the story in its archived form does not constitute a republication of the story.
SALT LAKE CITY — Layton resident Diana Root has a unique job: balloon twister.
It's easy to think her efforts and skills are limited to animals, hats and swords twisted for children at parties, but on May 2, Root created a full-sized motorcycle out of balloons for a good cause.
Root, 42, created the sculpture at the Golden Spike Harley-Davidson in Riverdale, Utah, to help promote the establishment's 100-mile Autism Ride. An organizer involved in the event approached Root, asking if there was something she could do to help.
"I looked at them and said, 'You know what? There's an ability to make a full-sized motorcycle, and you can sit on it and you can have people get their picture on it, and maybe it can draw some more attention to this event,' " Root said.
The only thing that stood in Root's way was the fact that she had never created a sculpture bigger than 3.5 feet before, let alone a motorcycle equal to the size of an approximately 7-foot, 750 motorcycle.
Full-sized motorcycles aren't new to the balloon twisting community, but Root said no twisters post video tutorials, like they would with other designs, because a sculpture that size takes about 5.5 to 6 hours to complete. That meant Root had to make her own design. Root said it took her two months to study techniques through online videos and PDF tutorials to compile ideas and new weaves for her design.
"My model is based off of other twisters' techniques; the design is all mine," Root said. "If I nit-picked every little teeny bit of it, I would have to name probably 50 twisters. But when you piece it together with bits and pieces, it kind of has a touch of your own work to it on top of it."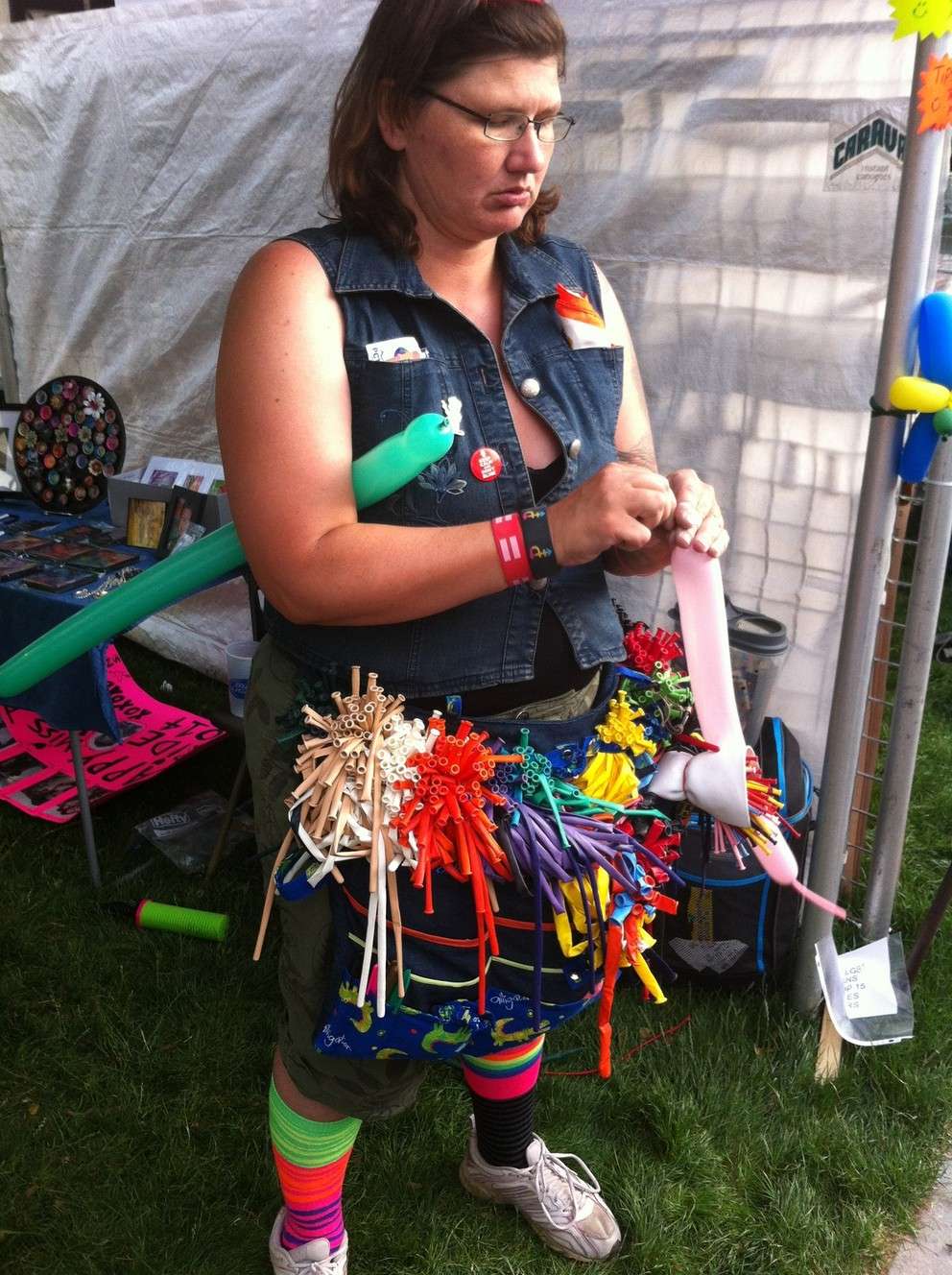 Root's journey to a career in balloon twisting began in her late 30s, and it was a path she hadn't considered before. She began with a foray into making beaded jewelry, learning with tutorials on YouTube. But when she didn't come up with an immediate plan for what to do with the jewelry, she decided to learn something else.
"And literally, no pun intended, balloon twisting popped into my head," Root said. "(It) was something I had seen as a child and have seen periodically throughout my life, and I always thought it was amazing."
She bought a cheap pump and cheap balloons and went to YouTube to get started. Root said learning to twist became a "bit of an obsession." But it wasn't until she met her mentor — a man called Chef Hugo, who has been balloon twisting for 50 years — that Root's path started to take shape. Chef Hugo offered to teach Root and eventually helped her get involved in balloon-twisting events.
Her first event was a pre-party for the Days of 47 Parade, which is a tip-only event organized by Chef Hugo for face painters and balloon twisters. She then picked up events "here and there," including an Easter event for the Make-a-Wish Foundation in 2014. This year, Root decided to twist full-time.
As a single mother of five children between the ages of 21 and 16 months, Root said a lot of thought went into the decision, including the fact that she was injured while working her previous job on a a bundle-drop paper route. Walking through fresh snow, she stepped into an unseen and open waterman hole.
"My right leg went all the way down and my other leg was out in the other direction. It just jammed the whole right side of my body up," Root said. "I tried to keep up with (the paper route) and I couldn't, I was in so much pain."
That was the turning point for Root to make the switch to full-time.
Submit Your Local Videos

Do you have a video featuring Utah people, places or events? Send them to mostergar@ksl.com.
"I don't have any other type of strong income, but I think (the decision) was gut and God at the same time, just screaming at me, 'Do it, do it, do it!'" Root said.
Her parents agreed with her decision, which initially surprised Root, but she said her parents, children, friends and fellow twisters have been a great support during her journey.
"I just keep praying every day, and my family gives me such great support, my friends give me such great support, and all I can do it just keep studying. And it's literally an everyday process of learning," Root said. "I'm trying to advance myself to the point where people will say, 'Oh, she's worth that much.'"
Between twisting jobs, Root said she spends hours daily continuing to study and learn her craft. She can be booked for parties and events through her Balloon Lady Diana Facebook page. She can next be found twisting publicly on June 13 at the Sounds of Freedom Military Appreciation Day in Layton Commons Park starting at 8 a.m.
(Video via Tony Habovstak, Root's father)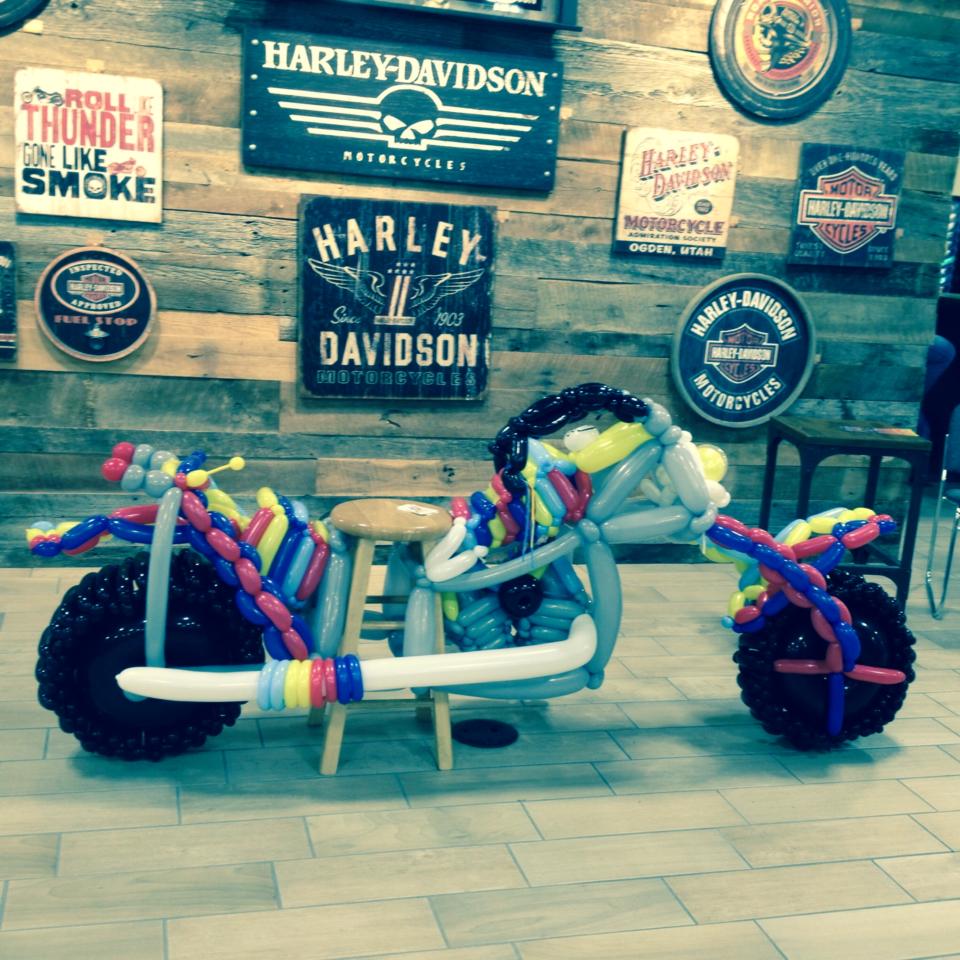 Golden Spike Harley Davidson
×
Photos
Related stories
Most recent Utah stories