This archived news story is available only for your personal, non-commercial use. Information in the story may be outdated or superseded by additional information. Reading or replaying the story in its archived form does not constitute a republication of the story.
SNOW CANYON STATE PARK — If you see a Gila monster while hiking or camping in Utah's wilderness, consider yourself lucky. Gila monsters only spend 3 percent to 5 percent of their time above ground, making sightings of them very rare, according to Division of Wildlife Resources officials.
I was hiking in Snow Canyon State Park Saturday afternoon when I stumbled upon one of these elusive lizards. I wasn't exactly sure what kind of reptile it was, but I was excited and started snapping pictures of it — while keeping a safe distance, of course. After I posted photos of it online, I was informed that I was very lucky to have seen one.
DWR wildlife biologist Ann McLuckie said Gila monsters are primarily located in west-central Arizona, but are also native to southwestern Utah, Nevada, New Mexico and parts of California. The Gila River in New Mexico is the namesake for the species, McLuckie said.
The large, heavy-bodied lizards primarily eat tortoise and bird eggs and baby cotton-tailed rabbits that can't move quickly, McLuckie said. Gila monsters can eat up to 33 percent of their body weight in a single meal, causing them to only eat three or four times a year. As a result, they spend the majority of their time out of sight.
"Most of the time Gila monsters are in their burrows and below ground," McLuckie said. "So that's their strategy is to just really eat a ton. Spend a lot of energy finding the food, and then once they find it, they just eat a ton of it and then they hang out in their burrows until it digests."
Gila monsters are one of two venomous lizard species in North America. However, because they are slow-moving and underground the majority of the time, they aren't a very large threat to people. No human deaths have been reported since the early 1930s when, according to folklore, an intoxicated pool-hall operator allegedly died after poking his thumb into the mouth of a Gila monster. But, McLuckie said the claim was never confirmed.
McLuckie said people should just use common sense and not attempt to grab or touch a Gila monster, if they do happen to see one.
"As long as people don't touch it, then they won't get bitten," she said. "It won't run after them and attack them. It's a very slow-moving animal that is harmless when left alone."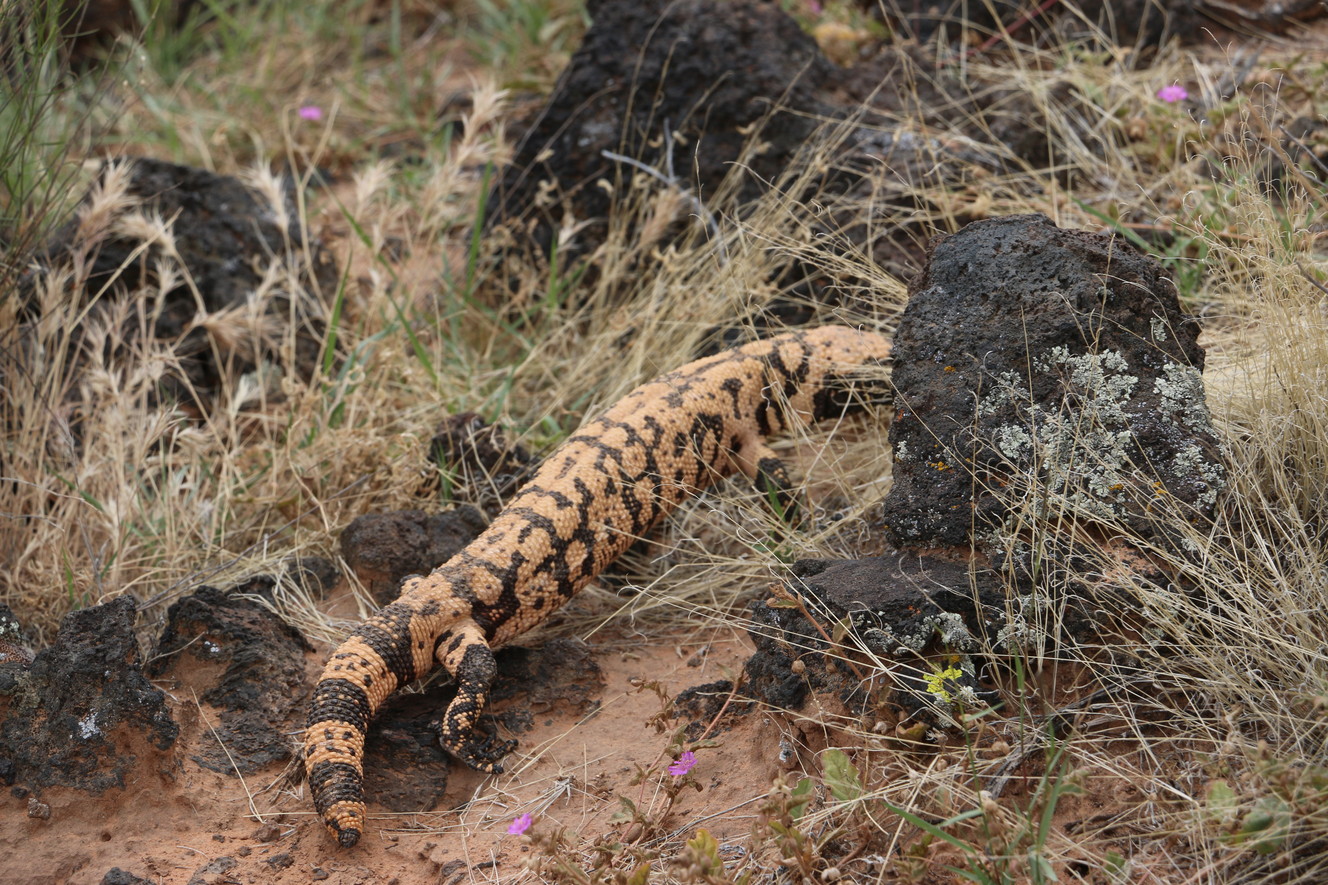 Photo credit: Faith Heaton Jolley/KSL
While fatal in large doses, the venom also has some remarkable medicinal properties. McLuckie said researchers in the 1980s captured a Gila monster and made some amazing discoveries when they extracted its venom.
"In the 1980s, a peptide called exendin-4 was discovered from Gila monster venom samples that originated in southwestern Utah," according to the DWR website. "Exendin-4 has become a leading new drug for treating Type 2 diabetes that afflicts more than 17 million Americans. The new drug, now known as Exenatide, can be synthesized in the laboratory and it is no longer necessary to extract exendin-4 from Gila monsters. It is no exaggeration to say that Gila monsters from Utah's Dixie are helping people cope with diabetes."
Gila monsters typically live up to 25 years, and some in captivity have been recorded to live as long as 38 years, McLuckie said. The species is protected in each of the states it lives, and it is illegal to capture or move a Gila monster found in the wild.
The lizards can range in color from yellow with black bands to orange or pink with black bands. Gila monsters can't change their color during their lifetime, but generations of populations have changed color over time to better adapt and camouflage to their environment, McLuckie said.
Because sightings of the lizards are so rare, DWR officials ask people to report when and where they see Gila monsters. McLuckie said it's hard to monitor the number of Gila monsters living in Utah, but they try to collect data of where the species are living. People can email photos and descriptions of where the Gila monster was seen to annmcluckie@utah.gov.
McLuckie said Snow Canyon State Park and the Red Cliffs Desert Reserve are good areas to see Gila monsters in Utah.
×
Photos
Related Links
Related Stories