This archived news story is available only for your personal, non-commercial use. Information in the story may be outdated or superseded by additional information. Reading or replaying the story in its archived form does not constitute a republication of the story.
HYRUM — A guard station built in 1934 in the Uinta-Wasatch-Cache National Forest has been rehabilitated and an open house will be held Friday to teach the public about the history of the building.
The Blacksmith Fork Guard Station was built by the Civilian Conservation Corps as part of President Franklin D. Roosevelt's New Deal Program "aimed at creating jobs for young men as a means to recover from the Great Depression," according to Uinta-Wasatch-Cache National Forest public affairs specialist Kathy Jo Pollock.
"The Civilian Conservation Corps was a work relief," Pollock said.
Guard stations were built for the Forest Service rangers to live in and work out of, Pollock said. Often, the families of the Forest Service rangers also lived there with them. The early guard stations were typically spaced "a day's ride by horseback" from each other and there are several still located in the Logan Ranger District. Located in Logan Canyon, Card Guard Station and Tony Grove Guard Station are also being renovated for public use.
The rehabilitation and open house are happening in conjunction with the 50th anniversary of the National Historic Preservation Act and Utah Archaeology and Historic Preservation Month. The Blacksmith Fork Guard Station was restored and rehabilitated by Forest Service volunteers to maintain its 1930s appearance, Pollock said.
Located about 11 miles from Hyrum, the guard station area provides a variety of recreational activities, including hiking, biking, horseback riding and OHV trails. The cabin may be available for public use by the end of the summer and can accommodate five to six people, Pollock said. It also has rooms for tents adjacent to the building.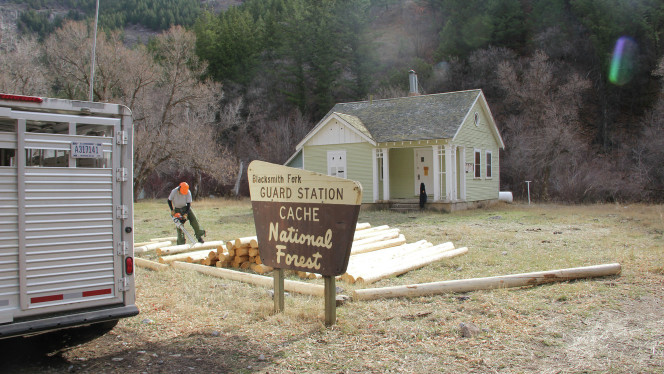 Photo credit: Courtesy of Uinta-Wasatch-Cache National Forest
The open house will be held at the Blacksmith Fork Guard Station on Friday from 10 a.m. to 3 p.m. To get to the guard station from Logan, travel south on U.S. 89 for approximately 1 mile, then merge left onto SR-165. Travel south on SR-165 for approximately 5.8 miles, then turn left onto SR-101 to access Blacksmith Fork Canyon. Travel east on SR-101 for approximately 9 miles.
Then turn left onto the Left Hand Fork Canyon Road FS-245 and travel approximately 3 miles on an improved gravel road. The guard station will be on the right (south) side of the road.
×
Photos
Related Links
Related Stories