Estimated read time: 3-4 minutes
This archived news story is available only for your personal, non-commercial use. Information in the story may be outdated or superseded by additional information. Reading or replaying the story in its archived form does not constitute a republication of the story.
PARK CITY — Professional freestyle skier Jamie Crane-Mauzy was at the height of her career when a devastating injury nearly cost her her life. Now, she's beating expectations and fighting for a full recovery.
It was on the hills of Park City Mountain Resort where she mastered her craft. Now her goal is to make it back.
On Friday, Jamie sat on the couch in her home and thumbed through old family photo albums. Beside her was her sister and best friend, Jeanee.
The two girls both had dreams of making it big in the skiing world. Chasing those dreams led their whole family to Park City from the East Coast.
"I'm ranked ninth in the world for half-pipe and Jamie is ranked tenth in half-pipe," Jeanee said.
The sisters have competed all over the world, but on April 11 at the World Tour Final in Whistler, British Columbia, Jamie hit the snow hard.
"She was just face down in the snow, completely limp," Jeanee said. "She had bit her tongue and was bleeding all over the place."
Jamie has no memory of what happened.
"Two days beforehand, I don't remember; and 3 1/2 weeks after, I don't remember," Jamie said. "I don't think I'll ever remember that."
She spent eight days in a coma.
"We kept talking to her and trying to get her to open her eyes saying, 'Come on, you got to do it,' " Jeanee said.
Doctors found bleeding on Jamie's brain stem. They said recovery would be an uphill battle.
"There were a couple of different people who said some really negative things," Jeanee said.
One doctor told them Jamie might remain in a vegetative state for as long as two years.
"It was scary, very scary to me," Jamie said.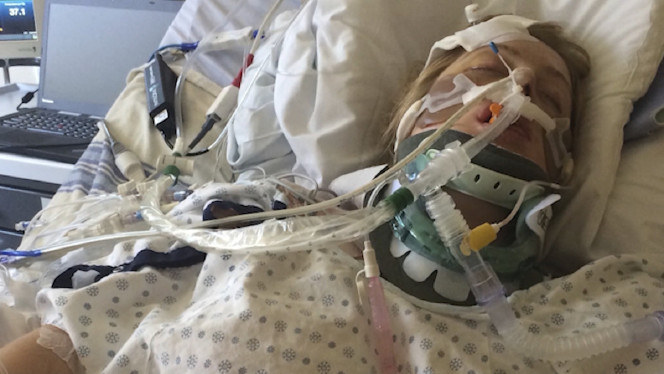 Professional freestyle skier Jamie Crane-Mauzy was hospitalized in a coma for eight days following an April 11 ski accident. Now, she's beating expectations and fighting for a full recovery. (Photo: Family photo)
Slowly, memories started coming back, and Jamie's body followed. She was even released earlier from the hospital than expected.
Nearly six weeks after the accident, Jamie has exceeded everyone's expectations with her recovery.
"She's already proved all them wrong," Jeanee said. "There's nothing negative people can say now."
Despite all she's been through, this past weekend Jamie walked in a 5K for the Brain Injury Alliance of Utah, where she got back a small taste of the competitive spirit.
"I'm feeling pretty good about the future now," Jamie said.
The sisters are now focusing on the opportunity they will have to make more memories, both on and off the hill.
"I'm hoping she will accomplish everything that she wants to," Jeanee said.
The family said doctors believe Jamie can make a full recovery. She's on a strict physical therapy and speech therapy regimen to help her get there.
Jamie hopes to be back on the slopes in time for the next ski season.
×
Photos
Related Stories