Estimated read time: 4-5 minutes
This archived news story is available only for your personal, non-commercial use. Information in the story may be outdated or superseded by additional information. Reading or replaying the story in its archived form does not constitute a republication of the story.
WASHINGTON — The family of slain Utah County Sheriff's Sgt. Cory Wride calls it "a club you'd rather not belong to."
"But you also see the love that others have for you and the sacrifice that has been made, realizing that he was a man that served his community and will always be remembered. And we're appreciative of that," said Wride's mother, Kathy Wride.
On Friday, during the 32nd Annual National Peace Officers Memorial Service held in front of the U.S. Capitol in Washington, D.C., Cory Wride's name was added to the National Law Enforcement Officers Memorial.
Wride was shot and killed in 2014 while assisting a car that was pulled over on the side of the road near Eagle Mountain.
The shooting was the start of a multi-county crime spree by Jose Angel Garcia-Juaregui and his girlfriend, Meagan Grunwald, that included shooting and injuring a second deputy, and firing shots at more officers and random motorists during a high-speed chase that ended with a final shootout that claimed Garcia's life.
Grunwald was convicted last week in 4th District Court of aggravated murder and 10 other charges in connection with the crime spree.
But one person who was not in the courtroom when the verdict was handed down was Wride's widow, Nannette Wride. Before the trial began, she had arranged to participate in a Police Unity Tour from New York to Washington, D.C., to kick off National Law Enforcement Week.
"I couldn't think of any better way to honor my husband than to ride for him because he finished his ride here on Earth, and I wanted to ride on behalf of him. But to be next to my sons and be amongst my police officers, there is no better place to be, and I will be doing it every year," she said Friday in Washington, D.C.
Nathan Mohler, Cory Wride's oldest son, also participated in the ride.
Related:
"It was an unbelievable experience," Mohler said. "The unity that exists between police all over the country, seeing them together. You would think they had known each other for years and years and years, and they welcomed us right into that. It was really, really a touching experience. It was hard and it was fun, and it is something that I'll remember the rest of my life."
The family was in the nation's capital Friday to see Cory Wride's name added to the National Law Enforcement Memorial.
"It was really touching, overwhelming. It was a beautiful ceremony, and it's really comforting to know we belong to a big family, a blue family, that really cares about us," Nannette Wride said.
But while the ceremonies may now be over, family members said honoring Cory Wride's legacy will never end.
---
It was a beautiful ceremony, and it's really comforting to know we belong to a big family, a blue family, that really cares about us.
–Nannette Wride, Cory's widow
---
"There is no closure. I will be taking Cory's memory with me every step of the rest of my life. Whatever that holds, I don't know. But I will continue to honor him the rest of my life and continue to fight for police officers," Nannette Wride said.
"I think this is the final capstone in honoring his name, and he deserves more," Mohler added. "But this is a good, touching way — and a fitting way — to honor him."
Nannette Wride said during some of the breakout sessions over the past week, she was able to meet with the widows of other officers killed in the line of duty.
"(It) helps you know you're not alone, and you can do it, and that you're normal," she said. "Because you don't know, because nobody else can empathize with you. … So it's very comforting. It's a wonderful thing."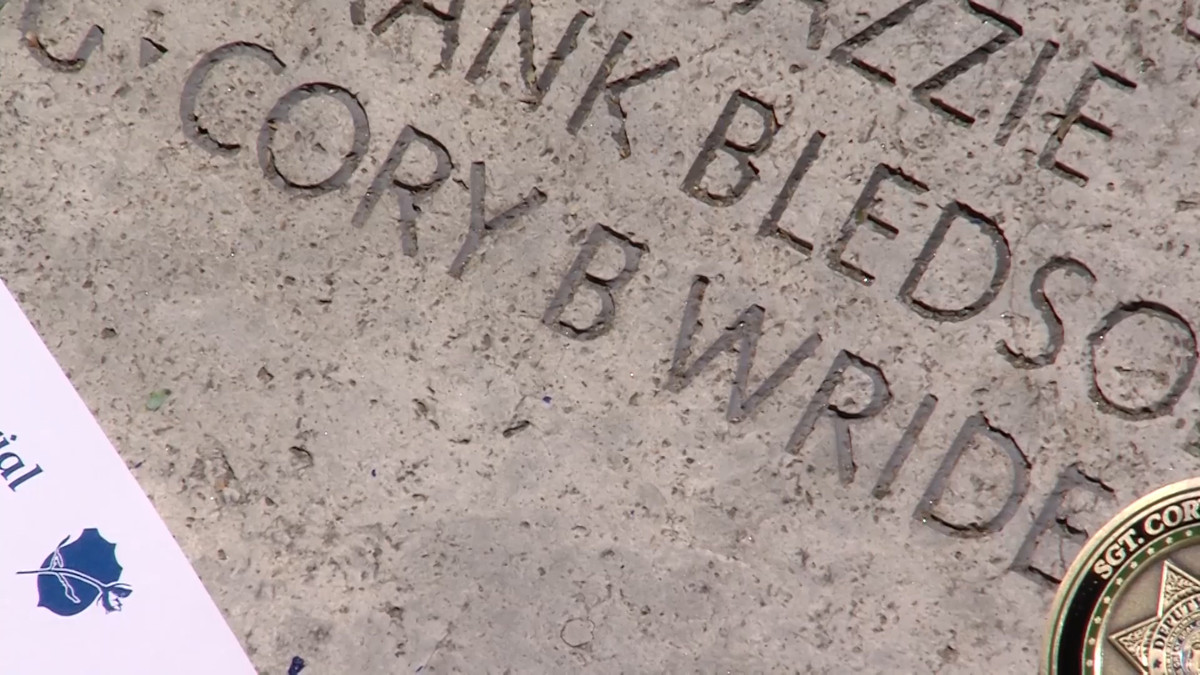 President Barack Obama was at Friday's ceremony to honor the nation's fallen officers and offer condolences to their families.
"On behalf of the American people, I offer the families, friends and fellow officers of those we've lost my prayers and my deepest thanks," Obama said. "We could not be prouder of them, more grateful for their service. We could not be prouder of you and all who work so hard to keep us safe.
"We cannot erase every darkness or danger from the duty that you've chosen. We can offer you the support you need to be safe. We can make the communities you care about and protect safer as well. We can make sure that you have the resources you need to do your job. We can do everything we have to do to combat the poverty that plagues too many communities in which you have served. We can work harder as a nation to heal rifts that exist some places between law enforcement and the people you risk your lives to protect."
Contributing: Sam Penrod, Marc Giauque, Associated Press

×
Photos
Related stories
Most recent Utah stories