Estimated read time: 8-9 minutes
This archived news story is available only for your personal, non-commercial use. Information in the story may be outdated or superseded by additional information. Reading or replaying the story in its archived form does not constitute a republication of the story.
PROVO — Meagan Grunwald's future hung on whether six women and two men trusted her story that she was forced by an older man to drive while he opened fire out the window, killing one Utah County sheriff's deputy and later wounding another.
They didn't.
"The bottom line is, they did not believe (her)," prosecutor Sam Pead said after consulting the jurors who convicted Grunwald early Saturday morning. "I think they pretty much did not believe her by and large."
Rather than fear, the jury agreed with prosecutors that Grunwald, just 17 at the time, was compelled by blind, dangerous love.
Through more than 11 hours of deliberations, jurors considered evidence of Grunwald's devotion: Love notes between the teenager and 27-year-old Jose Angel Garcia-Juaregui, police footage showing her chasing unhesitatingly after her boyfriend as they carjacked a second vehicle, and witness accounts that she hysterically cursed officers who gunned down Garcia in front of her.
It was a now-deceased Garcia who pulled the trigger, but Grunwald was found guilty of being an accomplice to the crimes. Jurors proclaimed her guilty just after 1 a.m. Saturday of aggravated murder in the death of Utah County Sheriff's Sgt. Cory Wride and the attempted aggravated murder of deputy Greg Sherwood. She was also convicted of nine of the 10 other charges filed against her.
According to Utah law, a person who intentionally aids another in a criminal offense is equally liable for the crime.
Without Grunwald's help, prosecutors say the crime spree wouldn't have happened.
Grunwald, now 18, will pay a heavy price for the mistakes she made as a lovestruck teen. When the Draper woman is sentenced on July 8, 4th District Judge Darold McDade only has two basic choices for the most serious charge: a sentence of 25 years to life in prison or a life sentence without the possibility of parole.
Shock and sorrow
Tori Grunwald paced the hallway nervously as she awaited the verdict, keeping a careful distance from the officers' families. Despite her nerves, she smiled as she described her 18-year-old daughter's aversion to wearing dresses, even during the trial.
"She's such a tomboy," she told KSL News, recalling the teenager's fascination with working on cars and the long hours she spent raising hogs for FFA.
As the jury's decision was read, the mother began to sob, propped up between two female family members. Together, the cries of the women echoed through the empty courthouse as they quickly left without comment.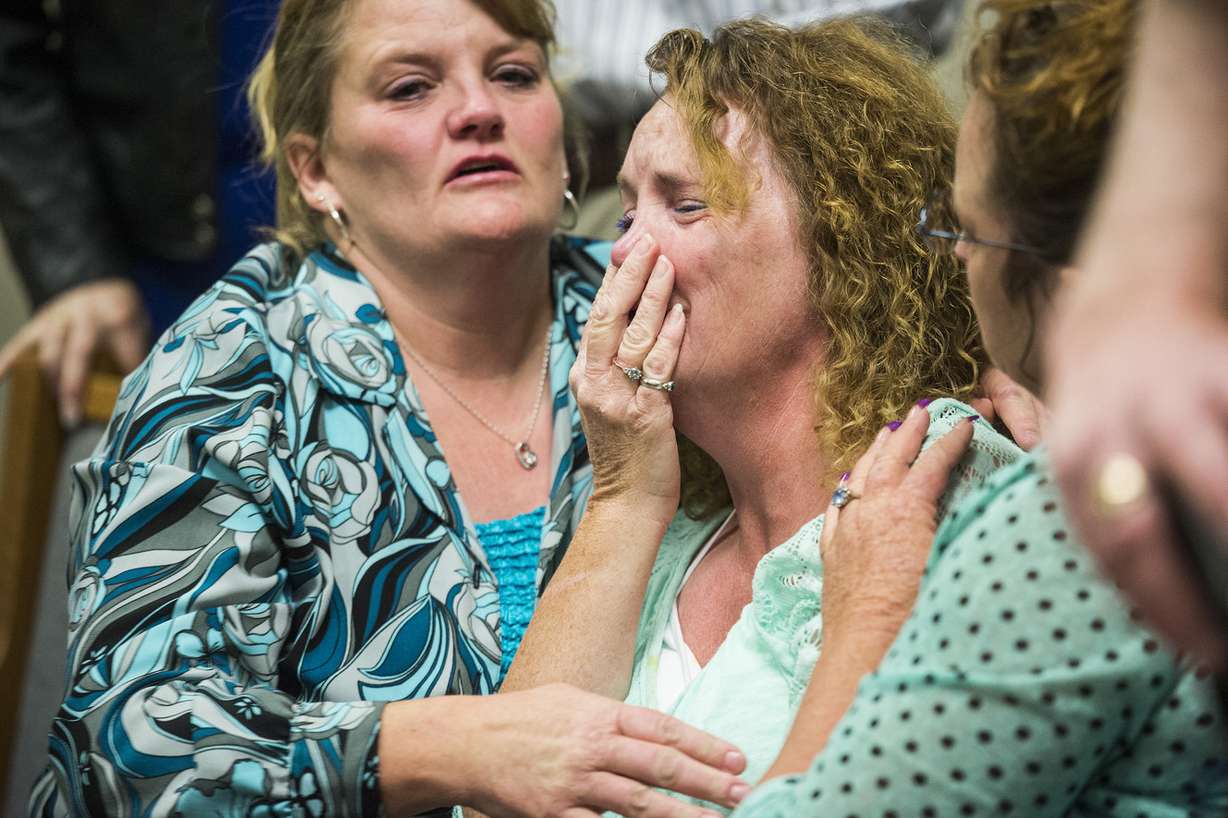 The Grunwald family was unable to attend much of the trial, in part because Meagan Grunwald's parents and closest relatives had received subpoenas to testify.
As through much of the trial, Meagan Grunwald was quiet as the verdict was read. Her expression broke, registering shock and then sadness, as one guilty count after another was read.
Meagan Grunwald spent two days on the witness stand, first testifying on her own behalf and then facing an unwavering cross examination that prised at the cracks in her account. She claimed she was unaware that her older boyfriend, a convicted felon on parole, was carrying a gun when they got into her Toyota Tundra that day. She insisted she learned a warrant had been issued for his arrest just before Wride approached them, parked on the side of a snowy highway in Eagle Mountain.
As the sergeant sat in his patrol vehicle searching for the fake name Garcia had provided, Grunwald told the jury she was ordered at gunpoint to put the truck in gear and get ready to drive. Garcia slid open a back window and fired seven deadly shots as Grunwald sped off. When Sherwood later began to pursue them in Santaquin, she said she fled at Garcia's command and was braking to avoid other cars when he unexpectedly fired again. Prosecutors said Grunwald was deliberately closing the gap between her truck and Sherwood to set her boyfriend up for a better shot.
To keep her compliant and with him as he ran, Grunwald said Garcia threatened to kill her and her family.
No happy endings
The guilty verdicts brought little joy to the fallen officer's family. They cried quiet tears as the jury's decisions were read. It was not a victory, it was justice.
"No one wins in these kind of situations," Blake Wride, Cory Wride's father, said with a sigh. "Do we feel happy? No. Did it bring Cory back? No. But when people make choices there are consequences, and sometimes justice has to be satisfied, as hard as it is."
It does, however, bring closure.
"Now we can move forward and remember Cory for the man he was, and his community service, and the great father that he was," Kathy Wride said of her son.
---
The justice system that Cory believed in has served us well. We are so grateful for the attorneys that spent endless hours, the heroes that brought the thin blue line down on Meagan and Jose, and the witnesses with such great courage to come forward.
–Nanette Wride, widow of Cory Wride
---
Cory Wride's widow, Nanette Wride, was not in the courtroom to hear closing arguments or a verdict. She is in New Jersey, where she will join the Police Unity bike ride to Washington, D.C. beginning Sunday. She will be joined by the rest of her family to see her husband's name added to the National Law Enforcement Memorial on Friday.
"The justice system that Cory believed in has served us well," Nanette Wride said in a statement Saturday. "We are so grateful for the attorneys that spent endless hours, the heroes that brought the thin blue line down on Meagan and Jose, and the witnesses with such great courage to come forward."
On Twitter, Wride said she couldn't imagine the pain of seeing a teenage daughter convicted, but called the decision just. She used the social media account to share her opinion of Meagan Grunwald's testimony, calling it coached and inconsistent.
During the trial, Sherwood recounted details of being shot in the head during the couple's crime spree. More than 15 months later, he is still recovering his strength and physical abilities.
"My family and I, and the Wrides, are grateful to have this in the past so that we can move on, figure out the new us," he said quietly as he left the courthouse Saturday.
Beyond reasonable doubt
Susan Ethington has never met Meagan Grunwald. She first learned her name as she followed the news of the deputies' shootings. She was stunned to see that the surviving suspect in the attacks appeared to be a mere child.
"My heart went out to (Wride) and his family first," the Provo woman recalled Saturday. "And then I would see her picture in the papers, with her lawyers, and I started wondering, 'She's such a young girl, how much could she really have had to do with what happened?' I was hoping she really didn't."
Ethington continued to wonder about Grunwald whenever she drove the newly renamed Cory Wride Memorial Highway to her daughter's house in Eagle Mountain. When she read about the 18-year-old's emotional testimony in court, she wanted to believe that the explanation would add up.
Related:
"I was just really hoping that was all true, that she was innocent and scared, because I do know how people we love can turn on us," said Ethington, whose concern drew her to the Provo courthouse in the midnight hour to hear the verdict.
She noted the long hours the jury spent deliberating, and the concerned looks on their faces as they were brought in. The decision didn't appear to have been easy for any of them.
"I had to see the jury, I had to see who it was who had made this decision," she said. "When I looked at the jurors, I knew that they would be the type of people who would do the right thing and be the right judges. … When they said that she was guilty, I could accept that."
The 18-year-old will begin her prison sentence later this year, but Ethington hopes she will someday have a chance at parole. She doesn't think she will ever stop wondering about her.
"I'm sure I'll follow her as long as I'm around, and I really hope she gets released," Ethington said. "I would like to see her have some of her life out in society, I really would."
Grunwald was found guilty of aggravated murder, two counts of attempted aggravated murder, aggravated robbery and felony discharge of a firearm with serious bodily injury, all first-degree felonies. In addition, she was convicted of criminal mischief, a second-degree felony; two counts of felony discharge of a firearm, possession or use of a controlled substance, and failure to respond to an officer's signal to stop, third-degree felonies; criminal mischief, a class A misdemeanor; and violation of operator duties for accident involving property damage, a class B misdemeanor.
The jury acquitted Grunwald of one count of attempted aggravated murder involving shots fired at Utah Highway Patrol trooper Jeff Blankenagel. The trooper was not hit.
Once McDade sentences Grunwald to either 25 years to life in prison or life without the possibility of parole for the aggravated murder charge, he will decide whether the sentences for the other charges will run concurrent or consecutive to that main sentence.
Grunwald's attorneys said they are considering an appeal.
Contributing: Sam Penrod
×
Photos
Related stories
Most recent Utah stories