Estimated read time: 6-7 minutes
This archived news story is available only for your personal, non-commercial use. Information in the story may be outdated or superseded by additional information. Reading or replaying the story in its archived form does not constitute a republication of the story.
PROVO — After deliberating more than 11 hours Friday and early Saturday, a jury found 18-year-old Meagan Grunwald guilty of aggravated murder and 10 other charges in connection with the shooting death of a sheriff's deputy.
The verdict was announced just after 1 a.m. Saturday.
Shock crossed Grunwald's face as the verdict was read. She began to cry quietly as her mother sobbed from the courtroom gallery.
"I love you baby!" the mother cried out as her daughter was led from the courtroom.
The six-woman, two-man jury was tasked with deciding whether Grunwald acted intentionally out of love for her older boyfriend or out of fear she would be shot when she drove the getaway truck for the man who killed Utah County Sheriff's Sgt. Cory Wride and gravely wounded deputy Greg Sherwood during a violent crime spree.
In the end, the jurors said they didn't believe most of Grunwald's version of events, prosecutor Sam Pead said.
Shedding tears of their own, Wride's family acknowledged that, while it represented closure for them, the verdict was a blow to the Grunwald family.
"I'm heartbroken for her family. It's a sad day for them, and it doesn't bring my son back," Kathy Wride, the sergeant's mother, said following the announcement. "The prosecution presented a strong case and there are consequences for actions."
Tori Grunwald was distraught as family members hurried her out of the room. She was forced by subpoena to testify against her daughter in the case, clearly resisting prosecutors as she was questioned.
"She's innocent!" Tori Grunwald shouted as she left the courtroom. "That whole family can go to hell!"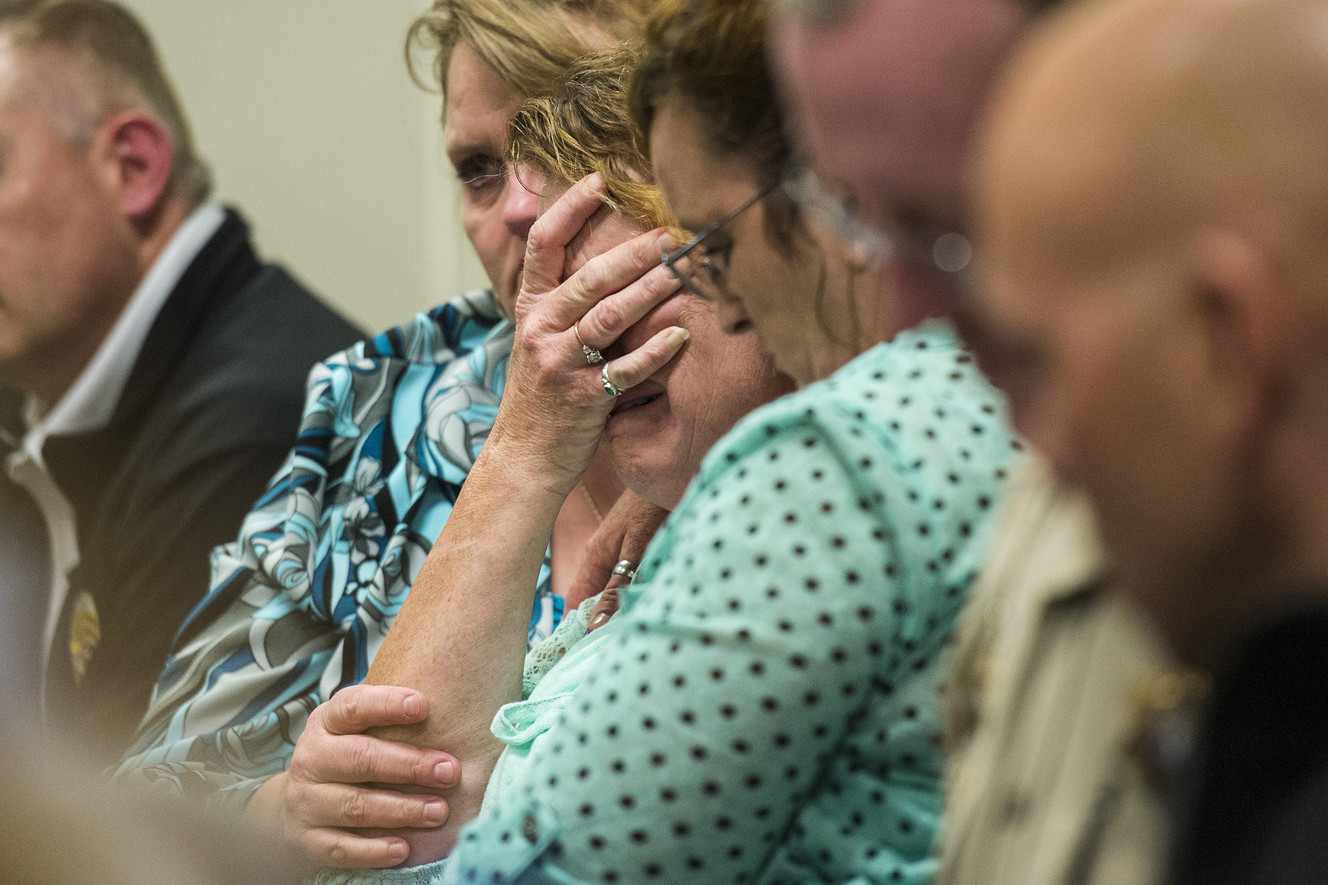 Holding his wife's hand, Sherwood said the verdict will help him and his family move forward.
"It shows that if you make bad choices and hang out with bad people, there are going to be consequences for it," he said. "My family and I, and the Wrides, are grateful to have this in the past so that we can move on, figure out the new us, be normal."
In closing arguments Friday, prosecutors said Meagan Grunwald's decisive and composed actions show she supported Jose Angel Garcia-Juaregui's attacks on police and bystanders that day, acting alongside him in order to protect their future life together.
As he prepared to shoot, she prepared to drive. When he ran, she ran with him.
"(It is) an action that tells everyone she is along for this wild ride with her man," Pead told the jury. "She is with Jose Angel Garcia until the end."
After fatally shooting Wride and wounding Sherwood, Garcia died following a shootout with officers along I-15. Grunwald was arrested and eventually charged as an accomplice. Along the way they carjacked an SUV in Nephi, and Garcia fired at other officers and bystanders.
While the then-17-year-old Draper girl never fired a shot, prosecutors argued that Garcia wouldn't have been able to commit his crimes without his girlfriend's help.
Defense attorneys, however, countered that Grunwald was a terrified teen who was highly susceptible to 27-year-old Garcia's deadly threats as he pointed a gun at her and told her he would shoot her and her family if she didn't do as she was told.
"Who's in control? The guy with the gun," defense attorney Dean Zabriskie said.
The attorney pointed a disarmed pellet gun at jurors as he made his point, raising his voice as he asked them to consider the fear Grunwald would have felt.
"Doesn't that make your heartbeat go up?" he asked.
---
"I love you baby!" the mother cried out as her daughter was led from the courtroom
---
All the evidence the state presented to illustrate Grunwald's commitment to the older man — love notes, a ring he gave her, birthday cards — in fact proves that she was a victim, an underage girl who legally couldn't consent to the relationship, Zabriskie said.
"It only would have taken a slight twist of fate for her to be the victim and Angel to be the defendant," he noted.
Prosecutors countered that Grunwald's ability to consent to sex has no bearing on whether she could conspire in the crime.
Grunwald, now 18, was charged as an adult with aggravated murder, two counts of attempted aggravated murder, aggravated robbery and felony discharge of a firearm with serious bodily injury, all first-degree felonies. In addition, she is charged with criminal mischief, a second-degree felony; two counts of felony discharge of a firearm, possession or use of a controlled substance, and failure to respond to an officer's signal to stop, third-degree felonies; criminal mischief, a class A misdemeanor; and violation of operator duties for accident involving property damage, a class B misdemeanor.
The jury convicted her of all counts except for one count of attempted aggravated murder involving shots fired at Utah Highway Patrol trooper Jeff Blankenagel. The trooper was not hit.
Grunwald will be sentenced July 8. She could face a maximum sentence of life without the possibility of parole.
After nine days at trial, jurors began deliberations about 1:15 p.m. Friday and announced they had reached a verdict about 12:30 a.m. Saturday.
Zabriskie urged jurors to remember how young Grunwald was and is, calling her the victim of a "master manipulator." He speculated that Garcia responded so violently when Wride approached their vehicle on Jan. 30, 2014, because he believed he may have been under investigation for molesting the underage girl — a theory that prosecutors disputed.
While Zabriskie implied Grunwald may not have faced the same charges had Garcia survived, prosecutors told jurors that they would have stood trial together.
"If Jose Angel Garcia had not been killed on that day, he would be sitting here right now — and Meagan Grunwald," deputy Utah County attorney Tim Taylor said firmly. "She is not a sacrificial lamb."
Taylor highlighted 25 points from Grunwald's testimony that he said contradicted other accounts or may have been blatant lies, including hiding elements of her relationship with Garcia, getting drugs, saying she believed Wride and Sherwood had been protected by bulletproof glass, and claims she couldn't hear officers' commands because her ears were ringing from the gunshots.
Prosecutors also argued that Grunwald was never seen attempting to flee or call for help, even as officers drew near. Her priority, they said, was staying with a man she hoped to run away with.
"Like a perfect microcosm of this case, she heads exactly to where Jose Angel Garcia is," Pead said, describing how the couple ran to steal the SUV in Nephi. "She does not look for release. She looks only and exactly at him."
In her testimony on Wednesday, Grunwald tearfully said she considered trying to jump from the vehicle or running from Garcia, but was ultimately too afraid to act.
"Should we punish her for not having the courage?" Zabriskie asked.
Zabriskie compared Grunwald to Elizabeth Smart, who was kidnapped from her home and later revealed she didn't call out to searchers from her hiding place out of fear. It was a characterization that members of the Wride family called unfair.
However, as deliberations began, Shea Wride, Cory Wride's middle son, expressed confidence in the case that prosecutors presented. No matter what the outcome, the family will have closure, he said.
Though she showed little emotion as attorneys presented their closing arguments Friday, Grunwald began to weep after jurors were dismissed to deliberate.
"She's tense, scared," Zabriskie said. "It's a very emotional case, and those emotions run both ways. We have a couple of fine officers — one is deceased, one is maimed — and dealing with that, I hope we've made it clear to the jury that they're not the enemy to us, they're heroic figures."
×
Photos
Related stories
Most recent Utah stories