This archived news story is available only for your personal, non-commercial use. Information in the story may be outdated or superseded by additional information. Reading or replaying the story in its archived form does not constitute a republication of the story.
FRUIT HEIGHTS — For decades, Scott Fisher had driven past the spot where Theresa Rose Greaves' remains were found earlier this year.
"I live less than a mile from the spot they found Theresa. I drive past that spot two to six times a day," he said.
On Feb. 5, he again motored along U.S. 89. But this time he saw a police car, a motorcycle and a couple of other cars parked on the side of the road. A small group of people was bent over looking at something.
"I thought 'Oh, had a hiker fallen and gotten hurt? What's going on? Should I get out and help?' Then I thought, they got the police there, they got three other people, I'd only be in the way. What would I offer?" said Fisher, who is a genealogist, well-known Utah radio personality and host of a nationally syndicated radio show, "Extreme Genes."
Little did Fisher know at the time but it was his genealogy skills and the sleuthing of a woman in New Jersey whom he had never met that would eventually lead to the woman's relatives.
Although state and local authorities had been able to identify Greaves through forensic evidence and police reports, finding her next of kin had been frustrating.
Greaves, who was from New Jersey, had moved to Utah after graduating from high school in 1977. For two months in the summer of 1983, she roomed with a friend also from Camden County, N.J. in a mobile home park in Woods Cross.
On Aug. 5, 1983, she reportedly took a bus to Salt Lake City for a job interview. Greaves called her roommate Betty Jo "Bo" Colozzi to tell her she was in the city. She never returned.
Not only was Greaves from out of state, her grandmother, who had raised her, was deceased. So was her mother and her father's name was not listed on Greaves' birth certificate. Colozzi died about two years ago.
Because Fisher lives in the neighborhood where Greaves' remains were found, he occasionally asked Davis County Sheriff Todd Richardson, a long-time friend, for updates on the case.
When Richardson told him his office had been unable to locate Greaves' family "I said, 'I kind of have a special ability with this stuff. Would you like some help?'
"He said, 'Yeah, that would be awesome.' "
Getting started
Fisher's wife, Julie Fisher, said once her husband starts a genealogical search, he becomes fully engulfed in the process.
"I'm an absolute nerd, there's no question about it. It's very tedious. To me, it's trying to complete the puzzle. But when you do it, it's enormously satisfying," he said.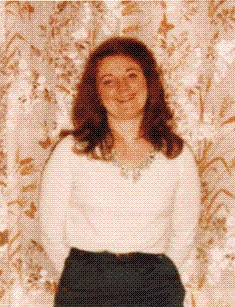 But connecting the dots of Theresa Rose Greaves' life, Fisher said, was complicated.
Her missing person's case was 32 years old. She was from out of state and many of her relatives were deceased or had moved from New Jersey.
"I started out by going to a missing person's website. It gave her date of birth, when she went missing, and it said she had been wearing the Collingswood, N.J. high school ring," he said.
Given her date of birth, Fisher deduced she had graduated in 1977. He searched the internet and found a Facebook page for the Class of '77. The administrator of the page turned out be a real estate agent.
"When I clicked on his name, his phone number was right there." So Fisher called him, told him about Greaves death, and he offered to post a message on the Facebook page to ask other alumni if they had information about her family.
"This one gal named Debbie Veevers stepped up," Fisher said. She called Fisher to tell him that their yearbook contained the home addresses of all the graduates. Fisher urged Veevers to visit Greaves' old neighborhood to find out if there were any neighbors that may have known her.
"She did. She found an old neighbor from the '70s, who said 'Yeah, she lived her with her grandmother and a couple of uncles.'" They were actually great uncles, the brothers of her grandmother.
Veevers took the additional step of reviewing property records of the house where Greaves had lived.
Searching records
Fisher searched Census records and the Social Security Death Index for the names Veever had provided.
Many of the leads were dead ends but Fisher persisted, eventually tracking down Greaves' uncle in Florida.
Related:
But it took dozens of phone calls, sometimes leaving "awkward" telephone messages. One relative contacted the Davis County Sheriff's Office because she thought it was a scam. A detective assured her that Fisher had good intentions.
"Eventually, the way it worked, I found the uncle of Theresa through his daughter-in-law. I found the daughter-in-law by leaving a phone message at the home of her ex mother-in-law," Fisher said.
As Fisher worked to find Greaves' family, Veevers started a gofundme.com account asking members of the Class of '77 and others who may have known her to contribute toward her burial expenses. Now that family has been located, any remaining money will fund scholarships in Greaves' honor, the site says.
"Nonetheless, the fact is, we have next of kin. The Class of '77 has done this marvelous thing back in New Jersey, which I think is very touching. I was very happy to help," Fisher said.
Sgt. DeeAnn Servey, public information officer for the Davis County Sheriff's Office, said Woods Cross Police conducted a thorough investigation when Greaves was reported missing in 1983, filling several binders with information they had uncovered. But they were unable to locate her and the trail went cold.
---
The Class of '77 has done this marvelous thing back in New Jersey, which I think is very touching. I was very happy to help.
–Scott Fisher, genealogist
---
The discovery of Greaves' remains resolves the missing person's case but a homicide investigation is ongoing, she said.
While the sheriff's office was still working its channels to find Greaves' family, it took Fisher and Greaves' high school classmates taking "a special interest" to make the connections.
"They just did it of their own free time, which was wonderful," Servey said. "It worked out better than we thought."
Fisher estimates he spent about 40 hours on the case. But he was determined to find Greaves' kin.
He and his wife have four children and their fifth grandchild is due any day. Julie Fisher is executive director of the Utah Department of Heritage and Arts, which is responsible for repatriation of human remains of tribal members found on state and private lands.
All of those experiences had deepened Fisher's resolve to find Greaves' family.
"You run into a dead-end and you say 'I have to follow this all the way through.' I just couldn't let it go.
"I'm looking at Theresa's picture right now on the computer. I feel like I know her at this point."
×
Photos
Related Stories