Estimated read time: 3-4 minutes
This archived news story is available only for your personal, non-commercial use. Information in the story may be outdated or superseded by additional information. Reading or replaying the story in its archived form does not constitute a republication of the story.
SALT LAKE CITY — Folklore states that a woman who catches a bouquet at a wedding will be the next to get married, but one Utah woman is attempting to turn that myth into a world record.
Salt Lake City resident Jamie Jackson said she gets invited to a large number of weddings because her family makes a lot of connections through participating in musical theater and through their church group. As a result, she has attended between 80 and 100 weddings over the years, she estimated.
Jackson caught her first wedding bouquet in 1996, and, because of her competitive nature and "as luck would have it," she caught several more within a few years. Eventually it became a hobby for her, and every time she got invited to a wedding, she planned to be there to catch the bouquet.
"It is something that you have to plan for and you have to be very strategic where you place yourself," Jackson said, laughing. "My strategy is to be right up in the front because a lot of times the brides don't know how far they are going to throw it. A lot of times it will hit a ceiling, it'll hit a chandelier... I've had many, many catches where I've had to jump for it. And I've hit little kids by accident."
Jackson jokingly calls bouquet catching "her sport" and said she's had a lot of fun catching the flowers throughout the years. After it became a running joke among family and friends, she decided to make her bouquet catching an official world record.
"Back in 2004, this girl Stephanie out of Pennsylvania, she made it an official record and she had 11," Jackson said. "And I was like, 'Oh my gosh, I have 35.' I was like, 'I have to break this record.' "
Jackson began the submission process for the Guinness World Record, and by August 2014, she had caught 46 wedding bouquets. She began tracking down all the brides whose bouquets she had caught in order to get official documentation and photos to apply for the record. She said she was happy to find out that most of the women were still married.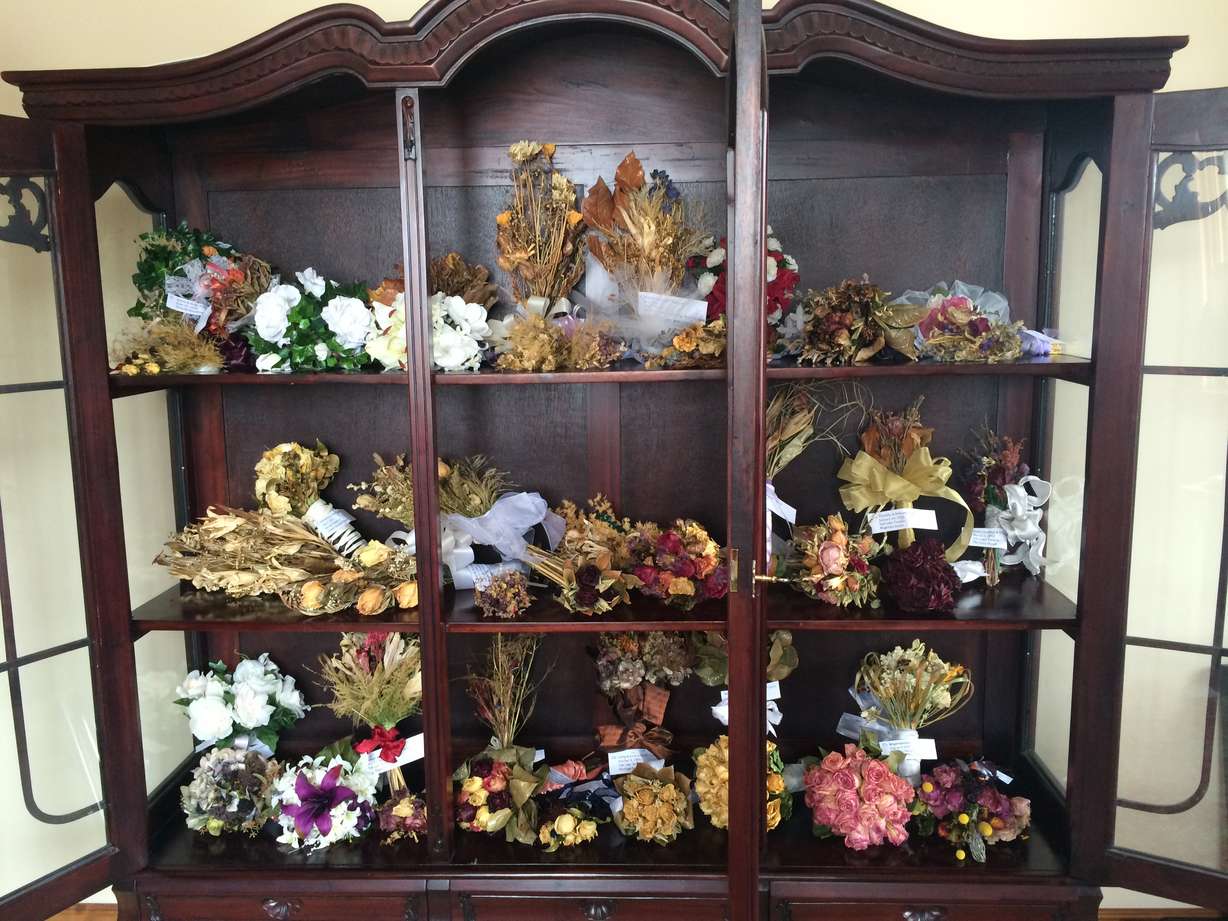 "I'm proud to say that out of all 46 wedding bouquets I've caught, there have only been two divorces out of 46," she said. "I consider myself a good luck charm."
Weddings have been a big part of Jackson's life with the bouquet catching and also as part of her work. For several years, she said she worked at Noah's Event Venue as an event planner and was often involved in weddings. Jackson said people often joke with her that she is purposely staying single to catch more bouquets, but she assures that is not the case.
Akin to the movie "27 Dresses," Jackson has kept all of her bouquets and displays them in a glass cabinet with labels of each wedding and year.
"It's just been a fun process over the years," she said.
Jackson submitted her application Wednesday. She said during the process she reached out to the current record holder, Stephanie Monyak, and the two swapped stories and hope to meet someday. Jackson also hopes to catch four more wedding bouquets to make her record an even 50.
---
[listen to 'Bouquet Record Wrap' on audioBoom](https://audioboom.com/boos/2892871-bouquet-record-wrap)
×
Photos
Related Links
Related Stories