Estimated read time: 3-4 minutes
This archived news story is available only for your personal, non-commercial use. Information in the story may be outdated or superseded by additional information. Reading or replaying the story in its archived form does not constitute a republication of the story.
RIVERTON — Riverton High School seniors Caleb Barlow and Hannah Perkins just started dating, and less than a week ago, she saved his life.
But things could have turned out differently if not for a feeling she had Saturday.
Even though she had a lot of things to do that day, Perkins said she really wanted to see Barlow.
"All Saturday I had this feeling that I really needed to see Caleb," she said. "It woke me up in the morning, and I texted him."
Perkins had choir practice and wouldn't be done before 10 p.m.
"Can we just hang out after that?" she asked. "That's the only time I can hang out, but I really need to see you."
Barlow agreed. Later that night, they were together on his front porch when Barlow "just kind of fell back, and he's making weird gurgling, choking noises," Perkins said, "and I thought he was just joking around for a second."
But he wasn't.
"He would take a deep breath, and then it would just stop for like 30 seconds, and then take another really deep breath," she said.
---
I kind of really freaked out then. I kind of was like, 'He's not breathing!' And the dispatcher was like, 'OK. It's OK.'
–Hannah Perkins
---
Perkins said she knew Barlow needed help, but his parents weren't home. She ran inside the house and yelled for Caleb's younger brother, Zach.
The 12-year-old was just getting ready for bed when he heard screaming. He ran down the stairs and saw his brother.
"His face had gone purple," Zach said.
Perkins asked the boy if anything like this had happened before. He told her no. He knew his brother had a pacemaker and had one for years, but he had never had issues like this before.
Perkins called 911 and went back to Barlow, while Zach went upstairs to put shoes on since he was in pajamas. Before he could get back to his brother, Barlow had stopped breathing.
"I kind of really freaked out then," Perkins said. "I kind of was like, 'He's not breathing!' And the dispatcher was like, 'OK. It's OK.'"
The dispatcher told her to put Barlow on the ground and start CPR.
"I started doing the chest compressions," Perkins said. "We could hear the sirens coming and could kind of see the flashing lights."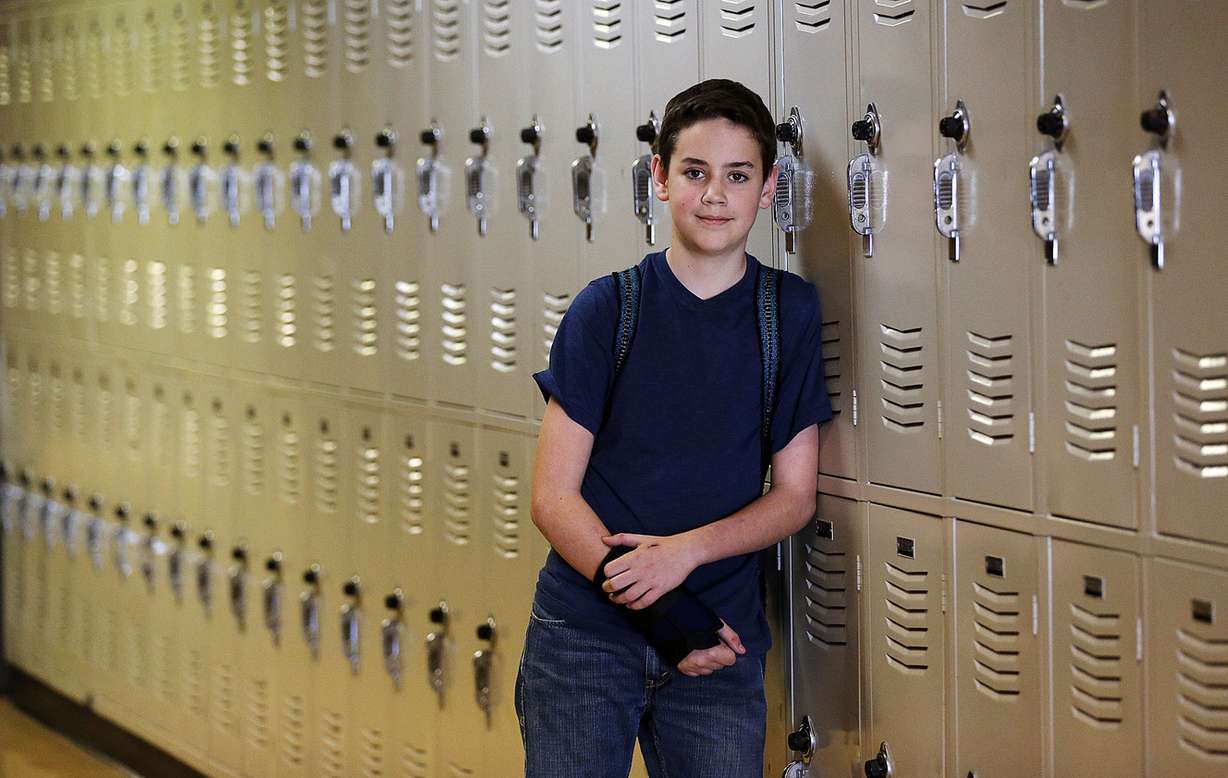 Paramedics had stopped at the other end of the street, so Zach ran down the street to get them.
"I was really scared, like on the verge of tears," the boy said.
By the time they arrived, Barlow had started breathing. He was taken to by ambulance to Riverton Hospital and then taken by Life Flight to Primary Children's Hospital.
Barlow is now recovering in the hospital.
"He's doing a lot better. His heart is working perfectly now," Perkins said, getting a little choked up. "But it's actually his lungs. One of the side effects of the cardiac arrest, he threw up a little, and so the acid came up and then down into his lungs."
Barlow is connected to an artificial lung and a ventilator, she said. It could take some time before he is taken off the machines, but doctors are confident he will recover.
Perkins said doctors ran a series of tests but have not yet figured out why Barlow went into cardiac arrest.
She said she learned CPR in a church group. Though she was pretty scared Saturday, Perkins said working with a student in her school with a disability who has seizures helped her that day.
"Because the first time he had a seizure, I really freaked out," she said, "but he had them pretty regularly so I got used to it. If not, I probably would have been way too freaked out to even do the other stuff."
Perkins and Zach have become much closer since this happened.
"She did save my brother's life," he said. "The reason he's alive is because of her."
Contributing: Viviane Vo-Duc
×
Photos
Most recent Utah stories