Estimated read time: 8-9 minutes
This archived news story is available only for your personal, non-commercial use. Information in the story may be outdated or superseded by additional information. Reading or replaying the story in its archived form does not constitute a republication of the story.
SSALT LAKE CITY — Dan Farr attended his first comic con event as a vendor, hoping to market 3-D illustration and animation software to the comic book and video game artists in attendance.
He marvelled as he watched the enthusiastic attendees file in, dressed in costume or waiting to meet a favorite celebrity.
Farr was star-struck, through not just by the caliber of celebrities he was encountering. He was hit by how much it meant to fans of all ages to talk with the stars of their favorite shows.
"I got pulled into the energy of that fandom and also the creativity of the cosplayers that were there," Farr said.
As he attended conventions in major cities — New Orleans, Chicago, New York — he began to realize something. For the caliber of stars in attendance, the enthusiasm of the fans, and the population of the cities they were in, Farr was stunned that attendance wasn't higher.
Then he decided he could increase it.
Dawn of Salt Lake Comic Con
In 2012, Farr began a transition away from DAZ 3D, a company he had helped establish, with the idea of starting a comic con in Salt Lake City. He started attending geeky conventions across the country in order to establish relationships, searching out celebrities and vendors he would eventually try to woo to Utah.
Farr sought out a potential ally in Bryan Brandenburg, an entrepreneur and game developer he had first met in 1996 and had worked with at DAZ 3D and other companies. Brandenburg said he needed to at least see a comic con first, so Farr took him to the Wizard World convention in February 2013.
In a flash, Brandenburg was hooked.
"After spending a couple days there, I said, 'Yeah, we could totally do this and be successful,'" Brandenburg said. He helped establish Salt Lake Comic Con a few weeks later.
Together the two decided to hold a convention that fall, setting a goal for about 15,000 attendees.
By September, the Salt Palace Convention Center was bursting at the seams with 70,000 delighted attendees and heavy hitters such as Marvel creator Stan Lee and "Star Trek" icon William Shatner on stage, far more than the pair had dreamed possible.
In two subsequent events the next year, organizers drew 100,000 guests to the first FanX in April and 120,000 more to the second Salt Lake Comic Con in September.
The near-heroic inception of Salt Lake Comic Con hasn't been without challenges, finding a nemesis in San Diego Comic-Con International. The premier geek convention issued a cease and desist letter citing alleged trademark violations just prior to the 2014 Salt Lake Comic Con, sparking an epic online battle for fans. The two companies each filed their own lawsuits are now in settlement talks.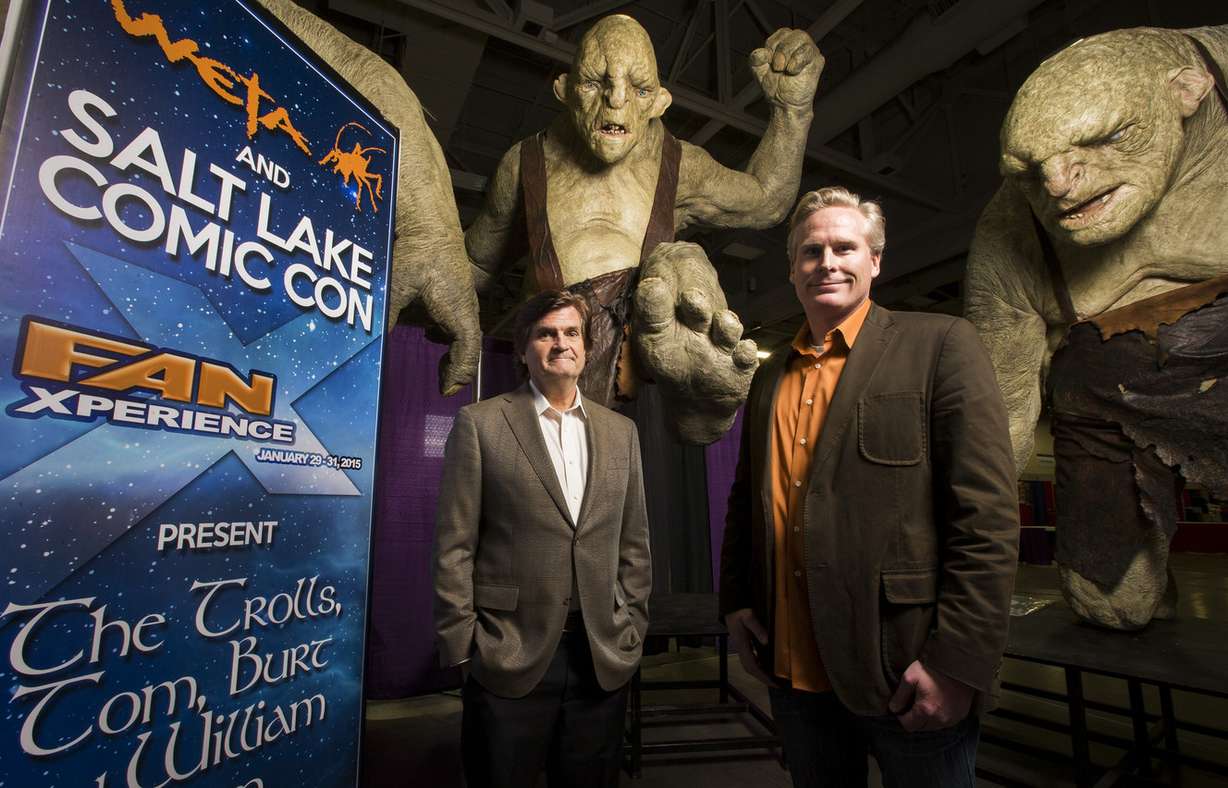 A dynamic duo
Farr, a native Utahn and father of three, attended Skyline High School and Salt Lake Community College, where he played basketball and met his wife, falling head over heels after a night of dancing. He completed a business management degree at the University of Utah.
The mild-mannered businessman doesn't see himself as the person at the center of the show, preferring to work behind the scenes and then sit back to watch others enjoy what he's made.
His wife and kids, ages 6 to 19, know that when Farr zeroes in on an idea, it's here to stay. When he became intrigued with hosting a haunted house eight years ago, it was only a matter of time before nearly every inch of the home was being used for the annual project.
"I just went crazy. I started going to these haunt conventions and building props and buying props," Farr said. "If people are screaming and laughing, they're having a good time."
It was haunted house conventions that first introduced Farr to comic con, he said.
Brandenburg was born in France and raised in Ogden. He joined the U.S. Air Force when he was 17, where his first job was fixing computers on fighter jets. That year he "discovered a game called Space Invaders" and saw "Star Wars" for the first time in theaters.
"That really blew my mind. I went and saw that like six times within a couple of weeks," Brandenburg recalls.
Brandenburg later studied math and physics — "I've been studying the Force for 30 years," he says — at Weber State University, then went on to establish two nationally known video game companies. He sold his second company and has since "retired" from game developing, focusing now on creative projects like comic con.
His four daughters are grown, coming with their husbands and children to play at Salt Lake Comic Con, while one daughter helps with customer service and media at the event, Brandenburg said.
His wife, a healer and counselor who Brandenburg describes as a "dream-maker," can be found at his side at comic con events, often in costume.
"We do Superman and Wonder Woman," Brandenburg boasts.
His 16-year-old stepson shares a birthday with the original Salt Lake Comic Con, and enjoyed a celebratory dinner with Stan Lee himself. The conventions have become something the family looks forward to together, Brandenburg says, dressing up and gathering for their new three-day tradition.
With their entertainment and marketing powers combined, Farr and Brandenburg complement each other running Salt Lake Comic Con, Brandenburg says. Additionally, they've become friends.
"We've certainly gone through the phase of seeing whether we can survive a partnership. The thing about these conventions is the two or three weeks (before they start) is so intense, so if you don't have a relationship with someone at this level, you'll have problems," Brandenburg said. "(Farr) is a great partner, and we're good friends."
The comic con founders see hosting events in their home state as an advantage, underscored by their understanding of local preferences on questions like whether the convention should extend into Sunday and how much of a priority should be placed on entertaining families.
"We pride ourselves on having created a family-friendly event … where people can come with their families and learn about heroes," Brandenburg said.
The fan experience
Farr doesn't describe himself as a passionate fan of any one movie, series or character — he enjoys them all. What he really loves, he has discovered, is seeing memorable interactions between fans and their favorite stars. He has seen them overcome with excitement, brought to tears, or simply fighting to find the courage to talk to someone they idolize.
For many, they are meeting the character they love rather than an actor, Farr says.
"I'm a fan of the fan experience," he said. "It's powerful. I love to be a part of creating that energy."
---
There are opportunities like never before to really connect. Off an on we're the No. 1 Facebook page in Utah based on engagement. We're certainly the No. 1 comic con Facebook page in the world, and the way we've done that is to entertain people and engage them in a conversation.
–Bryan Brandenburg
---
When it comes to setting up those memorable moments, Farr is the broker, gauging which stars Utahns want to see and figuring out what will attract celebrities and their promoters to the state.
Doing just that has become easier with each convention, as attendance has climbed and guest lists have become increasingly star-studded, bolstering the convention's reputation. Salt Lake Comic Con is now counted among the top conventions of its kind in the country, both in size and quality.
Farr recalls meeting Lou Ferrigno, the original Incredible Hulk; Manu Bennett, of "Arrow" and "The Hobbit"; and Kevin Sorbo, star of "Hercules: The Legendary Journeys," a series Farr and his wife often watched together.
Following their personal and personable introductions, Farr would eventually befriend the three stars, who subsequently were among the first on the guest list for the inaugural Salt Lake Comic Con.
Though celebrity meet-and-greets generally last for only a moment, Salt Lake Comic Con especially likes to book guests who are known to be personable, friendly and engaging with fans, who are also paying customers, Farr said.
"For that brief moment that you're with them, it's your moment," he said.
While Farr focuses on scheduling guests, Brandenburg is often plugged in to the company's highly active Facebook page, which can reach up to 3 million people in a week.
"There are opportunities like never before to really connect," Brandenburg says. "Off an on we're the No. 1 Facebook page in Utah based on engagement. We're certainly the No. 1 comic con Facebook page in the world, and the way we've done that is to entertain people and engage them in a conversation."
At Salt Lake Comic Con and FanX events, Brandenburg has fallen in love with the panels, especially looking forward to introducing guests and pumping up the crowd.
"The energy in that grand ballroom to introduce someone like Sir Patrick Stewart or Stan Lee is just amazing. It's the memory of a lifetime," Brandenburg said.
FanX 2015
Thursday marks the beginning of the latest Salt Lake Comic Con event, FanX 2015, which will run through Saturday. The founders announced FanX shortly after their September convention.
Last year's FanX event took place in April, but the duo is testing whether an earlier event can develop a natural relationship with the Sundance Film Festival, but so far no formal partnership exists.
Tickets to FanX have been capped at 50,000, putting the focus on quality rather than quantity, Farr and Brandenburg have said.
VIP tickets for FanX were announced sold out earlier this week, and other passes were on track to sell out once the event is underway, a spokesman confirmed Wednesday.
FanX guests include Carrie Fisher, Princess Leia from the original "Star Wars" trilogy; Matt Smith, who played the 11th Doctor on BBC's long-running hit "Doctor Who"; Tom Felton, who played Draco Malfoy in the "Harry Potter" franchise; Morena Baccarin, who starred alongside past Salt Lake Comic Con guest Nathan Fillion in the short-lived "Firefly" series; and Christopher Lloyd of "Back to the Future."
Other guests include Karen Gillan ("Doctor Who"), Billie Piper ("Doctor Who"), Steven Yuen ("The Walking Dead"), Brandon Routh ("Superman Returns"), Felicia Day ("The Guild"), Glenn Morshower ("24"), and Mark Pellegrino ("Supernatural").
×
Photos
Related stories
Most recent Utah stories