This archived news story is available only for your personal, non-commercial use. Information in the story may be outdated or superseded by additional information. Reading or replaying the story in its archived form does not constitute a republication of the story.
Editor's note: John Clyde takes a break from Pic & Flix to send reporters out to cover Salt Lake Comic Con.SALT LAKE CITY — You have heard the big names. You have seen the crowds of cosplayers walking through downtown. But why do people go to comic conventions year after year in cities across the world?
To answer that question, we sent two of our reporters — a newbie and a nerd — out to experience Salt Lake's first Comic Con.
To start off, I am not into comic books. I have read very few and followed none. The only "nerdy" director I've kept up with is Joss Whedon. "Star Trek: Next Generation" is still the only "Star Trek" series I've watched, with the exception of a few original series episodes. Like most people, I get excited about superheroes/characters when Hollywood makes a blockbuster about them. Except "Harry Potter" — he is always the exception. I am always stoked about adventures at Hogwarts.
All that said, I was excited to send our reporters to cover Salt Lake's first Comic Con and get a glimpse into the world of the comic book/graphic novel/sci-fi nerd.
Newbie: Celeste
Best costumes
As an amateur seamstress, I was most interested in seeing what people would come up with. Spandex was in no short supply, but cosplayers also used plastic, cardboard and metal to recreate costumes. Entire bodies were painted. Some spent months and years collecting each piece of the outfit. Instead of patterns, they used schematics.
Not only were their costumes impressive, but they transformed into their characters. They walked like them, they talked like them. Some of them, like "Creature" legitimately scared me.
Passionate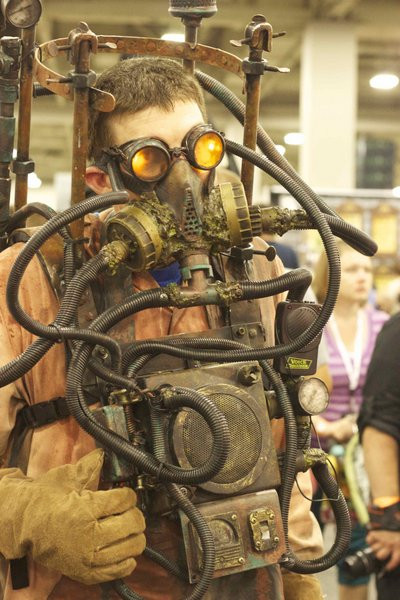 Costumes could be the evidence of this, but these people are passionate. They are not afraid to proclaim loudly and unequivocally while wearing a Chewbacca costume that they love something. Without that passion for comics and nerd stuffs, I felt intimidated and like I had missed out on something. Kind of like in middle school when my friends would ask if I had seen the latest movie and I would say no because I spent my babysitting money on arts and craft supplies, of course.
Though gushing is normally considered a faux pas, it seemed acceptable here. The instances I saw seemed well-received.
Community
Finally, I felt a real sense of community at the Salt Palace and social media surrounding the event. People approached strangers to talk to them about something they were looking at, wearing or had just bought. Conversations were not private — if one person was proclaiming a love for something, another nearby would express their shared love or declare distaste.
This event, I dare proclaim, is awesome because of the people involved.
Nerd: Jarom
I am a nerd and I am not ashamed. I use nerd as a compliment for someone who immerses themselves into anything. So, excuse me for a moment while I nerd out
Comic Con is immersing yourself in the nerd life and the nerd life is good.
I bought my three-day pass for the Salt Lake City Comic Con months ago — actually in June — hoping for the best. I wasn't sure how it would go as it is the first one in Utah. I am blown away.
The line — not to register, but to get in — wrapped around the Salt Palace and it took about 30 minutes to get in. I didn't dress up, just wore a Han Solo T-shirt. I am not opposed to dressing up, but I'm lazy.
Related:
MerchandiseMy group of four started by just wandering around aimlessly for an hour, then we started buying. I bought a "Pokemon" and "Dark Side of the Moon" cross-over shirt and an "Avatar: The Last Airbender" shirt for my friend.
Celebrities
Our main goal for the day was finding Ryan Ottley. He is an artist from the Salt Lake Valley who draws a comic called "Invincible." It is written by Robert Kirkman who is best known for the "Walking Dead" comics. Ottley would only be there on Thursday.
Quick tangent: At ksl.com I do Utah Jazz stories. I've interviewed every Jazz player over the last two years and I don't get starstruck or nervous interviewing them.
When I talked to Ottley I rambled like a nerd asking the prom queen on a date.
I just started talking and told him that I loved him and his book and he was my favorite and that I tweeted him and that he was the best and that I was so glad to meet him and that I loved him.
Related:
While that was a terrible sentence, it gives you a real taste of how I acted. He was very gracious with my ramblings.
After finishing my gushing, we went to talk to Taimak Guarriello. He starred as "Bruce" Leroy Green in a cult classic called "The Last Dragon," a blaxploitation kung fu movie.
Guarriello's meet-and-greet line was very short and my friend paid him for an autograph and a picture. For the picture, my friend wanted to see if he would say a quote on video from the movie in a short video. Guarriello's reply embodied the Comic Con culture.
"Sure, that's what being an actor is about," Guarriello said. "It's not like you're asking me to walk through fire."
Experience/Immersion
For dinner, our group was deciding among some overpriced, albeit tasty, food vendors. They were named all sorts of nerdy names and we couldn't decide so we did what any nerd would do — we asked Gandalf.
Yeah, someone dressed as Gandalf from "The Lord of the Rings."
"Where should we eat, Gandalf?"
He looked at us and then pointed with his gnarled staff.
The general direction was the Green Alien, a Mexican place. We asked if that was where we should go and he nodded silently, then walked away.
It was delicious. We tried to find him again, but to no avail. He could have really been the true Gandalf and sailed away to the Elf lands in the West.
Until then, to use Lee's catch phrase, Excelsior!
×
Photos
Related Stories