Estimated read time: 4-5 minutes
This archived news story is available only for your personal, non-commercial use. Information in the story may be outdated or superseded by additional information. Reading or replaying the story in its archived form does not constitute a republication of the story.
SALT LAKE CITY — A healthy pregnancy — that is what Elisha Bowers had for the first eight months. This was her third, and last time, being pregnant and she had the routine down.
Bowers, 26, had only gained 20 pounds by her eighth month of pregnancy in August. But she noticed she was having trouble breathing. Then the swelling started, first in her hands and then down to her feet. After three weeks, she didn't have any feeling left. Worried it was preeclampsia, Bowers, a medical assistant in Salt Lake City, went to go see her doctor.
Her blood pressure was slightly raised, but not enough to be considered a threat. When Bowers gained 10 pounds her last week of pregnancy, she knew something was off.
"(Ten pounds) was one-third of what I had gained my whole pregnancy," Bowers said. "I was scared because 10 pounds in one week was way too much in my mind."
For the first time in three pregnancies, Bowers went into labor on her own before her due date. Her blood pressure spiked but doctors still told her she was fine. After she gave birth to her third daughter via Caesarean section, she had a tubal ligation because she and her husband felt they were done having kids.
"During this time I felt like I was suffocating, so (the nurses) put oxygen on me," Bowers said.
Despite these symptoms, she was released from the hospital Friday, Sept. 5. By Monday, Bowers couldn't walk up her stairs without stopping to breathe, something that's never happened to her before. Her hands, legs and feet were still swollen. Thinking she had pneumonia because she detected fluid in her lungs, Bowers went back to her OB the next day, who immediately sent her to the emergency room. Following an echocardiogram, she got the devastating news that her heart was failing.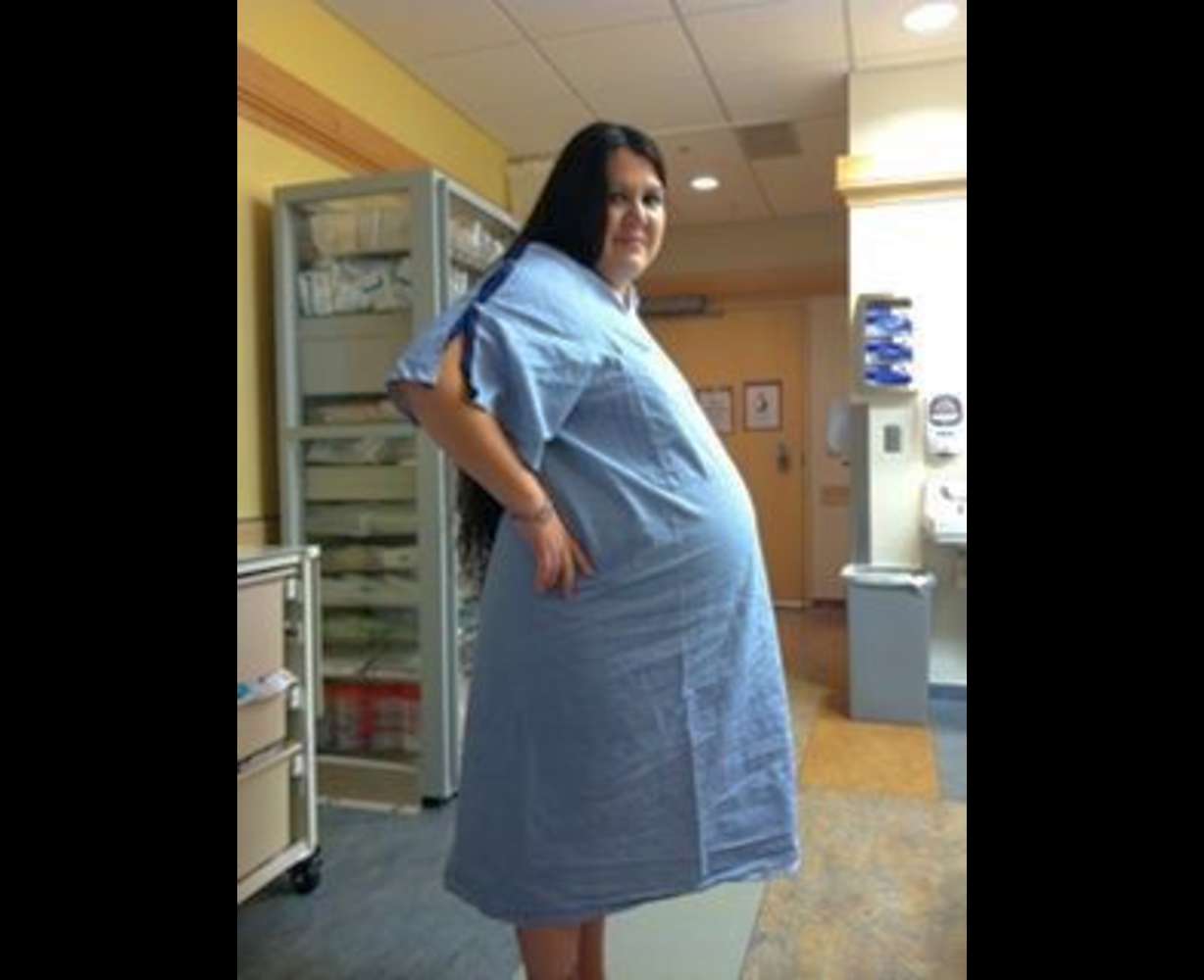 "I couldn't believe it. I went from a healthy mother of two to having my third child and ending up with heart failure at 26," she said.
What is peripartum cardiomyopathy?
Bowers developed a condition called peripartum (or postpartum) cardiomyopathy (PPCM), a rare disease where "a pregnant woman's heart becomes weakened and enlarged," according to the National Institutes of Health (NIH). It can happen anytime between the last month of pregnancy, up until five months after the baby is born.
Myheartsisters.com, an online site dedicated to bringing awareness about PPCM, says all women need to know the symptoms of heart failure, which include fatigue, racing heart palpitations, increased nighttime urination, shortness of breath, swelling of the ankles and stomach or chest pain.
Why does it happen?
There's no definitive cause to heart failure during pregnancy, but experts believe it's caused from all the stress put on a woman's body, including the up to 50 percent increase of blood volume. The heart becomes weak and can't pump blood very well anymore, according to the NIH.
There are risk factors, such as obesity, personal history or heart disorders, smoking, alcoholism, African-American descent and poor nourishment, but Bowers didn't meet any of those factors.
"Healthy, young women with no previous signs of heart disease can develop heart failure in pregnancy and die very suddenly. Vigilance and education is the key to saving lives," myheartsisters.com states. "Everything you ever learned about heart disease being caused by smoking, lifestyle, diet, stress, alcohol, etc., does NOT apply to PPCM. The cause is unknown. In fact, non-smokers have a higher incidence of PPCM than smokers."
What happens now?
Symptoms of PPCM
Shortness of breath and coughing that generally occur at night
Difficult or uncomfortable breathing on exertion
Cough
Shortness of breath on when lying flat, causing the person to have to sleep propped up in bed or sitting in a chair
Swelling (edema) above and below the knee
Abdominal pain or chest pain
Palpitations – awareness of heart beating
Pink sputum

Source: myheartsisters.com
With no cure in sight, Bowers just takes one day at a time.
"To my knowledge, it had no effect on the baby," she said. "She is healthy and doing great. For me, I wake up every day happy knowing I lived another day."
Every two months, Bowers has to go in to her cardiologist to have another echogram. She doesn't know at this point if she will need a pacemaker or a heart transplant. Her doctor told her 50 percent of women recover normally, 30 percent continue to have the disease throughout their life, and 20 percent of women die. Women who receive heart transplants are expected to live anywhere from 5 to 15 years.
"Pregnancy is the best thing that can happen in a family, but there are risks no one told me about," Bowers said. "I had no clue that being pregnant could cause heart failure, and it's more common than what people think. It normally goes misdiagnosed by doctors because there is no awareness about it.
"I know from personal experience that women need to be watched more closely, not just during pregnancy, but until they are out of the danger zone of six months. I know that doctors should all be informed about how dangerous this situation is, because it should be prevented. A mother should be able to enjoy having her baby, not holding on to dear life to see her children grow up."
For more information on PPCM and to read other women's stories, visit myheartsisters.com.
×
Photos
Related links
Related stories
Most recent Utah stories