Estimated read time: 2-3 minutes
This archived news story is available only for your personal, non-commercial use. Information in the story may be outdated or superseded by additional information. Reading or replaying the story in its archived form does not constitute a republication of the story.
RIVERTON — Every year, the students at Oquirrh Hills Middle School pick a project for their big fundraiser — Oquirrhfest. This year, they focused on a part of history with which many of the students feel a distant connection.
"One of my great-grandfathers was in the Navy. The other one was a navigator," said Kathryn "KT" Hendricks, a ninth-grader whose great-grandfathers served in World War II.
The middle school students are raising money to send World War II veterans to Washington, D.C., to see the memorial dedicated in their honor as part of Utah Honor Flight. Hendricks said the project has given her valuable insight on "the greatest generation."
"I love being able to do this because I've always wished that I had known my great-grandfathers," she said. "They both died shortly before I was born."
Hendricks and other classmates sketched portraits of Utah World War II veterans in art class from their service photographs taken seven decades ago. They plan to honor eight veterans with the portraits at an assembly Friday.
Helping other veterans, by raising money for Utah Honor Flight, enables the students to make that connection with relatives several generations removed because they fought for the same values: "Even though I never knew them, it makes me feel closer to them," Hendricks said.
Ever since KSL5 News started to share the stories of Utah Honor Flight veterans last spring, the community has responded with generous donations to help send nearly 200 veterans to Washington to see the World War II Memorial.
"It helps them connect with history," said Michael Glenn, principal of Oquirrh Hills Middle School. "The kids have a connection to the past and some of the things these veterans have been through."
Students saw KSL coverage of Utah Honor Flight and set a goal to raise $20,000 to send veterans to the World War II Memorial. The fundraisers included a silent auction of video games, Jazz gear and other items. Students and staff also came up with unique challenges.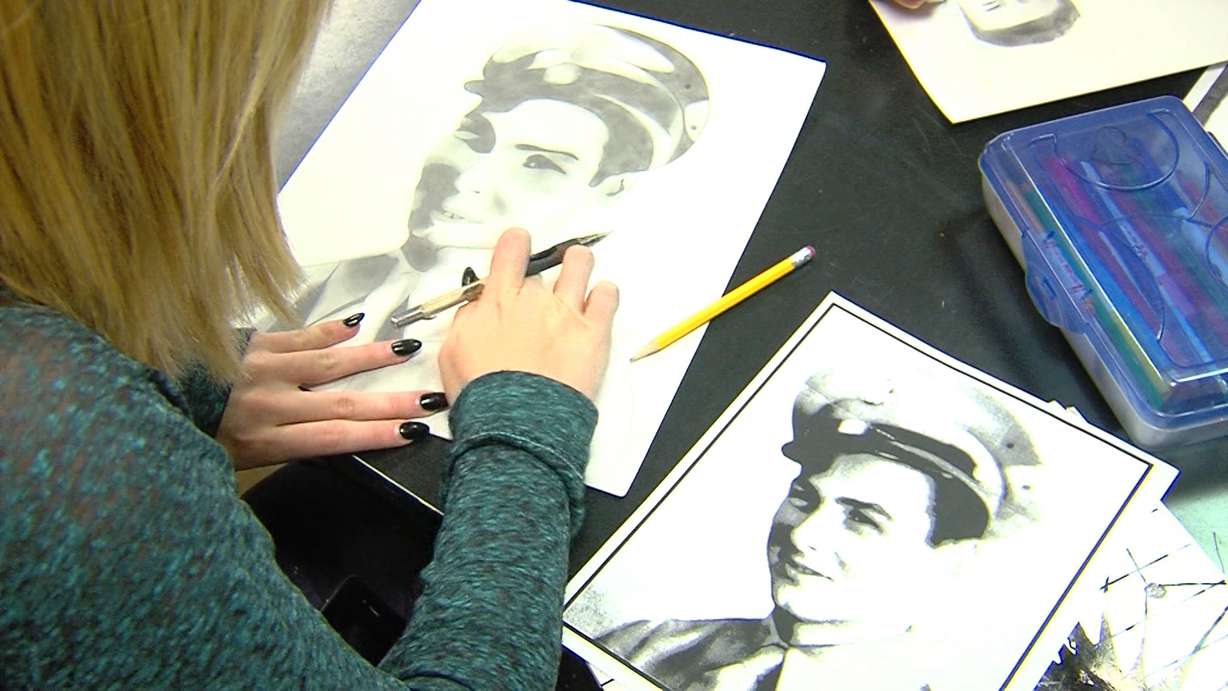 Quinn Fabert's great-grandfather also served in World War II, and went on a Utah Honor Flight this fall.
"I'm so proud of him that he did that for us," she said.
Fabert said the Utah Honor Flight was a powerful experience for her great-grandfather.
"He was so emotional over everything and was overwhelmed," she said. "He was just so happy."
The students also recognize why this project is so important this year as the veterans' numbers continue to dwindle.
"We decided, while we have the opportunity, we should donate as much as we can and support them," said Joy Kavapalu, a student body officer.
Oquirrhfest culminates Friday with an assembly where they will welcome eight World War II veterans as their guests of honor.
Contributions and applications for Utah Honor Flight can be made on their website.
×
Photos
Related links
Related stories
Most recent Utah stories