Estimated read time: 4-5 minutes
This archived news story is available only for your personal, non-commercial use. Information in the story may be outdated or superseded by additional information. Reading or replaying the story in its archived form does not constitute a republication of the story.
SALT LAKE CITY — When the Garcia family found out that Rachel Garcia-Trujillo could be a live liver donor for her mother, Betty Garcia, they were elated.
Garcia had been suffering from primary biliary cirrhosis for 16 years. She took a turn for the worse in recent years, napping three or four times a day.
On the Model for End-stage Liver Disease scale, called MELD, she had reached a 17 out of 40. Patients are often not considered for a liver transplant from a deceased donor until they reach a MELD score of 30. The higher the score, the greater the chance of death before a transplant match is made.
"She was essentially in bed waiting for her MELD score to get above 30," said Dr. Michael Charlton, the transplant hepatologist in the surgery.
After months of tests and preparation, Garcia-Trujillo, a military veteran, and her mother went in for hours of surgery on Veterans Day. Two-thirds of the right side of Garcia-Trujillo's liver was taken out and placed into her mother at Intermountain Medical Center.
Toby Garcia, Betty's husband, said he felt relieved when he found out they were both OK.
"There is no greater act of courage and kindness and love than to donate an organ," said Willem Van der Werf, one of the transplant surgeons on the team at Intermountain Medical Center.
What is primary biliary cirrhosis?
"Primary biliary cirrhosis, sometimes called PBC, is a disease in which the bile ducts in your liver are slowly destroyed. Bile, a fluid produced in your liver, plays a role in digesting food and helps rid your body of worn-out red blood cells, cholesterol and toxins. When bile ducts are damaged, as in primary biliary cirrhosis, harmful substances can build up in your liver and sometimes lead to irreversible scarring of liver tissue (cirrhosis)."
Source: The Mayo Clinic
The surgery sent Garcia-Trujillo into liver failure, which is common with this procedure.
"I didn't think too much about the risks. Maybe for a little … slight second, but I see positive, and the positive just outweighed the risk," Garcia-Trujillo said.
Within weeks to months, both the donor and recipient livers will regrow to their normal size, and both are expected to make a full recovery. It is estimated that an egg-size portion of the liver will regenerate every day. The liver is the only organ in the body that can regenerate on its own.
Garcia is now able to walk around and complete tasks that would have been impossible in the past.
Charlton called the two an "ideal pair." Live liver transplants are rare in the United States, but the alternative is for someone to be placed on a regional waiting list, competing with patients in other states such as California and Arizona for livers from deceased patients.
Shiro Fujita, a transplant surgeon on the team, said the procedure is comparatively common in Japan, though it took about eight years after successful adult-to-child transplants to begin adult-to-adult procedures.
The best result for recipients is when they receive a liver that is within 1 percent of recipient weight, Fujita said, which means adult-to-child donations take less of the liver and are less risky.
Intermountain Medical Center is the only hospital in the state and one of about 30 in the country that performs adult-to-adult live liver transplants. Primary Children's Hospital performs adult-to-child live liver transplants.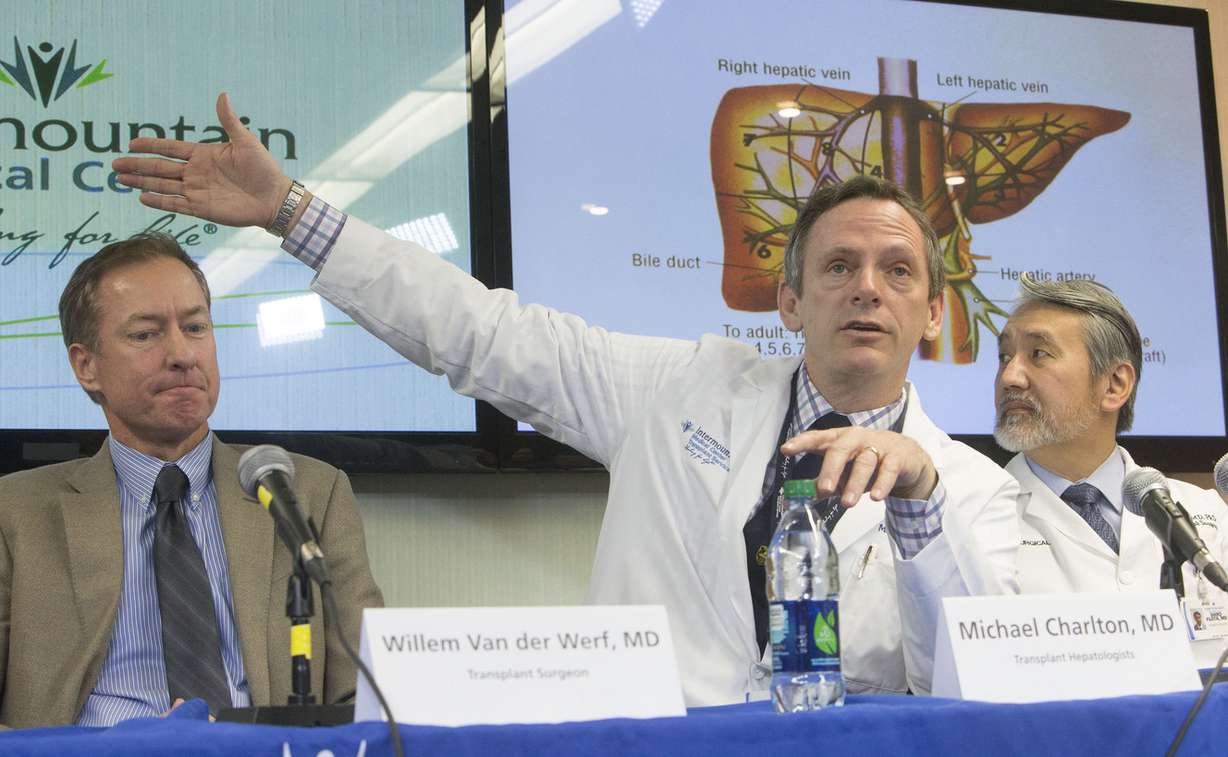 When the donor liver is taken out, surgeons need to cauterize or stitch hundreds of small blood vessels and bile ducts shut to reduce risk of internal bleeding and infection. They then remove the diseased liver from the recipient and replace it with the new liver.
In addition to having a compatible blood type, being between the ages of 21 and 55 and having a body mass index lower than 30, the donor needs to have a "strong emotional bond" with the recipient, Charlton said, "because … the risk with liver donation is more" than with other live transplants.
Since her surgery, Garcia visits the clinic for lab work three times a week and is required to take about 25 types of medication, racking up treatment costs of thousands of dollars each month. Eventually she will wean off all but about four or five medications and will only need to complete lab work about once every three months. Once at this level, missing one dose of medication will likely send her into liver failure.
To Garcia, who will now be able to travel more and be more active with her granddaughter, "it's well worth it."
Anyone interested in becoming a living liver donor can call the transplant center, 801-507-3380. Those interested in becoming a kidney donor can complete a screening form at intermountainmedicalcenter.org/organdonor.
×
Photos
Related links
Related stories
Most recent Utah stories