Estimated read time: 3-4 minutes
This archived news story is available only for your personal, non-commercial use. Information in the story may be outdated or superseded by additional information. Reading or replaying the story in its archived form does not constitute a republication of the story.
SALT LAKE CITY — The holidays seem to bring out the giving in all of us. But there are people who are generous with their time and money year round. Now scientists and researchers say these people are actually reaping the benefits of better mental and physical health.
"It's addicting. Helping people is so addicting," according to Danielle Stamos, who works for Catholic Community Services. CCS helps thousands of Utahns each year through a variety of programs, including the St. Vincent de Paul Dining Hall, which serves up a free hot lunch and dinner each day with lots of help from volunteers.
Gratitude is now seen as the non-prescription drug for happiness. Scientists who study the brain say it's pretty amazing — with more gratitude comes great joy. Dr. Noel Gardner is a psychiatrist who has read and studied much of the new research on giving. "One of the neuroscientists who studied this says it's almost like they're addicted to altruism. They get this great sense of pleasure out of giving to people they know nothing about."
The results of a five-year study of giving at Notre Dame shows Americans who describe themselves as "very happy" volunteer almost six hours a month while those who are "unhappy" volunteer about half an hour. Researchers also report lower depression rates among Americans who donate at least 10 percent of their income to charities.
"I think it's really something special to give, but it really also adds to your life and it gives it a little more value," says Stamos.
Reagan Bassett is a regular volunteer at the St. Vincent de Paul Dining Hall. "Everyone says it's so sad but it's not because you know you are serving them and you are able to look at your own life with gratitude more than you were before."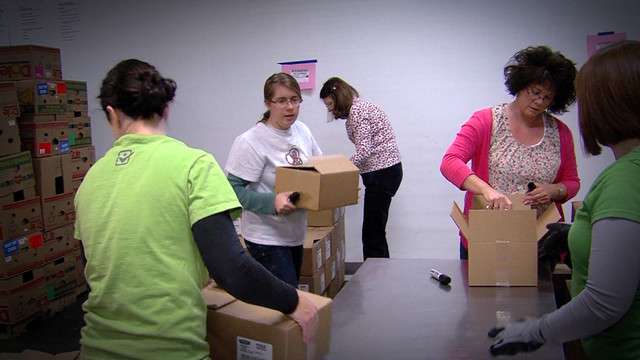 Bassett has been volunteering since she was 10 years old. Research shows it's that consistent generosity that makes people feel so good about themselves and their lives. "I've learned a lot about myself and how to serve others better and to do other things, not just serving in a homeless shelter," says Bassett.
Gardner agrees that giving "can become a kind of a habit, a life habit of just fostering gratitude." Giving of his time has become a habit for Joe Masarone. He helps with church activities, and now that he's retired, he can do regular volunteer work at St. Vincent's Dining Hall. "I'm kind of thankful for what I have and I'm trying to give back," says Masarone.
At St. Vincent de Paul's Dining Hall, directors are thankful for volunteers who help them feed hundreds of people each day. Dennis Kelsch is the director of Basic Needs Services for the St. Vincent de Paul Dining Hall and says, "Volunteers absolutely make our machinery run and enable our services to be given, enable us to handle, feed, and help so many people."
The science of giving also suggests that people who are grateful for what they have are thankful for what they don't have to worry about. "Maybe one thing I don't have to worry about is whether there'll be food at the end of the day or breakfast tomorrow morning," says Kevin LaRue, a volunteer from KSL Radio donating time at the Utah Food Bank.
Ginette Bott is the chief development officer for the Utah Food Bank. She says, "What I think people recognize after they volunteer is how fortunate they are." LaRue and fellow KSL Radio co-workers jumped in to volunteer at the food bank this month. It's hard to believe such a small paid staff can serve so many, but Bott says you can thank the food bank's generous volunteers. Last year, those volunteers donated 98,000 hours of service.
"When they're here, they recognize their service is helping others, but it also gives them time to stop and appreciate truly what they have in their life," says Bott.
×
Photos
Related stories
Most recent Utah stories