Estimated read time: 3-4 minutes
This archived news story is available only for your personal, non-commercial use. Information in the story may be outdated or superseded by additional information. Reading or replaying the story in its archived form does not constitute a republication of the story.
ALPINE — Just a few months ago, Jacob Clark appeared to be a perfectly healthy, active 17-year-old.
The senior at Lone Peak High School noticed a freckle on the left side of his head at the end of summer and asked his mom about it after it started bothering him when he wore hats.
Doctors removed it and told him it was benign, but his family decided to go to a second and then third doctor after a lymph node behind his ear swelled up, according to his mother Kerri Brown.
Soon after, they received a diagnosis — stage IIIC melanoma — and were on the fast-track to the Huntsman Cancer Institute. Jacob had his first major surgery Sept. 26, when he had 45 lymph nodes and a salivary gland removed. His first round of biochemotherapy started two weeks ago.
"He's getting his head around it," Brown said. "He's very cheerful and very good about it. He's just in the moment and he never worries. He never ruins today by worrying about tomorrow. It's amazing."
As the family has focused on treatments, friends and neighbors have rallied together to support Jacob. A group of about 15 moms created the campaign "Kick Cancer for Jacob" with their sons and planned a 5K run for the soccer-playing teen. The event is Saturday at 9 a.m.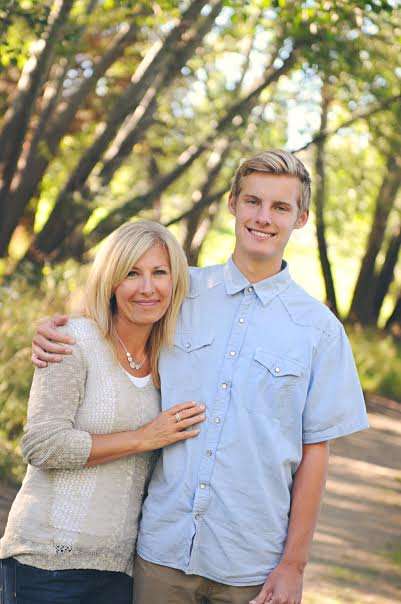 "I think (the biochemotherapy) was rougher than everyone envisioned it would be — just this really strong kid losing like 30 pounds and just really struggling to eat," said Amy Hartvigsen, a mom involved with the planning. "I think people didn't realize how hard that would be on him, but the kids at Lone Peak High School, they're just all reaching out even if they don't know him."
Jacob's mother said he is very quiet so he has been uncomfortable with all of the attention, but that it has made a big difference. He was touched when he was in the hospital and saw friends set up a YouCaring account* on his behalf.
"He wasn't all coherent there, but the support, it really does lift you," she said. "Now he's doing this race right before he goes in for a second treatment. It's hard to get yourself up for these treatments … to make yourself sick, and I think all of the support and being accountable to all of these people has really, really helped him get up and go get it done."
A lot of people have done a lot of things to serve the family, Brown said.
"Last night someone left an envelope on my doorstep with $1,000, and it is really humbling. Really, really humbling," she said. "We've had a lot of financial stresses in the last four or five years, and people have never stopped bringing food. They have been amazing."
The 5K run is being held at the church across from Timberline Middle School, located at 500 W. Canyon Crest Road in Alpine. There will be various prizes and entertainment including Leo the Lion and the Lone Peak High School jazz band.
---
*KSL.com has not verified the accuracy of the information provided with respect to the account nor does KSL.com assure that the monies deposited to the account will be applied for the benefit of the persons named as beneficiaries. If you are considering a deposit to the account you should consult your own advisors and otherwise proceed at your own risk.
×
Photos