Estimated read time: 2-3 minutes
This archived news story is available only for your personal, non-commercial use. Information in the story may be outdated or superseded by additional information. Reading or replaying the story in its archived form does not constitute a republication of the story.
Jed Boal reportingA mid-air plane crash in Idaho during the weekend devastated a family. The collision killed a grandfather and two grandsons and severely burned a third grandson.
Doctors at the University of Utah burn unit are treating 2-year-old Tyler Pickering for third-degree burns. A surviving pilot from the other plane pulled Tyler from the burning wreckage. That pilot tells an emotional tale.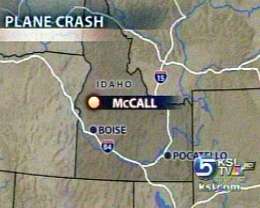 It was near McCall Municipal Airport on Friday night, Justin Mooney lined up his Cessna for a landing and saw no traffic. "We're 30 feet off the ground and all of a sudden there's a huge noise," Mooney said.
Bill Keating, with three young grandsons on board was bringing in his Cessna at the same time. The planes collided and exploded.
Justin said, "Flames were everywhere." His father, Craig Mooney, says, "At that point in time I thought my son was dead. I couldn't see how anybody could survive this crash."
Craig watched from the ground as Mooney and his passenger escaped their burning plane and heard the screaming of a young boy trying to get out. They ran to the other plane.
Justin says, "I was able to get to him, he was on fire." He ran back to help anyone else. "I got right up to the plane. It exploded and was fully engulfed."
Keating and two grandsons, ages one and six, died. Tyler Pickering was flown to the U-Med burn unit, which covers a five-state region. We don't know how extensive his treatment will be.
Ryann Rasmussen, with the University of Utah Medical Center, told us, "Approximately 35 percent of the cases we handle are children. It depends on the severity of their burns or their conditions."
The surviving pilot also has young children and said he can't imagine the immense loss of three family members in the other plane. "Just praying for the other family. I hope they make it through this."
The pilot returned to his home shortly after the crash to be with his wife and young children. We were not able to get an interview with Tyler's parents about his treatment here.
E-mail: jboal@ksl.com
×
Most recent Utah stories