This archived news story is available only for your personal, non-commercial use. Information in the story may be outdated or superseded by additional information. Reading or replaying the story in its archived form does not constitute a republication of the story.
PROVO — A Provo woman's post-wisdom tooth removal video has gone viral and her dream of meeting Ellen DeGeneres came true Monday with some extra surprises.
Like millions of others, Jayci Underwood, 23, had to get her wisdom teeth removed. But her family knew anesthesia would make her loopy so Jayci's mom, Lori Stephen, told Jayci's husband Matt Underwood to get it all on video.
And the results were worth it. Underwood came out of surgery a few weeks ago thoroughly disappointed she wasn't pop star Nicki Minaj. She also lamented the fact that she would never be friends with comedienne and talk show host Ellen DeGeneres.
"Ellen DeGeneres... is generous. It's literally in her name," Underwood said with a mouth full of gauze in the video. "I want to go on her show and I want her to give me one of those giant checks so I can go shopping... and help kids or something."
The video quickly went viral, especially after Nicki Minaj shared it on her Instagram and has garnered almost four million views on YouTube. But the biggest surprise came when Underwood got a call from "The Ellen DeGeneres Show" inviting her to meet DeGeneres in California.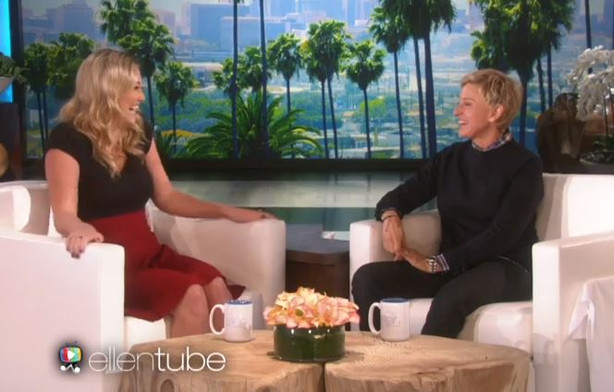 Underwood and her husband Matt flew out Sunday night to tape their segment for the show Monday. Jayci Underwood calls the trip "life-changing."
"(It was) so surreal and so fun," Jayci Underwood told KSL.com "She is the sweetest, funniest person and so, so genuine."
DeGeneres immediately presented her with a Nicki Minaj costume, complete with a pink wig. DeGeneres also went above and beyond to make Jayci Underwood's "Ellen" dreams come true.
Along with the costume, Jayci Underwood got the giant check for $20. She was also gifted a $5,000 gift card to Target.
They plan on framing and hanging the giant check in their home, she said. And Underwood and her husband, a BYU volleyball player, already know what they're going to do with the extra cash.
"We will probably use it for Christmas gifts this year and groceries forever," Jayci Underwood told KSL.com. "We are also planning to do a secret Santa-type project for a family in our stake that could use a extra little financial push this Christmas. We are really excited for that because we both have families that have done it in the past and we have the best memories from it. We want to pay it forward, like Ellen."
×
Related Stories