Estimated read time: 7-8 minutes
This archived news story is available only for your personal, non-commercial use. Information in the story may be outdated or superseded by additional information. Reading or replaying the story in its archived form does not constitute a republication of the story.
SARATOGA SPRINGS — Susan Hunt said Tuesday she can't understand why some members of the public continue to try and justify the actions of two Saratoga Springs police officers who shot and killed her son.
"He didn't do anything. And people won't even come forward and say he didn't do anything, they want to justify the cops. How can you justify the cops? He's 147 pounds. You know how skinny that is? How can he, with a sword, come to a gun fight?" she said in tears Tuesday.
"They shot him in his arm and it came out his wrist. How do you get a bullet to go that way if he lunged forward? All the other (bullets) are freakin' stuck right in his back!"
The mother's emotional reaction came after reading the official autopsy report conducted by the Utah State Medical Examiner's Office on her 22-year-old son, Darrien Hunt, who was shot to death on Sept. 10.
The report concluded that five of the shots hit Hunt from behind and one hit the side of his left hip toward the back of his body.
But just as important to Susan Hunt, toxicology tests from the autopsy "did not reveal any positive findings of toxicological significance," meaning Hunt did not have illegal drugs in his system at the time.
"What really upsets me … people are trying to justify killing my son. 'He had to have been drunk. He had to have been on drugs.' So that means a cop can kill him? But he wasn't!" Hunt screamed, before busting into tears.
Hunt, with her family sitting nearby, addressed the media Tuesday in the office of her attorney, Robert Sykes. She became so emotional, however, that at one point she had to leave the room to collect herself.
In her opinion, the state's autopsy report contains "inconsistency after inconsistency."
---
What really upsets me … people are trying to justify killing my son. 'He had to have been drunk. He had to have been on drugs.' So that means a cop can kill him? But he wasn't!
–Susan Hunt, mother
---
Although the medical examiner's report, released by Sykes on Tuesday, agreed with an independent autopsy conducted earlier at the family's request that showed Hunt was shot six times from behind, it was a narrative of the events of that day — as told to the medical examiner by two representatives of the Utah County Attorney's Office — that had Hunt the most upset and her attorneys concerned.
"The accounts on Sept. 10 that were given to the M.E., just do not seem to match up with the facts," said Karra Porter, who is representing Curtis Hunt, Darrien Hunt's father, and is working with Sykes. "Unfortunately, every time we get a new report, the questions just keep rising."
Furthermore, Porter said the trajectory of the officers' bullets raises red flags for her. At least two of the shots hit Hunt in a downward direction, according to the autopsy.
"The direction of fire, as reported in the M.E.'s report, raises significant concerns about Darrien's position at the time he was shot on the multiple occasions," she said, explaining that it raises questions about whether Hunt was shot while he was on the ground.
New information on police encounter with Hunt
On Sept. 10, Saratoga Springs police were called to the area of Crossroads Boulevard and Redwood Road after Hunt, a 22-year-old black man, was seen by numerous eyewitnesses walking with what appeared to be a samurai sword. Family members have since said it was a 3-foot souvenir katana sword. The Utah County Attorney's Office has said it looked like a real sword.
Cpl. Matt Schauerhamer and officer Nicholas Judson confronted Hunt in the parking lot of a credit union.
On Tuesday, investigators for the first time hinted at the conversation that took place between the officers and Hunt. Deputy Utah County attorney Tim Taylor said it was a very "innocuous, short conversation" that unexpectedly went south.
"I think Mr. Hunt was looking for a ride. And the officers were looking to give him a ride. Then it turned really quick. It happened so quickly," Taylor said.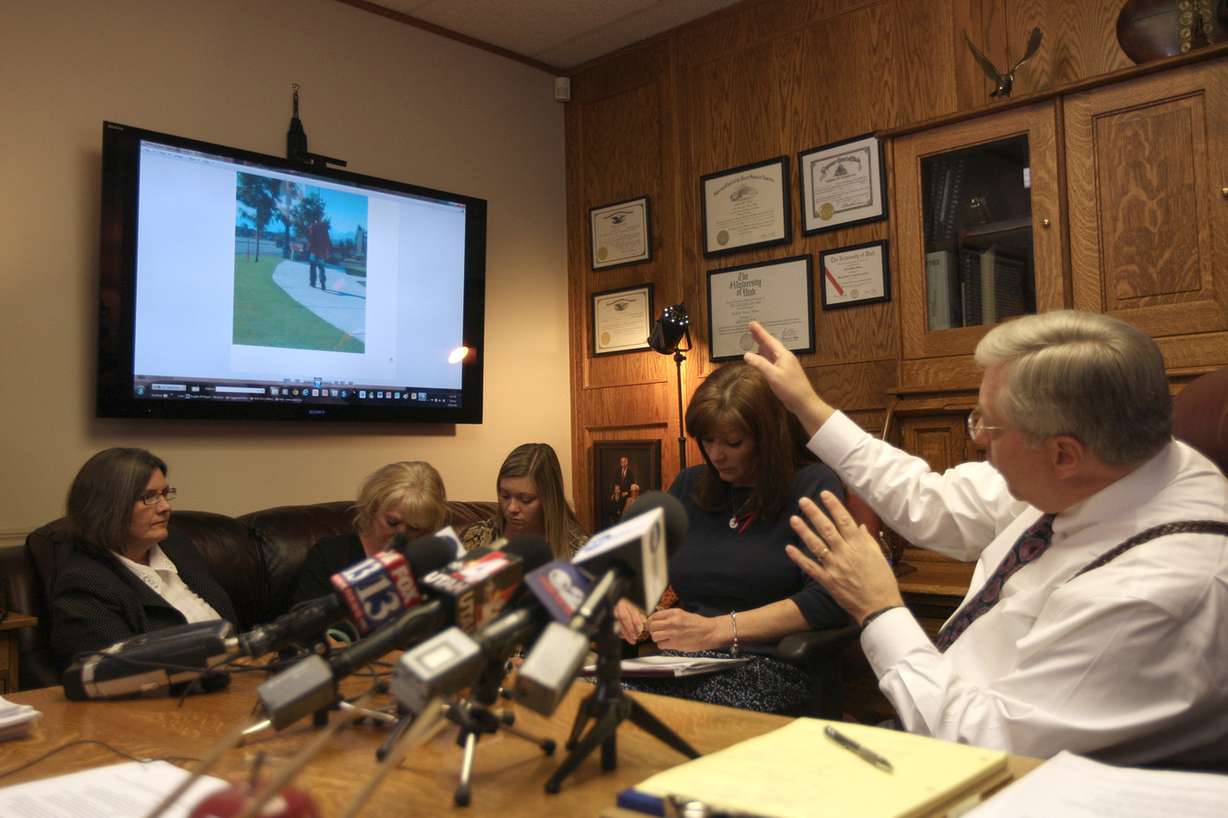 Both officers were interviewed separately, but their stories matched, he said. Both said that Hunt was asked to place his sword on the hood of a patrol car. He refused, he instead pulled the sword out of its sheath and lunged at one of the officers, Taylor said.
That account, however, is different than the narrative in the autopsy report which stated that "the first officer exited his vehicle and the subject charged him swinging the sword. Three shots were fired (at Hunt) upon the initial contact," the report states.
Sykes said there is no doubt that account is false. He showed a picture taken by an eyewitness on the day of the shooting. In it, Hunt is standing with an officer on either side of him. The officers are outside their vehicles and appear to be talking to Hunt. Neither has their weapon drawn. Hunt appears to have a smile on his face. His sword is still in a sheath on his back.
One of the biggest questions for the family has been how the situation went from that scenario to Hunt running and being shot moments later.
After allegedly lunging at the officers with his sword, three shots were fired, according to the autopsy report.
Hunt ran about 200 yards toward a nearby Panda Express restaurant. A fourth shot was fired on the east side of the restaurant. Hunt then ran to the north side of the restaurant where police fired three more times, bringing the total number of shots to seven, the report states.
Hunt collapsed on the northwest corner of the Panda Express.
Details of state autopsy, toxicology results
Of the seven shots fired, six of them struck Hunt. He suffered three "perforating wounds," or bullets that had both an entry and an exit point, and three "penetrating wounds," or wounds where the bullet was still lodged in his body.
The medical examiner recovered bullets from Hunt's right upper lung, left elbow and left hip. Those three shots — in no particular order — entered Hunt in his right back, the back of his left upper arm and his back left hip, according to the autopsy.
Related:
Three other shots entered Hunt's posterior right upper arm, his posterior right forearm, and posterolateral (from the side toward the back) left hip and exited his shoulder, wrist and hip respectively. The officers used .40-caliber handguns. The report did not break down how many shots each officer fired.
Although the autopsy says Hunt died from "multiple gunshot wounds," Sykes said he believes it was the shot directly into Hunt's back that killed him.
The report also noted that officers claimed Hunt "apparently liked hallucinogens and had taken acid approximately three weeks" prior to the shooting. Porter said she has no idea where that information came from.
Hunt's family — who is mixed-race — believes the shooting was racially motivated. They also believe Hunt may have been costume playing, or "cosplaying" — the act of dressing up as an animation character — when he was confronted.
Taylor said the public shouldn't jump to any conclusions about whether the shooting was legally justified based solely on the autopsy report.
"It's not a forgone conclusion that because an officer uses deadly force and shoots someone in the back that it's not unjustified," he said. He also noted that part of his office's investigation will look at the question: "If you have an individual who has just swung a sword at police officers and is running away, is it reasonable to believe he is a threat to some other person?"
Sykes believes neither the officers, nor anyone else who may have been nearby, were in immediate risk of any harm.
"He's running from police. They can't have been in any legitimate fear that he was going to harm them. And they chased him and had an old fashioned shootout. A shootout at the O.K. Corral, so to speak, on an innocent boy who had probably done nothing.
"We believe there was excessive force by these officers and the improper use of deadly force," Sykes said.
Taylor said he expects the the investigation into the shooting to wrap up soon with his office's findings likely released next week.
Contributing: Nkoyo Iyamba
×
Photos
Related stories
Most recent Utah stories