This archived news story is available only for your personal, non-commercial use. Information in the story may be outdated or superseded by additional information. Reading or replaying the story in its archived form does not constitute a republication of the story.
SARATOGA SPRINGS — After two officers shot and killed a man carrying a samurai sword last month, several parents have come forward to say they believe one of those same officers used excessive force in another situation months earlier.
The family of Darrien Hunt maintains that Saratoga Springs Police Cpl. Matthew Schauerhamer and officer Nicholas Judson used excessive force the morning they confronted Hunt in the area of Crossroads Boulevard and Redwood Road on Sept. 10.
Investigators say they shot and killed Hunt after he lunged at them with a samurai sword but the family maintains he was shot at least five times in the back and presented no threat.
Now, members of six Saratoga Springs families are accusing Schauerhamer of using excessive force when he and other officers kicked a door down and arrested seven teens while raiding a house party with high school students back in February.
The chief of the department, however, insists his officers followed proper protocols.
KSL spoke with four teens and four parents. The parents said their teenagers were attending a party at the house of one of their friends, who is a police officer for a Utah County agency. The families admit there was no adult supervision in the home at the time of the party. The officer was out of town and told investigators he didn't know that a party was being held at his Saratoga Springs home until officers who raided his home called to inform him.
The party began around 7 p.m. on Feb. 23 and lasted into the night. McElle Townsend, 16, said she had fallen asleep after the party had wound down and woke up about 2 a.m. after police rushed into the house.
"I thought it was robbers because they had guns. … I didn't know what was going on," she said.
"They grabbed me and hit me with a night stick, threw me against the wall," Townsend recalled. "It was two cops and they both had their guns to my head. And then they threw me on the ground, put me in handcuffs and then dragged me to the other room."
Bryce Enos said he, too, was asleep when officers raided the home.
---
I can't help but wonder if we would have sped up our civil suit, if maybe something could have changed. Maybe Darrien Hunt would still be alive. I don't know.
–Ryan Kent
---
"Two officers came in with guns pointed at me to 'wake the f up,' like swearing at me," the 18-year-old said. "I was like, 'What's going on? What are you guys doing here?' and they told us to shut up."
"They threw me down and the officer was stepping on my neck right here to handcuff me," added 17-year-old Ethan Hall. "He had my hands up handcuffing me and I just had carpet burns just all through my face. … They didn't even let me stand up. They didn't even let me walk. They literally dragged me from the room across the hall."
The teens took photographs of bruises from that night that they say tell the story of what happened.
In his police report, Schauerhamer details how he and other officers responded to "a report of underage alcohol and drug party." He first went to the house and said it was dark, but a light was on in the garage and he could hear voices and laughter "of numerous people" inside the garage. He said he could smell "an extremely strong odor of burnt marijuana emanating from the garage door, even with it being closed," his report states.
Schauerhamer decided to ask a judge to issue a nighttime search warrant, fearing that if he waited until morning the evidence could be destroyed or consumed, he wrote. A judge signed the warrant at 1:54 a.m.
Officers "knocked on the front door and rang the doorbell" and turned on the police siren for "two seconds." Officers said they could "hear people running inside" and doors slamming inside the house, according to the report.
Police kicked down the front door about 20 seconds after first knocking, the report states, and went through the house. Schauerhamer said he ordered one teenage boy to get on the ground several times, but the boy wouldn't move. "I took (him) under the armpit, began pushing him backward, and tripped him to the ground."
The corporal said Enos "seemed to be pretending to be asleep" when he was arrested and Townsend was hiding behind a water heater, the report states. Two others were arrested in the basement after trying to run out the basement doors.
The odor of marijuana "permeated" the house, Schauerhamer wrote. But alcohol breath tests were negative for alcohol for all but one teenage girl, whose breath was measured at .072, the report states.
In all, seven teenagers were arrested for investigation of possession of marijuana and drug paraphernalia. Six were also arrested for investigation of obstruction of justice for allegedly fleeing or hiding and not responding to officers as they searched the residence. One teen was also arrested for unlawful consumption of alcohol by a minor.
Saratoga Springs Police Chief Andrew Burton said officers were following proper procedure.
"That level of response was completely appropriate given the circumstances," he said.
The incident began when a student from Westlake High School called a school administrator and said there were about 20 kids at a house party where drugs and alcohol were being used and asked to be picked up.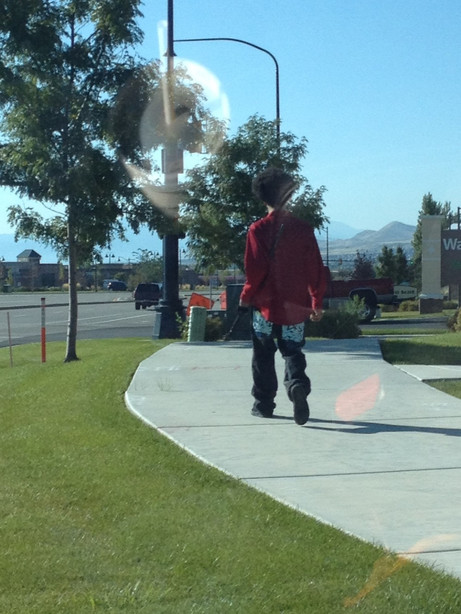 "She said, 'I'm at this party. It's not a good situation. I need to get out of here," Burton explained. The administrator picked up the teen from the house party and then flagged down a police car that was on patrol.
"Not only did they learn that this was a situation where underage persons were drinking alcohol and possibly using drugs," said Burton, "but they also learned that there had been at least one person that had passed out from drinking." Burton said police were concerned this was an incident where teens were breaking the law and "there could be a safety or health situation."
However some parents of these teens said what was going on inside that house did not rise to that level of police response.
"My first reaction was, 'I can't believe they would be that aggressive with these kids,'" said Brooke Enos. She and other parents believe Saratoga Springs police violated their children's civil rights.
"My son was playing the guitar on the couch when he heard the chirp of the police car. And by the time he could stand up and figure out what was going on, they were coming through the front door," said Ryan Kent. "They're good kids. We know all of their friends. They were at our friend's house. They weren't doing anything wrong."
Kent also expressed disappointment with how the police officers treated parents when they arrived to pick up their children.
"We asked them that night, 'What are you holding them for? What are they being charged for?' 'You'll get that in the mail,' was Schauerhamer's response to me,'" Kent said.
He said he and other parents waited 45 minutes before "we were even allowed inside the house." He also said that one of the parents asked police to test their teen for marijuana but was told no.
Kent noted that despite this experience, he and other parents continue to teach their kids to respect authority. "We're not making a blanket statement about all police officers," he said.
But Kent said he believes things need to change within the Saratoga Springs Police Department. "There has to be some revamping of the system," he said.
"I can't help but wonder if we would have sped up our civil suit, if maybe something could have changed. Maybe Darrien Hunt would still be alive. I don't know."
The parents claim that at least two of the kids have transferred from Westlake High School to move past the situation. They also said some of the others still suffer anxiety from the events of that night.
"Every time you see cop lights or hear a siren, it just like brings you back because it's one of the scariest things that's ever happened to me," Hall said.
Burton said none of the parents have filed any formal complaints against the department. The parents said they came forward only after learning Schauerhamer was also involved in the deadly shooting of Hunt.
For now, the parents said they are waiting for the case to finish before pursuing any legal action.
KSL reached out to Schauerhamer's attorney for response and was told he was unavailable.
×
Photos
Related Stories