Estimated read time: 4-5 minutes
This archived news story is available only for your personal, non-commercial use. Information in the story may be outdated or superseded by additional information. Reading or replaying the story in its archived form does not constitute a republication of the story.
WEST JORDAN — Traci Lee Vaillancourt, the ex-girlfriend of a man who fatally shot Draper Police Sgt. Derek Johnson last year, was ordered Tuesday to stand trial on obstruction charges filed after the shooting.
Vaillancourt, 35, was charged in 3rd District Court with two counts of obstructing justice, a second-degree felony, after allegedly giving conflicting statements on several occasions to police detectives about the sequence of events on Sept. 1, 2013.
That morning, Timothy Troy Walker, 35, ambushed Johnson, who had pulled up to a damaged silver Volvo on the side of the road near 132 S. Fort St., Draper. Walker shot Johnson through the Volvo's open passenger window and continued to shoot at him while he attempted to drive away.
Walker later shot Vaillancourt, who was also outside the vehicle. As Walker heard sirens and saw police lights approaching, he told Vaillancourt, "This is it, baby" and shot himself, Draper Police Sgt. Michael Ikemiyashiro testified in a preliminary hearing Tuesday.
Walker and Vaillancourt were treated by paramedics and taken to a hospital. While being treated in an ambulance, Vaillancourt told paramedics several times, "Don't be mean to me for what we did," according to Tyler Livingston, a Unified Fire Authority paramedic.
Vaillancourt recovered from a single shoulder wound, and Walker survived extensive damage to his mouth and jaw.
Conflicting stories
Police interviewed Vaillancourt on several occasions subsequent to the shooting, and detectives noted several "serious discrepancies" in her comments to investigators, according to Ikemiyashiro.
In an interview Sept. 1, 2013, she told officers she didn't know police were involved in the shooting and that a third party, possibly "someone from Troy's past," had shot her and Walker, Ikemiyashiro testified.
Vaillancourt also said she was inside the Volvo when she was shot and that there was blood "everywhere" in the vehicle's interior, Ikemiyashiro said.
Related:
These comments were found to be inconsistent with physical evidence on the scene. A firearm was recovered near Walker and a large amount of blood and tissue, indicating Walker's wounds were self-inflicted, according to Ikemiyashiro. No blood was found in the vehicle where Vaillancourt claims she was seated when she was shot.
On Sept. 4, Vaillancourt claimed she had suffered a seizure prior to the shooting and that she and Walker were on their way to a hospital that morning. But her story changed Sept. 7 when she said she was on her way to her sister's house, not the hospital. After investigators told her about Johnson's death, she admitted that police were present at the time of the shooting.
"It was a complete turnaround," Ikemiyashiro said of Vaillancourt's altered statements. "There's a number of things that didn't make sense. The timeline was definitely an issue."
Ikemiyashiro, who conducted most of the interviews with Vaillancourt, told her she could be held liable if she was intentionally falsifying information, especially in an effort to protect Walker, her boyfriend at the time.
Vaillancourt responded, "I wish I knew. I wouldn't want to anyway. No one deserves protection in this," according to police transcripts presented in court.
Defense attorney Ryan Holtan said Vaillancourt's conflicting statements were made under physical and mental stress and that she was not intending to impede the investigation.
"I think there's a lot of things going on in those interviews," Holtan said. "(During) the very first interview, she had been a gunshot victim less than 10 hours earlier. She was on heavy medication that the police discontinued so that they could conduct an interview with her.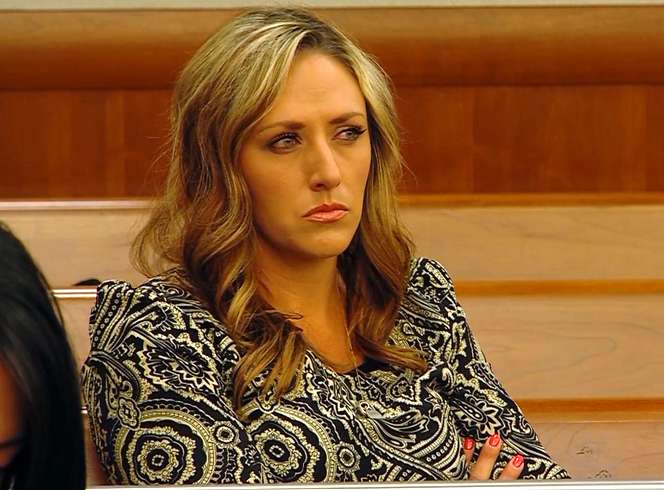 "She does have substantial mental conditions that have been made public," he added.
Negotiations toward a plea deal were unsuccessful leading up to Tuesday's preliminary hearing, according to prosecutor Vincent Meister.
Finding closure
Shante Johnson, Derek Johnson's widow, was present at the hearing with her husband's parents and aunt.
"We're here just to support Derek and find out what's going on," she said. "We're just as curious as the next as to all the details of that day. We're here to find out what happened."
Johnson said Walker's July 8 sentence of life in prison was a step toward finding closure in the death of her husband, but that the case continues to be "dragged on."
"We hope the best for Traci Vaillancourt, and we don't wish anything really upon her," she said. "We just need this to be over. She needs this to be over. Her family needs this to be over. The community needs this to be over."
Members of Vaillancourt's family were seated outside the courtroom but declined to comment after learning the case was bound over.
An arraignment hearing was scheduled for Oct. 20.
Contributing: Nkoyo Iyamba
×
Photos
Related stories
Most recent Utah stories