This archived news story is available only for your personal, non-commercial use. Information in the story may be outdated or superseded by additional information. Reading or replaying the story in its archived form does not constitute a republication of the story.
WEST JORDAN — In an unexpected move, the man accused of gunning down Draper Police Sgt. Derek Johnson 10 months ago pleaded guilty Tuesday and was immediately sentenced to prison for life.
The plea spares Timothy Troy Walker from receiving a possible death sentence if he had gone to trial and were convicted. But Johnson's family said rather than dragging the case through the appeals courts for years, they can now focus solely on Derek's memory.
"Today the streets are safer because the man that shot Derek is off the streets and can't harm anyone else. We're grateful for this resolution because it was a quick resolution," Derek Johnson's father, Randy Johnson, said outside the courtroom after the hearing. "If the courts were different and it wouldn't take forever to pursue possibly the death penalty, we would have considered that. But this is the very best scenario. … We can be done, and we can now move forward and just celebrate Derek's life and what he provided for us."
Walker, 34, pleaded guilty to aggravated murder, a first-degree felony, for killing Derek Johnson, and attempted murder, a first-degree felony, for shooting his girlfriend, Traci Vaillancourt; and three counts of felony discharge of a firearm and possession of a firearm by a restricted person, all third-degree felonies. The sentences for the other counts were ordered to run consecutively.
"The next time you leave the penitentiary will be after your death. You will never walk out again," Judge Mark Kouris said as he sentenced Walker. "In our society we have so few heroes, and yet you took one away from us. The reality is we have no winners today."
On Sept. 1, Derek Johnson was 10 minutes away from finishing his graveyard shift and just a couple of blocks from the Draper Police Station when he stopped to assist a vehicle involved in an apparent crash near 13200 S. Fort St.
Walker, a known drug user who had been using drugs prior to the shooting, ambushed Derek Johnson and shot him through the open passenger window before the sergeant had time to react. Walker continued to shoot as Derek Johnson attempted to drive away. Walker then shot Vaillancourt in the back before turning the gun on himself.
Related:
For many months following the shooting, Walker had his mouth wired shut as he healed from his self-inflicted gunshot wound. Tuesday, an apparently remorseful Walker spoke to the court and apologized for his actions.
"There are no excuses for my conduct. There's nothing I can do to bring him back. The harm I've caused is irrevocable and extensive," a teary Walker said. "I'm here today to take responsibility for my actions.
"The battle for my life is over. The battle for my soul has only begun," he said. "I can only hope others will learn for my terrible mistakes."
Walker switched between gazing off at the ceiling and keeping his head hung low as members of Derek Johnson's family addressed the court. He was visibly crying when the sergeant's parents spoke.
Randy Johnson said he believed Walker's remorse was genuine.
"No matter how it turned out, we did want this one opportunity to see Mr. Walker. It seemed genuine, and I hope that he moves forward with his life," he said. "Our whole purpose in all of this is not to dwell on where Mr. Walker is at or where he is going, but rather on our son's life and also trying to provide back to the community.
"But we do wish him the best, and we hope he will do as much good as possible where he's at, which will be difficult. Where he's going, it's tough to contribute to society at this point. He went past that opportunity."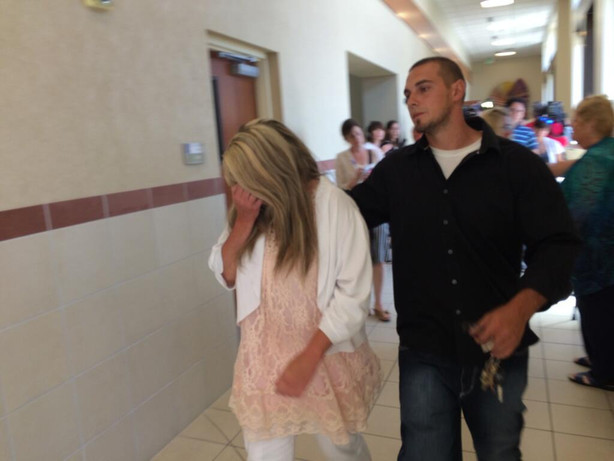 It was standing room only in the small courtroom as many members of the Draper Police Department, Derek Johnson's family and other law enforcers, including Salt Lake County Sheriff Jim Winder, attended the hearing.
Walker originally wasn't even scheduled to have preliminary hearing until September. But his attorney Denise Porter said, "He has wanted to take responsibility for his conduct since the very first time I met him."
Before the sentence was announced, members of Derek Johnson's family addressed the court one by one, some fighting back tears while others openly sobbed.
"The pain of losing a son some days is unbearable. That constant heartache that becomes a part of your soul," Derek Johnson's mother, Laura Johnson, told the court. "Today is a difficult day but also a good day, giving our family some closure."
Derek Johnson's younger brother Darin Johnson said his best friend had been taken away from him.
"The evil that accompanies this will forever last in your soul. I hope you fear the day you meet your maker," he told Walker in court.
Shante Johnson, Derek Johnson's widow, struggled at first to get her words out.
"My nights are sleepless, and they will be forever," she told the court.
She then addressed Walker and told him he was doing the only right thing he could at this point.
Desirae Payne, Derek Johnson's sister, became emotional in court as she addressed Walker.
---
I actually feel like his apology was genuine, and I didn't expect that at all so it was nice to hear what he had to say and to know that he genuinely feels bad for what he did and wants to do the best he can to live as productive of a life as he can in prison.
–Desirae Payne, Derek Johnson's sister
---
"When I first saw him today in court, I felt a very heavy sense of anger and hate, and I don't like to harbor those feelings because it doesn't hurt him. It hurts me," she said after the hearing. "I wanted to see him as this monster, and seeing him there, he's not. He's someone that was led down a bad path by his choices.
"I actually feel like his apology was genuine, and I didn't expect that at all so it was nice to hear what he had to say and to know that he genuinely feels bad for what he did and wants to do the best he can to live as productive of a life as he can in prison," Payne said.
But she added that the feeling of closure will still take time.
"I think it's still going to take work to get there. I definitely feel relieved. I feel like we can move on with our lives, but I think it's going to take some work still," Payne said.
As the courtroom was emptying out, Walker's mother left in tears. Norma Johnson, Derek Johnson's grandmother, stopped Walker's mother in the hallway and told her, "My heart aches for you."
"I still love him," his mother said.
Vaillancourt, meanwhile, who was charged with two counts of obstruction of justice, is due back in court on July 15. Her defense attorney Matthew Kober called Walker's guilty plea a good thing for his client.
"Definitely what happens today is going to have a large impact on our strategy," said Kober, adding that he's still hopeful for a resolution in his client's case.
Contributing: Sandra Yi
×
Photos
Related Links
Related Stories