Estimated read time: 3-4 minutes
This archived news story is available only for your personal, non-commercial use. Information in the story may be outdated or superseded by additional information. Reading or replaying the story in its archived form does not constitute a republication of the story.
SALT LAKE CITY — Last winter, I joined a group of fellow runners on a run to the top of Lake Mountain. As each of us reached the summit, we looked over the edge, down to a frozen Utah Lake below.
Surely there would be some runners braving the ice. The thought crossed my mind that, perhaps, ultrarunner Davy Crockett was crossing the ice on one of his many winter treks across the lake.
I had only heard of him, but his adventure runs were legendary, and he was known for his long runs in and around the west desert, much like another Davy Crockett I sang about as a child.
Just then, all eyes turned from the ice, back toward the trail we had just come up, which was by this time covered by the mist of a cloud that had just made its way in.
I heard a sound, but what was everyone looking at?
Out from the clouds emerged the one, the only (well, maybe not the only), Davy Crockett.
A reverence was felt among the group of runners, as this man, whom I had only heard of, made his way to the top. I knew we were in the presence of someone special.
He kindly shook our hands and said hello. He even posed for a few pictures.
As we all made our way back down the mountain, I followed behind Crockett. It quickly became apparent that my 31-year-old legs were no match for his 56-year-old ones. He knew this mountain well and was easily able to make his way down the treacherous switchbacks.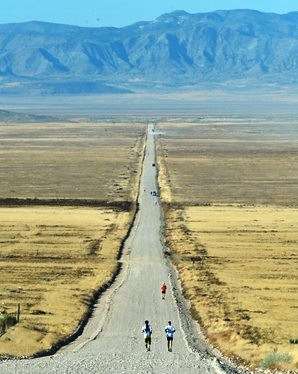 Who was this man? I thought. And what has he done to command such reverence among runners?
As it turned out, his legend was not much different from that of the 19th-century Crockett, who was also known to trek hundreds of miles in the west.
Today's Crockett wrote on his blog about waking up one morning in the winter of 2004 and having the desire to run the Pony Express Trail out west as far as he could go. He continued that trek each year, even having friends join him for his now 100-mile journey.
Inspired and intrigued by Crockett, more and more friends joined, eventually making the Pony Express Trail 100 an annual event, and then the organized race it is today.
In 2013, the event had 60 participants, with 30 running the 100-mile distance and the same number running the 50-miler — all following in the steps of a man whom they all reverenced.
The song about the earlier Crockett sums it up best:
His land is biggest, and his land is best
From grassy plains to the mountain crest
He's ahead of us all in meeting the test
Followin' his legend right into the West
Davy, Davy Crockett, King of the Wild Frontier
If you would like to join Crockett in his annual Pony Express Trail 100 and see what legends are made of, the run will take place Oct. 17. To know more, or to register, go to ponyexpress100.org.
---
![](http://media.bonnint.net/slc/2505/250517/25051768\.jpg)

About the Author: Arianne Brown -------------------------------

Arianne is a mother of 6, and lover of all things, even the common house fly. Her down time is spent running the mountain trails of the Wasatch Mountains and beyond. Contact her at ariannebrown1@gmail.com or search her Facebook page, "A Mother's Write."

×
Photos
Related links
Related stories
Most recent Utah stories