OREM — In the early 1980s, a 6-year-old boy by the name of Tongia "Toni" Vakaafi got up each morning to make the 2-3 mile trek to school on his small South Pacific island of Tonga. Running most of the distance to and from school due to his fear of bullies, Toni soon found that he was able to outrun them.
He was fast.
Toni's love for running began to grow, and he dreamed of one day becoming good enough to run in the Olympics. Little did he know that through his hard work and endurance that one day it might actually become a reality.
This dream would need to be put on hold, however, because it was a "far-fetched dream of a little boy growing up in the islands," especially for Toni.
The son of a poor fisherman and farmer, Toni and his family had very little. When Toni was 8, his father moved to New Zealand in hopes of getting work but was unsuccessful. It wasn't long after his return that the fisherman left his family, never to come back.
With no father to support his family, 10-year-old Toni quit school so that he could fish to provide food for his mother, two sisters and himself. Living in a small, 12-by- 20-foot house with dirt floors, the Vakaafi family struggled to make ends meet, and eventually moved in with his uncle.
Two years after moving in with his uncle, Toni's mother died after a bout with pneumonia.
Toni struggled for years, but often returned to his childhood love of running, using it as his emotional outlet. It was also during this time that Toni was taught and baptized by missionaries from The Church of Jesus Christ of Latter-day Saints.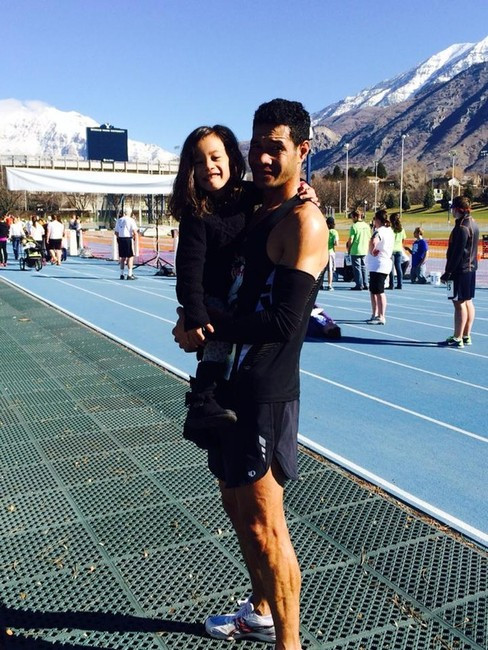 Raised a Methodist, Toni's religious differences were not received well by his uncle. It was for this reason, he was forced to move out of his uncle's house in 1991, when he was 16. As difficult as the move was, it was then that Toni met friends who in 1995 offered to bring him to America with them.
Upon moving to the U.S., Toni learned the trade of construction work, specializing in stucco and concrete. Soon after, he met his wife, Monica, and the two had five children.
Over the years, Toni's love of running never went away. Encouraged by an aunt to run a marathon, Toni completed his first one in 2002, and hasn't stopped since, reaching a personal best time of 2 hours 45 minutes.
Toni has become well-known in the Utah running community, with many friends nicknaming him "Toni the Tongan Tornado." These same friends — many of them from the Sojourners Running Club of Orem — have encouraged him to pursue his goal of running in the Olympics.
After contacting the International Olympic Committee, it looks like Toni may just reach his childhood goal of representing Tonga in the Olympic Marathon.
In preparation for the games, Toni will go to Glasgow, Scotland, on July 27 to represent Tonga as a marathon runner in the CommonWealth Games. He will also be traveling to Papua, New Guinea, next year to take part in the 2015 Pacific Games. At both competitions, Toni hopes to learn from other, more experienced athletes.
Toni said that he is grateful to his family for their faith in him and to the Kingdom of Tonga for giving him this opportunity to represent them and to realize his boyhood dream of competing in the Olympic Games.
---
Arianne Brown is a mother of six who loves running the beautiful trails around Utah. For more articles by her, like her Facebook page or visit her blogs, timetofititin.com or thestoriesofyourlife.wordpress.com.
×
Photos
Related Links
Related Stories