Estimated read time: 5-6 minutes
This archived news story is available only for your personal, non-commercial use. Information in the story may be outdated or superseded by additional information. Reading or replaying the story in its archived form does not constitute a republication of the story.
SALT LAKE CITY — Utah's Latino business environment is getting national attention as the number of Hispanic businesses in the state has reached 10,000 — almost twice as many as there were in 2002.
Such growth is mirrored among Hispanic businesses nationwide, which generated $345.2 billion in 2007, up 55 percent from 2002, according to a U.S. Census Bureau report.
Hispanic-owned businesses are serving a Latino market that represents 15 percent of Utah's population and are predicted to become the majority by 2045, according to the Utah Hispanic Chamber of Commerce. But there are inevitable growing pains for entrepreneurs in that market.
The U.S. Hispanic Chamber of Commerce held its annual convention Monday in Salt Lake City. The chamber, in connection with the Utah Hispanic Chamber of Commerce, seeks to give small-business owners the tools and training they need to operate in an evolving market.
Nancy Pelosi, Democratic minority leader of the U.S. House of Representatives, was awarded the U.S. Hispanic Chamber of Commerce's 2014 Excellence in Leadership Award prior to speaking at the convention. During her address, Pelosi offered congratulations on the rapid expansion of Latino businesses in the state and across the country.
"I say this without hesitation: The Latino community has become one of the most dynamic and entrepreneurial forces in our country ever," Pelosi said.
Jorge Fierro, owner of Rico Mexican Market and Frida Bistro in Salt Lake City, said many Hispanic entrepreneurs encounter obstacles similar to other businesses, but what they often lack is the know-how to deal with them.
"A lot of us are entrepreneurs by heart. It's not really that we come fully educated in our career to be able to develop a business," Fierro said. "When that happens, we come across a lot of issues. Marketing is one of them; administration of business is another one; accounting is another one."
Julieta Hernandez has owned Salt Lake City's Matrix Massage & Spa for 13 years. She says legal requirements for running a business can also be complex for new business owners, especially when English is not their first language.
"The biggest challenge is lack of education — understanding the procedures and laws of having a business," Hernandez said. She added that hiring people with similar goals and values is often a challenge.
Monday's portion of the convention featured presentations and discussion panels with executives from large businesses, including Google, Visa and Verizon, on cost-effective ways small businesses can manage growth in an expanding market.
Related Story
The convention also provides opportunities for small businesses to network with larger businesses that can offer mentoring that also seek to expand their services to local Hispanic audiences, according to Fierro.
"This is not specifically a convention for Hispanics," he said. "It is also a convention for non-Hispanics who get to see how they can infiltrate the Hispanic market, because the Hispanic population is growing in America so rapidly that a lot of corporations are interested in doing that. This convention is for everybody at large."
Hispanic businesswomen
Trainings, like those offered at the convention, are in high demand among new and prospective business owners, especially among Hispanic women, according to Olga de la Cruz, president of the Utah Hispanic Chamber of Commerce.
"Anytime the Utah Hispanic chamber has a business 101 training (for) people who are interested in starting a business, easily we have 70-80 Spanish-speaking people (there) that want to start a business," de la Cruz said. "Within that, there's a huge number of women who are starting a business. If you look at who's starting businesses in the Latino community, it's women."
Currently, 1 in 10 women who own businesses are Hispanic, according to the U.S. Hispanic Chamber of Commerce. Hernandez is one of them.
"As a businesswoman, the market in Salt Lake City is perfect because the whole community supports my business," Hernandez said. "This convention gives me the tools to be up to date in data security and also to be informed about the new things that we have to start applying to run our business operations better."
Pelosi encouraged the U.S. Hispanic Chamber of Commerce, as well as businesses present at the convention, to continue providing opportunities for Hispanic women to succeed in business realms.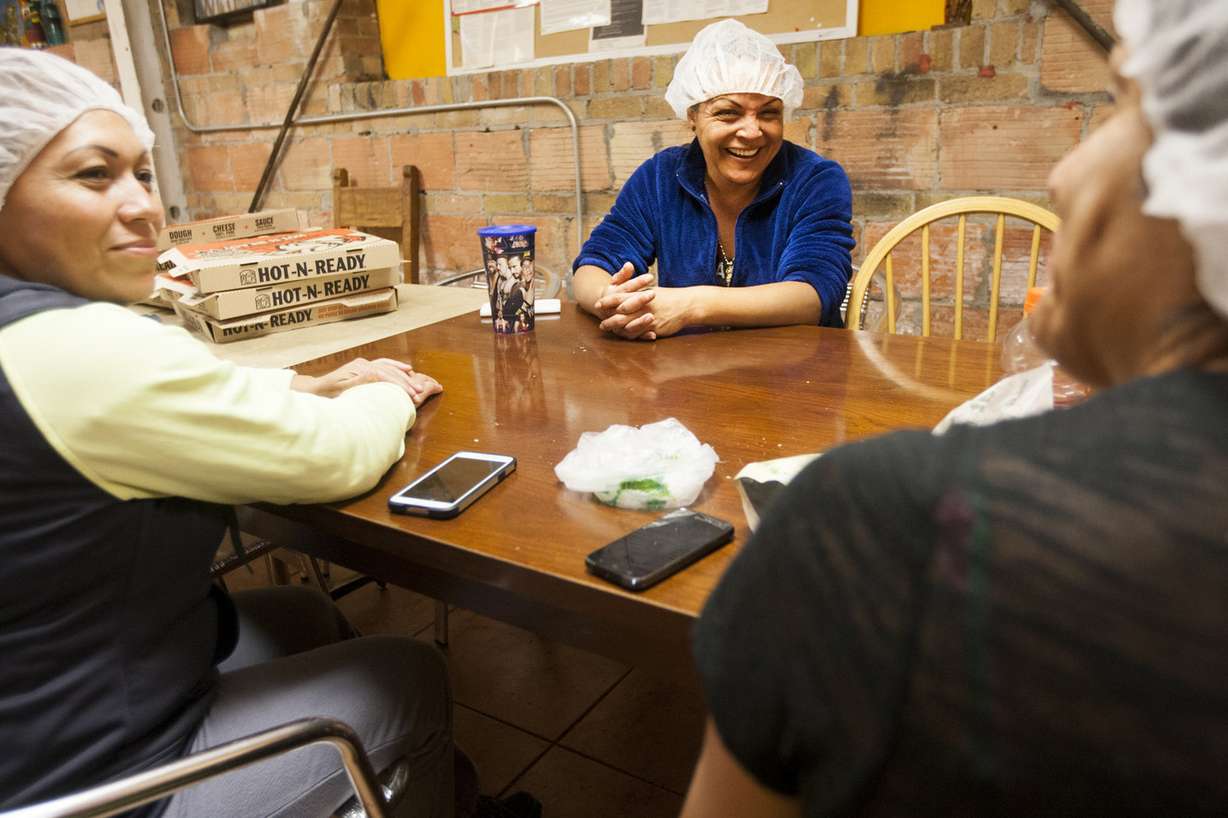 "Nothing is more essential to the growth of our economy and more wholesome to the future of our country than the increased participation of women in leadership," she said. "We must unleash the full power of America's women. We must empower women with the tools to succeed for themselves and for our country."
Policy changes
Maria Contreras-Sweet, administrator for the U.S. Small Business Administration, explained that several changes are going into effect to make taking out loans easier for small-business owners.
Traditionally, if a business owner had a low personal FICO mortgage score, the loan application was automatically rejected by the U.S. Small Business Administration. The administration now combines a person's personal FICO score with their business score to improve their chances of being approved for a loan, Contreras-Sweet said. Fees have also been eliminated for loans less than $150,000.
The administration is also striving to expand women's business centers to help women, especially single mothers, succeed in the logistics of work and home.
"Today we know that women don't have a choice oftentimes (when) we're the sole breadwinners in our family," Contreras-Sweet said. "We want to make sure that we're helping women get access to capital through our women's business centers and all the departments we have."
Pelosi also cited a need for immigration policy reform, saying that not passing a comprehensive immigration reform bill "really impedes the growth of our economy." She said she plans to continue pushing for revision of immigration law in Congress.
"Every immigrant who comes here makes America more American," she said. "The U.S. Hispanic Chamber of Commerce is living proof of that."
Contributing: Nkoyo Iyamba
×
Photos
Related links
Related stories
Most recent Utah stories