Estimated read time: 4-5 minutes
This archived news story is available only for your personal, non-commercial use. Information in the story may be outdated or superseded by additional information. Reading or replaying the story in its archived form does not constitute a republication of the story.
SSALT LAKE CITY — A respiratory sickness that is sweeping the nation has been dormant for more than five decades, and a local expert believes it is making up for that absence now.
"It's found a lot of susceptible hosts," said Dr. Andrew Pavia, chief of pediatric infectious diseases and an epidemiologist at Primary Children's Hospital.
While there have been no confirmed cases of enterovirus D68 in Utah, the hospital has restricted visitors to age 14 and older and is allowing no more than two people to visit each patient at a time.
Pavia said he believes the disease, first discovered in 1962, will infect as many people as possible in the coming weeks and then perhaps go dormant until the general population is no longer immune.
"It's a patient safety issue," he said, adding that while enterovirus presents in most people as a mild cold, symptoms are often more severe in children.
Primary Children's Hospital has treated up to 100 patients with symptoms Pavia said are similar to those reported in about a dozen other states, several of which have confirmed an outbreak of enterovirus.
Blood samples from local patients have been sent to the U.S. Centers for Disease Control and Prevention, which has the ability to test for specific viral strains, including enterovirus D68.
The hospital expects results within the week, but doctors are treating patients as they would for enterovirus anyway, including supplemental oxygen and various breathing treatments similar to treating asthma.
"If it looks like a virus and acts like a virus, it can be treated like a virus," Pavia said, cautioning against hospital and doctor visits unless there is wheezing and/or a shortness of breath that accompanies a general sickness.
Breathing problems, he said, are a telltale sign of something more serious.
---
It hit me kind of like a brick wall. I've had colds before, but never like this. Walking up the stairs left me winded.
–Mariah Sanders
---
And that's exactly what 17-year-old Mariah Sanders decided when she was having so much trouble breathing that she could barely sleep Monday night.
"It hit me kind of like a brick wall," she said. "I've had colds before, but never like this. Walking up the stairs left me winded."
Sanders doesn't have asthma and is generally healthy. While her doctor didn't say for sure whether she has enterovirus D68, he was pretty certain, given her symptoms and how quickly they took hold.
"He called me 'the main headline story' and said he was pretty certain I had what is going around," Sanders said.
She recalls lots of her classmates suffering with coughing and colds, and said she believes some might even have the same thing.
In addition to a couple of days off school, Sanders' doctor ordered her an inhaler to help open her lungs and some steroids to help her body recuperate.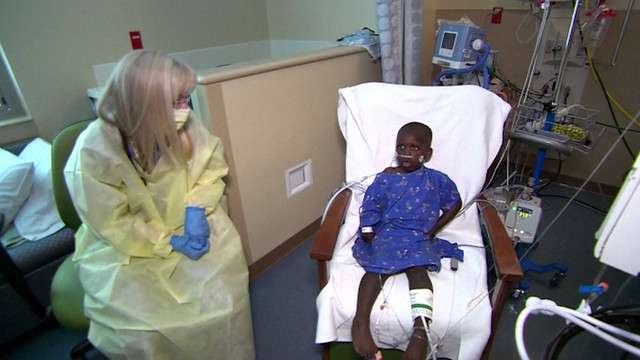 The regimen is similar to what kids are getting at Primary Children's Hospital. Pavia said the majority of patients are sent home feeling better after just a couple of days.
Most people infected with the rampant enterovirus, however, will likely experience nothing more than cold symptoms, and some may not even know, he said.
Of thousands of cases throughout the country, there have been no deaths related to enterovirus, making it somewhat less concerning than influenza, which kills tens of thousands of Americans every year.
"They're sick. Their parents are scared. They're miserable, but they're going to get better," Pavia said.
He said the situation is gearing hospital staff up earlier than usual, as they are still expecting a typical winter season with the common display of respiratory illnesses then, as well.
Pavia said he doesn't remember a September with as many admissions due to viral infections as is happening this year.
If conditions in the state follow suit with other states reporting enterovirus, he said he believes the worst will be over in about six weeks.
"We're on the upslope of this," Pavia said.
Prevention, he said, is key to derailing the virus, including proper hand-washing, avoiding kissing or hugging infected persons or not sharing utensils with them, as well as frequent disinfecting of surfaces such as countertops and doorknobs, kids' toys and binkies.
There is no vaccine available for enterovirus D68.
"Most of this can be treated with proper fluids, tender loving care and treatment of a fever, if there is one," he said. "Use common sense."
×
Photos
Related stories
Most recent Utah stories