This archived news story is available only for your personal, non-commercial use. Information in the story may be outdated or superseded by additional information. Reading or replaying the story in its archived form does not constitute a republication of the story.
This story is sponsored by Mountain America Credit Union. Our extensive network of branches and ATMs spans much of the Intermountain West, including Utah, Idaho, Nevada, Arizona and New Mexico.
Taking car-buying negotiations into your own hands
The car-buying process can undoubtedly be a stressful one, and if pricing or financing negotiations begin to wear you down, it can be downright excruciating.
It's more art than science, but the negotiation pain can be minimized by equipping yourself with a few vital data points, a commitment to what you can pay and a generally firm attitude carried from the dealership floor into the financing office.
That all begins with research, and the good news is that because of the many resources available to the customer, the dealership no longer holds all the leverage. The buyer can possess as much knowledge—sometimes more—regarding a fair price and should do their best to employ that knowledge to their advantage.
Knowledge is power
Perhaps most important to remember in terms of pricing is the distinction between the dealer's floor price and dealer's invoice price. You can determine the latter before ever entering the dealership and then essentially disregard the former. In bearing the invoice price in mind, you maintain some perspective on what the car is actually worth—and therefore what sort of profit the dealer and salespeople stand to make.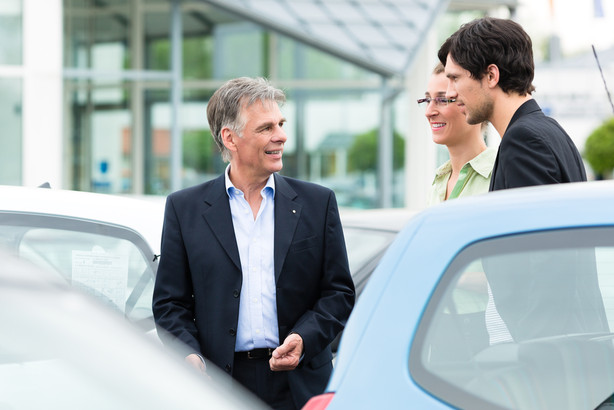 Shoot for two percent above the dealer's invoice price, a figure you can come armed with simply by consulting a resource like Edmunds or Kelley Blue Book. The sales staff may try to revert the conversation back to "MSRP," or floor pricing, and this is where standing firm is important.
You'll also earn some credibility and likely gain some negotiating ground by referencing the dealer's invoice price and can even take it a step further by producing a printout or webpage on your phone that reveals exactly that.
Playing coy won't get you very far anyway, so come right out with your intentions and attack your target from there. You can potentially further impress upon the salesperson your knowledge of the process and profits by referencing, at some point in the bidding process, what they stand to make from a given sales price.
For instance, if you tell a staff member that "X" is the invoice price you want and the model entitles you to a $500 customer rebate, use that as a segue to reference the sales incentive they'll earn from closing on that model. In doing so, not only will you appear firm and in the position of initiative, you'll likely also deter them from trying to extend the bidding, since it now seems unlikely you'll be budged.
Calm amidst the sales storm
If you're shopping as a couple, the same basic tenets apply, but it's important to present an air of unity above all else. Before ever entering a dealership, know where each other stand in terms of everything from mileage and equipment to down payment.
The moment a salesperson senses a point of division between the two of you, they will undoubtedly try and exploit it. The car-buying process is no time to air out differences in fiscal philosophy, so having a mirrored approach is essential. Otherwise, that approach is mostly the same as it would be singularly—it's about research, preparation and holding your ground.
The same principles apply when it comes to negotiating a payment plan. If you've already educated yourself on—perhaps even been approved for—auto loan terms prior to entering the showroom, you'll stand a much better chance of reaching a favorable agreement.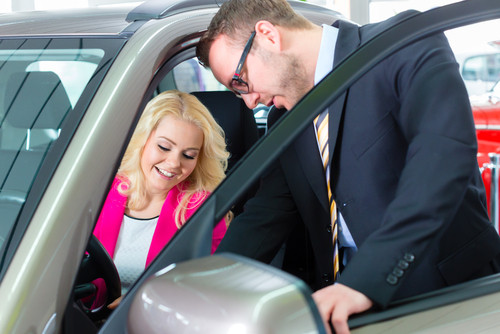 It never hurts to hear out the dealership's offer, but in most cases auto dealership loans incorporate expensive mark-ups that serve as their fee for brokering the deal between the buyer and the lender.
This practice has come under fire because many dealership loans have taken advantage of car buyers with high interest rates, but if you do your research and know what a fair loan looks like beforehand, you won't feel pressured to agree to anything less.
Especially if you've been preapproved, the office negotiations become a lot less stressful. You'll likely be offered a number of dealership incentives, maintenance-related add-ons and some sort of extended warranty. In most cases, you can pass on all of these, since they feature hidden costs, and if you've done adequate research, you're buying a car that will hold up over the long haul.
In the event that your price or financing requests are suddenly met with resistance in the office, leading to the representative leaving the room to go "speak with a manager," don't take the bait. Leave within a few minutes and return to the showroom. This will reinforce your stance, and usually, the salesperson will make concessions for the sake of the deal.
Car shopping can be relatively painless if you put in the requisite time and energy beforehand. It's only when you enter the situation unprepared and uncertain that you set yourself up to be taken advantage of or led astray.
×