This archived news story is available only for your personal, non-commercial use. Information in the story may be outdated or superseded by additional information. Reading or replaying the story in its archived form does not constitute a republication of the story.
SALT LAKE CITY — Aaron Swanenberg came from the funeral of his friend, Dillon Taylor, to join others on the street across from the Public Safety Building Monday to protest his death and demand answers from police.
"Dillon's being laid to rest as we speak," he said. "We deserve answers as a people. It's been a week, but they've still given us no answers."
Taylor, 20, was shot and killed by a police officer on Aug. 11 in the parking lot of a 7-Eleven store at 2102 S. State. His family has said he was not armed.
Police have not released the identity of the Salt Lake police officer involved in the shooting, which is being investigated by South Salt Lake police. They have not provided details about the shooting, namely whether Taylor was armed.
The protest and demand for transparency comes with the death of Michael Brown, an unarmed man who was shot and killed by an officer in Ferguson, Missouri, as a backdrop to the conversation on the militarization of police forces continues across the country.
South Salt Lake police spokesman Gary Keller said Monday he had no new information to release. He said the identity of the officer or officers involved have not been released for the protection of the officers and their families. But he would not elaborate on any threat.
Police previously said officers responded to a report of a man "waving a gun around." When police arrived, they found three men leaving the convenience store. One of the men, later identified as Taylor, reportedly matched the description of the man reported in a 911 call.
South Salt Lake Police Sgt. Darin Sweeten said three officers gave Taylor verbal commands to reveal his hands, but Taylor failed to comply and was "visibly upset." Taylor was subsequently shot and died at the scene.
Scott Simons organized Monday's protest, bringing signs that he's had since his daughter was killed in an officer-involved shooting Jan. 9, 2013. The shooting of Kelly Simons was determined to be justified by the Salt Lake County District Attorney's Office, which determined that she was fleeing from officers to avoid arrest and had been accused of using force against an officer just days before.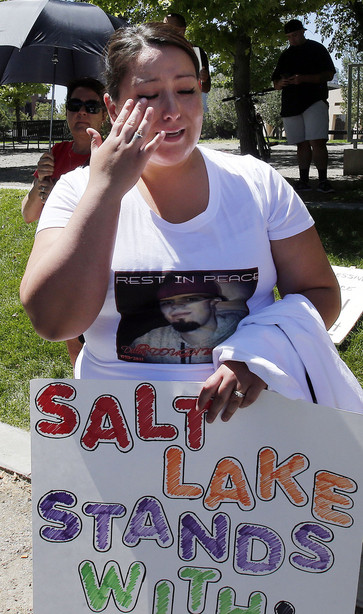 But Simons said he still doesn't understand why his daughter was killed in the incident. He said every time he hears of someone unarmed being shot by police, it reopens a wound and motivates him to continue his efforts to increase awareness.
"It's just crazy — unarmed people getting shot — it's just wrong, no matter how you slice it," he said. "The police have to be aware that people are starting to be more resistant to this. The whole country is becoming aware of this problem."
Marlee Kanosh drove from Cedar City to attend Monday's protest. She said she had always assumed that she could trust police, until her brother, shot Corey, was killed in an officer-involved shooting in October 2012.
"I had no idea this type of people existed until I became one of them," she said of the group of families who gather for their loved ones killed in officer-involved shootings.
Kanosh has watched the coverage of Michael Brown and the surrounding outrage with a level of frustration that some cases garner more of a public outcry than others, and because many Utahns ignore the issue in their own state.
"Utah needs to be aware that it goes on here, too," she said.
Kim Kasey was holding a sign she made that read: "Nothing to see here, Folks. Move along," which is how she interprets the police's response to Taylor's death. She said she lives near 2400 South and State Street, which is just a few blocks from where the shooting took place.
"It doesn't make me afraid in my home, but it does make me more wary of interactions with police," Kasey said. "We want a few answers. You're our cops. We want a little transparency."
She said she doesn't want to be afraid of police and hopes police officers will get more training. Kennedy Clark came to the protest with her 7-year-old daughter and questioned why officers don't use nonlethal means before drawing their guns. She, too, said she felt as though police weren't "giving us much information."
---
It doesn't make me afraid in my home, but it does make me more wary of interactions with police. We want a few answers. You're our cops. We want a little transparency.
–Kim Kasey, protester
---
"Mainly the reason I'm here is not just for him (Taylor)," Clark said. "I don't want this to happen to someone I love."
Keller said the release of information "takes some time" as detectives look for and interview witnesses and review their statements and other evidence. He said more information may wait until the Salt Lake County District Attorney's Office completes its investigation and makes its determination as to whether the shooting was legally justified.
"It remains to be seen," he said.
A call left at the office of South Salt Lake Police Chief Jack Garruth was not returned Monday. Salt Lake City Police announced that Chief Chris Burbank will make himself available for a general question and answer period Tuesday, but declined to address the issue Monday.
Burbank was scheduled to appear on "The Doug Wright Show" on KSL NewsRadio Tuesday at 10 a.m. Among the issues to be discussed is the militarization of police departments.
Contributing: Sandra Yi
×
Photos
Related Stories