Estimated read time: 6-7 minutes
This archived news story is available only for your personal, non-commercial use. Information in the story may be outdated or superseded by additional information. Reading or replaying the story in its archived form does not constitute a republication of the story.
SOUTH SALT LAKE — A man who was shot and killed by police Monday apparently wrote on his Facebook page last week that he would "die before I go do a lot of time" in jail.
Dillon Taylor, 20, died in the parking lot of a 7-Eleven store at 2102 S. State.
About 7 p.m. Monday, officers responded to a report of a man "waving a gun around," investigators said Tuesday. When police arrived, they found three men leaving the convenience store. One of the men, later identified as Taylor, reportedly matched the description of the man reported in the 911 call.
Three officers gave Taylor verbal commands to reveal his hands, but Taylor failed to comply and was "visibly upset," according to South Salt Lake Police Sgt. Darin Sweeten.
Taylor was subsequently shot and died at the scene.
Police would not say Tuesday whether Taylor was armed or what behavior led the Salt Lake police officer to shoot him. Family members, however, insist that he had no gun.
Taylor's brother and a cousin were with Taylor and were compliant with officers, Sweeten said. No arrests were made.
A warrant was issued for Taylor's arrest last week and the man had indicated on his Facebook page that he didn't want to go to jail.
The arrest warrant was issued Thursday for "failure to comply with probation," according to court documents. In a Facebook post from the same day, Taylor mentioned his difficulty with police.
Suicide prevention resources
If you or someone you know is struggling with thoughts of suicide, KSL encourages you to call the suicide prevention hotline at 1-800-273-TALK.
Crisis Hotlines
Utah County Crisis Line: 801-226- 4433
Wasatch Mental Health Crisis Line: 801-373- 7393
National Crisis Line: 1-800-784-2433
Trevor Project Hotline for LGBTQ teens: 1- 866-488-7386
Online resources
"I feel my time is coming soon, my nightmears are telling me. im gonna have warrnts out for my arrest soon. ALL my family has turned and snitched on me. ill die before I go do a lot of time in a cell," he wrote. "I feel like god cant even save me on this one ... this time coming its me and the demons im fighting."
Sweeten said it was unlikely that officers knew who Taylor was prior to the shooting or that he had a warrant.
Taylor's aunt, Gina Thayne, says she has taken care of Taylor and his siblings since their parents died five years ago. Although the family struggled, they had a close relationship, she said.
"It's really hard. It's been a roller coaster for the last five years with these kids," Thayne said. "It seems like every time they take two steps forward to try and straighten things up, they go three steps back. ... It's caused a huge hardship on this family once again."
Varying accounts
Witnesses at the scene gave varying accounts of Monday's shooting. Taylor's brother was with him at the 7-Eleven Monday night.
"We walked out of the 7-Eleven and the next thing we know, we're surrounded by cops," Jerrail Taylor said. "My brother had his headphones in and is walking away ... They finally surrounded him, he went to pull up his pants, and they killed him."
He says no one in the group was armed.
"All this complaining about one of us having a gun, I'm kind of lost at because none of us had a gun," he said.
Jerrail Taylor said the officers surrounded his brother and shot him twice in the chest.
One man said he heard two shots and said it appeared Dillon Taylor was fleeing when he was shot by officers. Police, however, would not confirm whether Taylor was trying to evade authorities.
"There's not any initial indication that he was necessarily fleeing," Sweeten said. "He was not complying with the officers' orders that they were giving him. It still needs to be investigated."
Rick Munoz said he saw police approach three men, then heard two gunshots.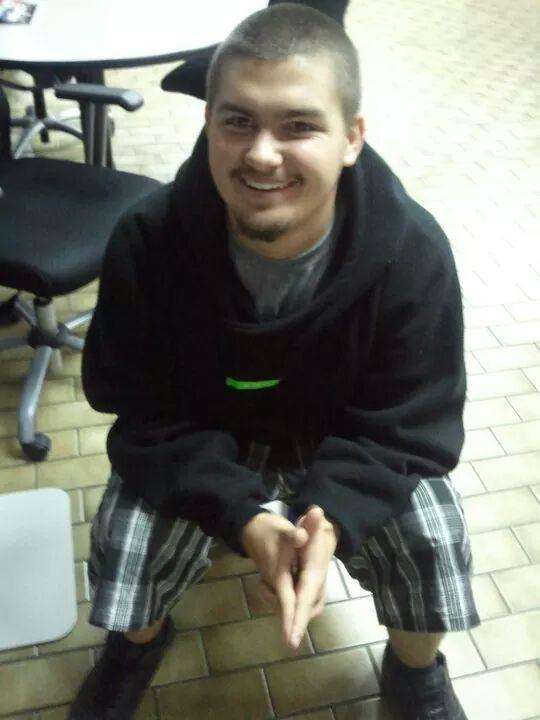 "They were obviously upset their friend had been shot and kept screaming for him to wake up, and he never did. He died in the parking lot," Munoz said. "They were saying he did not have a gun, and they were very upset because of that."
Munoz said he heard officers saying Taylor was reaching for his waistband.
Family saddened
Taylor's family said he was engaged and his fiancée was about three months pregnant. He had lived with different family members in recent months, but had moved to Salt Lake City about two months ago, according to his sister, Teesha Taylor.
The family described Dillon Taylor as cheerful and close with his three siblings.
"He'll go out of his way to make a bad time into a funny situation, cheer everybody up," Jerrail Taylor said. "He never meant no trouble."
"Dillon was a great kid," Thayne said. "He was really good with kids. He wasn't afraid to work."
Teesha Taylor said the family is deeply saddened by her brother's death.
"We've gone through a lot in our lives," she said. "We've struggled, we fought, but we all survived it. And now, one didn't survive.
"You got some crooked cops. But you also have the good cops," she added. "At this moment, I don't want to believe that there's good cops, but there is. It's so hard for me to believe it because one just killed my brother. I know in the bottom of my heart there's good officers. It's just devastating."
Robert Taylor, Dillon Taylor's uncle who lives in Pocatello, issued a statement Tuesday.
"Last night's shooting was a tragic event for all the parties involved. My nephew was a troubled young man with a history of depression, alcohol abuse and run-ins with law enforcement," he said. "Law enforcement has a difficult job, and it appears Dillon's actions may have contributed to his death.
"While I'm disturbed by the use of deadly force while other non-lethal tools are available to law enforcement, it's difficult for anyone to judge the actions taken by police in a split-second, life-or-death situation. I hope everyone will withhold judgment about Dillon and the police officers' actions until a full investigation is completed."
Nearly 100 people braved the rain Tuesday evening to return to the site where Dillon Taylor died, somberly placing candles and flowers around a makeshift memorial. Many donned white memorial T-shirts, proclaiming "RIP Dillon Taylor" around the man's picture.
Criminal history
Taylor pleaded guilty in 2012 to robbery and obstructing justice, second-degree felonies. A theft charge was dismissed the same year.
In one case, Taylor and another person entered a restaurant and took a tip jar before driving off with two other people. About an hour later, the group reportedly stole a 30 pack of beer at a convenience store. A witness approached the group before they drove off, and Taylor looked at the witness and said, "Don't be a hero (expletive), or I'll (expletive) shoot you," according to charging documents.
The following month, Taylor reportedly threatened a member of the group he was with during the incidents, telling him: "If I see you, your wife, or your daughter, I'll shoot on sight," which constituted obstructing justice, court documents state.
From 2012 to 2013, Taylor served two terms in the Salt Lake County Jail amounting to about 14 months, according to the Salt Lake County Sheriff's Office.
Three Salt Lake police officers were placed on paid administrative leave pending the outcome of shooting investigations. The South Salt Lake Police Department, the Salt Lake County District Attorney's Office and the Salt Lake Police Department are investigating.
Contributing: Andrew Adams, Sandra Yi, Peter Samore
×
Photos
Related stories
Most recent Utah stories