Estimated read time: 3-4 minutes
This archived news story is available only for your personal, non-commercial use. Information in the story may be outdated or superseded by additional information. Reading or replaying the story in its archived form does not constitute a republication of the story.
MURRAY — The line for the fresh-cooked breakfast Sunday at the Wasatch Front Farmers Market at Wheeler Historic Farm never seemed to get any shorter as people waited patiently for plates piled high with locally sourced food.
"It usually goes faster," Bernadette Greenwood said as she finally neared the front of the line.
Her chihuahua, Ava, appeared alert to the smells of eggs, home-fried potatoes, sausage, bacon and sweet treats being prepared just ahead.
For Greenwood and her husband, Greg, the three-year-old weekly market is an opportunity to spend time in the sprawling Salt Lake County park with their dogs, Ava and Austin, a German shepherd.
"It's more like a social thing for us, a way to socialize our animals," Greenwood said. But she said they won't leave the rows and rows of food and crafts booths empty-handed. "We'll buy a few things."
Sunday was the start of National Farmers Market Week, marked by Utah Commissioner of Agriculture and Food LuAnn Adams at the market at Wheeler Historic Farm.
"This just knocks your socks off. I'm just amazed at the turnout on a Sunday," Adams said, telling the crowds strolling through the market that not only were they supporting local producers, they were helping keep the economy strong.
According to the department, direct sales from farms to consumers including farmers markets added up to $15.9 million in 2012, an increase of nearly 58 percent from 2007.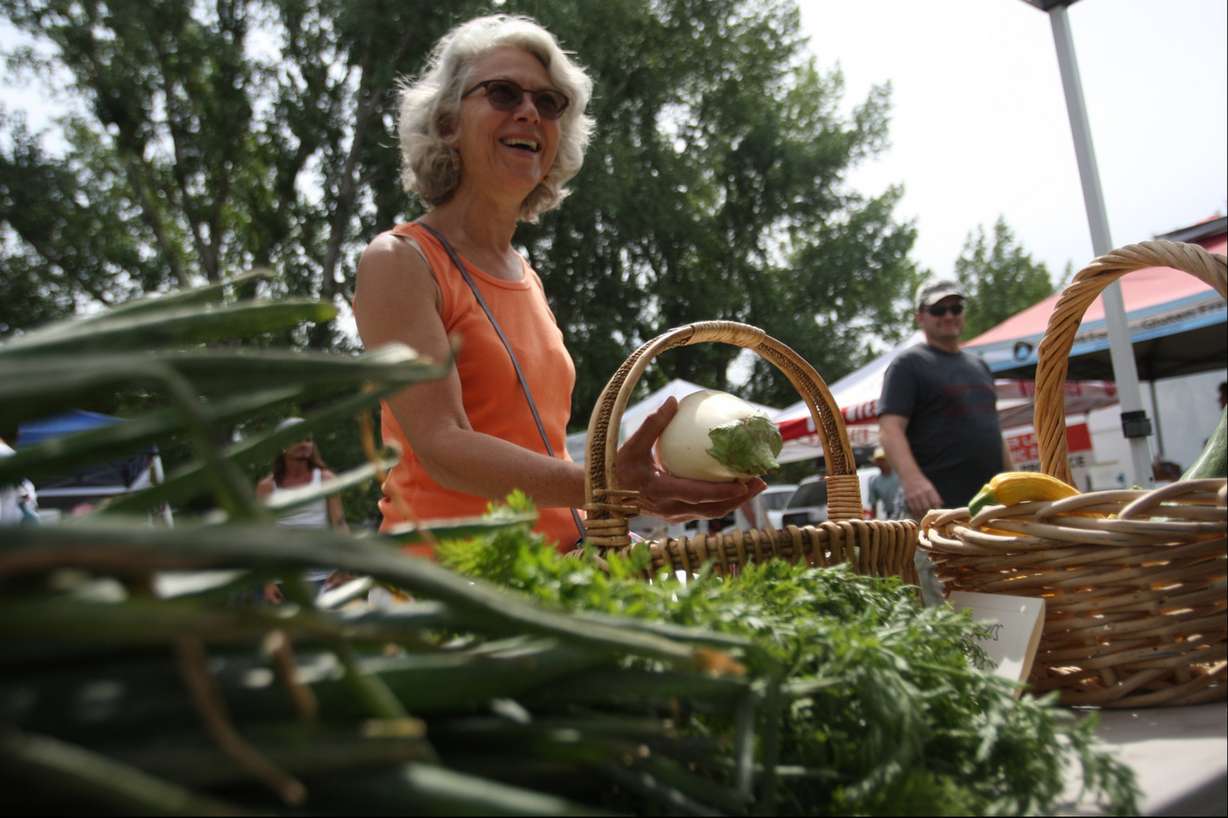 Thayne and Cari Tagge, known for their Brigham City peaches and Willard Bay blackberries, said they started selling at the area's first farmers market some 30 years ago.
Now their farms and fruit stands provide jobs for some 140 teenagers, Thayne Tagge said, and there are 45 farmers markets. He said he can make twice as much selling his produce retail while ensuring customers get the fruit at its freshest.
"You benefit," Thayne Tagge told the farmers market customers. "We're going to bring our best produce." And their best price, he said, "because we're in a competitive market."
By midday, Bryan and Dawn Cannon already had a reusable shopping bag filled with fruit, salsa, orange juice and fudge as they finished ice cream cones dripping in the heat.
"We come a lot," Dawn Cannon said. Not only does the family get farm-fresh produce and other local items, their children "get to see the people that grow the food."
But son Christian Bero, 12, said what he liked best at the market was the fudge. He said he had no interest in emulating the tastes of his brother, Alex Bero, 8, who prefers fresh fruits and vegetables. "Never gonna happen," Christian said.
Julian Lustri, 7, got even closer to where food comes from when he carefully cradled a chicken in his arms at the market's petting zoo. The boy beamed as his mother, Lacee Bradford, captured the moment on her cellphone camera.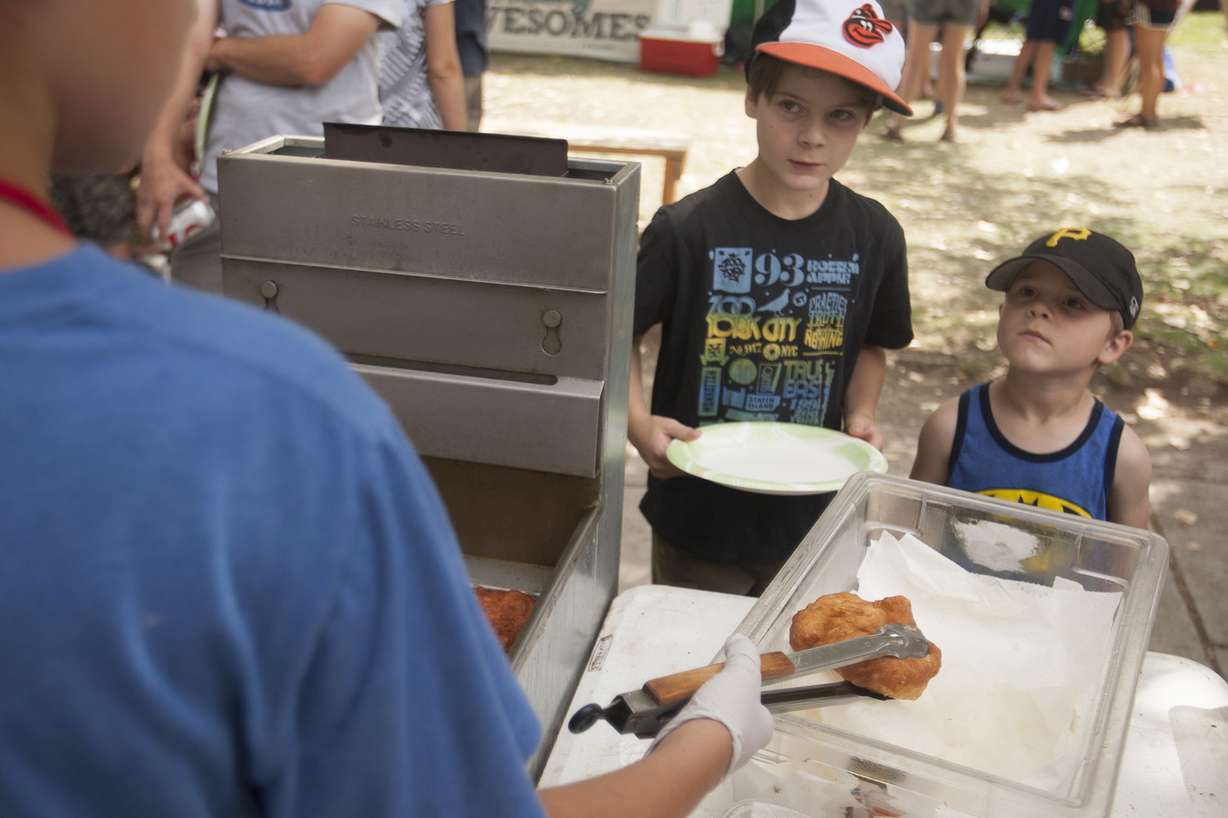 "Fun," he said shyly when asked to describe his first experience getting close to a farm animal before turning his attention back to the chicken coop. Nearby, other children played in a pen of baby animals, including goat kids.
"It's a great experience for people to be on a farm, at a farmers market," said Maryann Alston, founder and director of the Wasatch Front Farmers Market, also held at Thanksgiving Point and Gardner Village on Saturdays.
Alston said the Sunday market, held 9 a.m. to 2 p.m. through October, started with 60 vendors and now has more than 130. Her husband, Marty, is in charge of the popular breakfast booth.
The booth will go through 60 dozen eggs, 45 pounds of bacon, 30 pounds of sausage, 100 pounds of potatoes and much more food every Sunday, Marty Alston said as he flipped eggs and added peppers and onions to the home fried potatoes.
"It's rough," he said of he and the others who man the hot grills that stay busy nonstop while the market is open. "At least we're in the shade."
×
Photos
Most recent Utah stories