SALT LAKE CITY — The Church of Jesus Christ of Latter-day Saints is in the process of transferring and reassigning all its missionaries out of Sierra Leone and Liberia, following the outbreak of the Ebola virus.
The virus has killed more than 700 people in Guinea, Liberia and Sierra Leone this year, according to the Associated Press. The outbreak has also affected two aid workers from the United States, Dr. Kent Brantly and Nancy Writebol, who worked for a U.S. missionary group. Thursday, the United States issued a travel advisory to the African countries. No missionaries had reported illness, the LDS Church said.
Ebola virus is transmitted to people from wild animals, and spreads through human-to-human transmission through contact with blood, secretions, organs or other bodily fluids of those who are infected, according to the World Health Organization. The incubation period is between two to 21 days, and symptoms include sudden fever, weakness, muscle pain, headache and sore throat, followed by vomiting, diarrhea, rash, impaired kidney and liver function and in extreme cases, internal and external bleeding.
Friday, the LDS Church released a statement saying it had taken measures in recent weeks to reduce missionaries' risk of exposure to the virus, "including asking them to remain in their apartments."
Church spokesperson Jessica Moody also said it had begun the transfer process of its 274 missionaries serving in the area as a precautionary measure. Of those missionaries, 157 were from African countries and 117 were from the U.S. and Canada. Families will be notified as missionaries arrive at their new assignments.
"This is a very challenging situation for the missionaries, members, and citizens of these countries and like other organizations we are taking every practical step to reduce risk," the church said in the statement.
Jennifer Rindlisbacher's son, Tanner, is currently at the Missionary Training Center in Ghana. Once he finished his training, he was supposed to serve his mission in Sierra Leone. He is one of three missionaries in the MTC will be transferred as a result of the Ebola outbreak.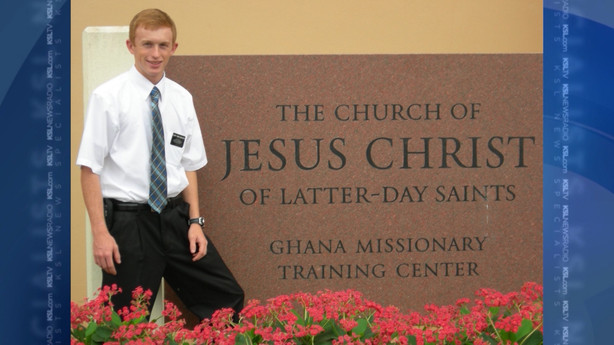 When Jennifer first learned her son was going to serve in Sierra Leone, Ebola was already a concern in that area.
"You just had to really trust in that the Church would look after them like they would (their) own children," she said.
Jennifer said her son already had a love for the people in Sierra Leone that he thinks Africa is "amazing." She adds that her son will be happy to server wherever he goes.
"As long as he obeys the rules and does what he's supposed to be doing, we really aren't that concerned," said father Brian Rindlisbacher.
Elder Rain Price has been serving in Liberia for 10 months, and he is one of 274 missionaries already serving in the area that will be transferred to different missions. His father, Dale Price, said his son will be sad to leave.
"He would mention the areas that that Ebola was, and he said he actually like to work in those areas," Price said. "He said it was just kind of part of what he was there to do."
Price said the news that the Church decided to move missionaries isn't a surprise, and it "verifies that the church really is on top of things."
×
Photos
Related Stories