Estimated read time: 5-6 minutes
This archived news story is available only for your personal, non-commercial use. Information in the story may be outdated or superseded by additional information. Reading or replaying the story in its archived form does not constitute a republication of the story.
Sonya Dinsdale constantly worried about high blood pressure. With a demanding job as a program manager at the University of Utah School of Medicine and a family history of hypertension, Dinsdale wondered if she was doing enough to keep tabs on her blood pressure so it wouldn't turn into a serious health problem in the future. She spoke with her primary health care provider regularly about her concerns, but felt like she needed to do more.
clinic.php& sponsor=uofu-cardiojuly-body1), where she met Theophilus Owan M.D., a cardiologist who started a more in-depth conversation with Dinsdale about how to her manage hypertension long-term. A thorough interview on Dinsdale's sleeping patterns, eating habits, exercise routines along with several other questions helped Owan's team get an idea for what areas Dinsdale could improve upon.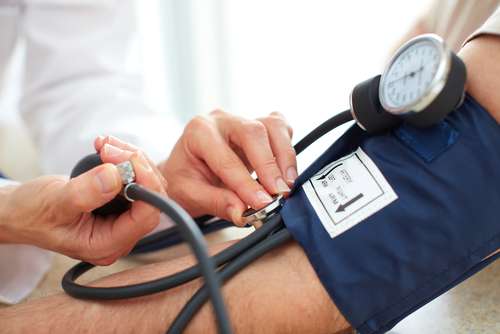 "The wonderful thing about this clinic and Dr. Owan is is that he is such a personable and wonderful doctor. He talked to me about blood pressure and what levels are normal," said Dinsdale. "He really put my mind at rest."
After her appointment she started keeping a log of her blood pressure and saw it drop within a few weeks —a development she credits to great advice she received from Owan on how to limit stress.
"Now I have peace of mind because I know I have been examined and I've seen an expert, I don't have to worry about my blood pressure. I can feel that I'm calmer," she said.

Care for High Blood Pressure Health care providers at University of Utah Health Care realize how much impact high blood pressure (also called hypertension) can have on your health. At the Hypertension Clinic, located in the Cardiovascular Center, we treat this condition and help patients monitor chronic high blood pressure. Services
Individual evaluation - Whether you are referred by your primary care physician, another specialist, or have personal concerns about your blood pressure, the evaluations provided by the hypertension clinic are designed to present you with your best options for treatment.
24-hour ambulatory blood pressure monitoring studies - These studies give physicians the best information about your blood pressure from overnight changes to morning surges. They also provide the most accurate estimation of true blood pressure currently possible.
Home blood pressure monitoring training - Your physician can help you learn to monitor your blood pressure at home or outside of the clinic.
Patients like Dinsdale are a regular part of Owan's work at the Hypertension Clinic, a multi-specialty clinic that is part of the University of Utah Health Care's Cardiovascular Center. While many health care providers can provide insight into managing hypertension, the Hypertension Clinic is unique in its approach of housing specialists from internal medicine, endocrinology, nephrology, vascular surgery, and cardiology in one clinic to advise patients on the best ways to deal with high blood pressure.
Health care professionals at the Hypertension Clinic also conduct research, which avails patients the most cutting-edge advances in treatments for hypertension—and sets the University of Utah apart from other health care providers in the region in its role as an academic medical center.
Approximately 78 million Americans currently have high blood pressure, commonly known as the "silent killer" because people too often live without realizing they have a problem until a catastrophic event strikes, said Owan.
"People need to know their blood pressure and have a conversation with their health care provider about what their numbers mean," he said. "The best prevention for more serious health problems is taking precautions when it comes to your current health."
Blood pressure, measured with a blood pressure cuff around an arm or leg, is the force of the blood pushing against the artery walls. Two numbers are recorded when measuring blood pressure: Systolic pressure and diastolic pressure. The higher number, or systolic pressure, refers to the highest pressure inside the artery. It occurs when the heart contracts and pumps blood out to the body. The lower number, or diastolic pressure, refers to the lowest pressure inside the artery. It occurs when the heart relaxes and fills with blood.
Each time the heart beats, it pumps blood into the arteries, resulting in the highest blood pressure, the systolic pressure, as the heart contracts, and the lowest blood pressure, the diastolic pressure, as the heart relaxes.
Hypertension, or high blood pressure, means that there is higher than normal pressure inside the arteries either during systole (when the heart contracts and pumps blood through the body), or during diastole (when the heart relaxes and fills with blood.) If the pressure is high during the pumping phase (systole), then the first number recorded with a blood pressure reading (the systolic pressure) will be high. If the pressure is high during the relaxation phase (diastole), then the second number recorded (the diastolic pressure) will be high.
Owan noted that a number of factors can influence a person's blood pressure, including age and weight. The time of day also influences blood pressure, as blood pressures fluctuate during waking hours, and are lower during sleep. It is usually higher during and immediately after exercise, and lower at periods of rest. Also, feelings such as fear, anger, or happiness can affect the blood pressure. Other illnesses, including kidney disease or heart disease, affect blood pressure, as can certain medications a patient may be taking.
For those concerned about blood pressure, an initial consultation with a physician at the Hypertension Clinic may be a useful diagnostic tool, said Owan. For more information and to make an appointment, call 801-585- 7676. It was a call Dinsdale is still glad she made.
"They've spent their lives studying the heart and heart failure. They've done fellowships and years of years of training," she said of the staff at the Hypertension Clinic and their approach to hypertension. "They can explain it." Learn more about blood pressure by taking University of Utah Health Care's blood pressure quiz:
Check out other Ask an Expert articles here.

Melinda Rogers is a communications specialist at the University of Utah Health Sciences Office of Public Affairs.
×
Most recent Utah stories