Estimated read time: 4-5 minutes
This archived news story is available only for your personal, non-commercial use. Information in the story may be outdated or superseded by additional information. Reading or replaying the story in its archived form does not constitute a republication of the story.
SARATOGA SPRINGS — Each night as Tambi Wunderly holds her 3-year-old son, she takes every second she can to cuddle with him before sending him to bed in his room downstairs. He reaches out to her, crying to be tucked in. She reaches back with a broken heart because she can't do it.
Wunderly has multiple sclerosis (MS); and due to a recent flare-up of the disease that has left her wheelchair-bound — and maybe permanently this time — the mother of four finds herself unable to do many things most mothers take for granted.
Wunderly's battle with MS began at the age of 17, following a head injury. Soon after, she experienced a series episodes where she would be paralyzed from the waist down. Each time this happened, Wunderly would go to the hospital and have some tests run only to find a few new spots, be told they were a result of her head injury, and then be sent on her way.
After each period of paralysis, Wunderly would exercise and train her body to walk again. "I always got back to about 90 percent normal, Wunderly said. "The doctors would then tell me to be careful and not bump my head again."
Aside from a few episodes, Wunderly went on living life normally, even marrying her high school sweetheart in 2003. It wasn't until 2007, when she was expecting her second child, that she got the diagnosis of MS.
"Because I was pregnant, the doctors were unable to do the extensive MRI scans they had done in the past, so they had no choice but to do a spinal tap," Wunderly said. "When the results came back, the neurologist gave me the news."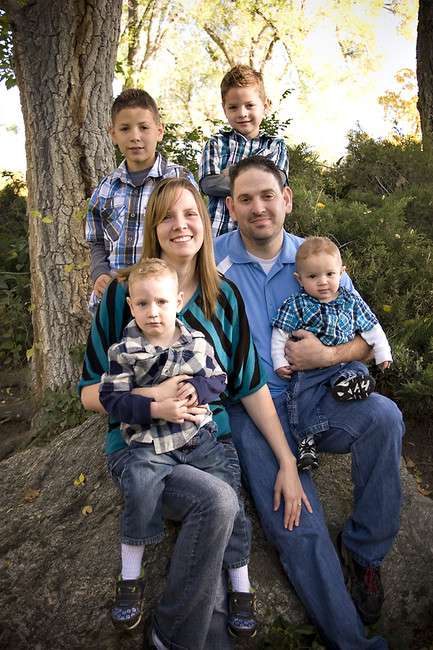 As difficult as it was for her to hear, Wunderly was relieved to finally have an answer. Furthermore, she knew she was not alone. Her older sister had been living with MS for years, and her younger sister was also going through her own diagnosis at the same time.
"I knew I had a great family support system because we had all seen my older sister overcome the obstacles of MS," Wunderly said. "However, it was hard to figure out why my sister's MS just affected one side of her face, and why my MS made me not walk. I couldn't understand why I got MS, and why it took so much determination to recover from the episodes."
Wunderly has taken it all in stride and has been determined not to let the MS control her — and more importantly, not affect her children.
However, with the most current MS exacerbation happening in March, Wunderly is finding it more difficult to bounce back. After meeting with her neurologist, she was informed that her MS had spread and the doctor was not hopeful of her having a full recovery this time. She may be wheelchair-bound permanently.
With mounting medical bills, an inadequate wheelchair and no ramp access to her home, the family was in need of some help.
Nate Burnham, a Boy Scout living next door, stepped in to help. After getting several price quotes, he found he will need about $1,000 to build a ramp on the outside of the Wunderly home. Nate will organize and provide the labor for free, but he needs help with the costs of materials.
If you would like to help the Wunderly family, an account* has been set up at Mountain America Credit Union under "Eagle Scout Tambi's Ramp Account." People can also contact Donna Burnham at dburnham@gmail.com.
The annual Walk MS, which benefits Tambi and others with MS, will be held on April 26. Information on the fundraiser can be found by visiting the Walk MS website.
----
*KSL.com has not verified the accuracy of the information provided with respect to the account nor does KSL.com assure that the monies deposited to the account will be applied for the benefit of the persons named as beneficiaries. If you are considering a deposit to the account you should consult your own advisors and otherwise proceed at your own risk.
---
![](http://media.bonnint.net/slc/2505/250517/25051768\.jpg)

About the Author: Arianne Brown -------------------------------

Arianne Brown is a mother of six who loves running the beautiful trails around Utah. For more articles by Arianne, "like" her Facebook page, follow her on Twitter @arimom5, or visit her blog, timetofititin.com. If you have a story to share, contact her at ariannebrown1@gmail.com.

×
Photos
Related links
Related stories
Most recent Utah stories