Estimated read time: 4-5 minutes
This archived news story is available only for your personal, non-commercial use. Information in the story may be outdated or superseded by additional information. Reading or replaying the story in its archived form does not constitute a republication of the story.
SALT LAKE CITY — When Sue Boerke was preparing for the birth of her first child, she felt delivering at home would be the best fit for her family.
After researching the options, she decided a home birth would give her the most control over what would happen while allowing her to develop a relationship with her midwife. Boerke recently welcomed her daughter into the world surrounded by friends and family.
"It was amazing to do at home because I walked around the block, I ate whatever I wanted, I sat, I stood, I laid down, I went to take a bath," she said. "You kind of have free rein. Being in the comfort of your own home is amazing because I think you're just less stressed being there in a familiar environment."
Boerke is part of a growing trend of women choosing to have babies at home. The number of women opting to give birth outside of a hospital is at a 37-year high in the U.S., including mothers in Utah, according to a recent study.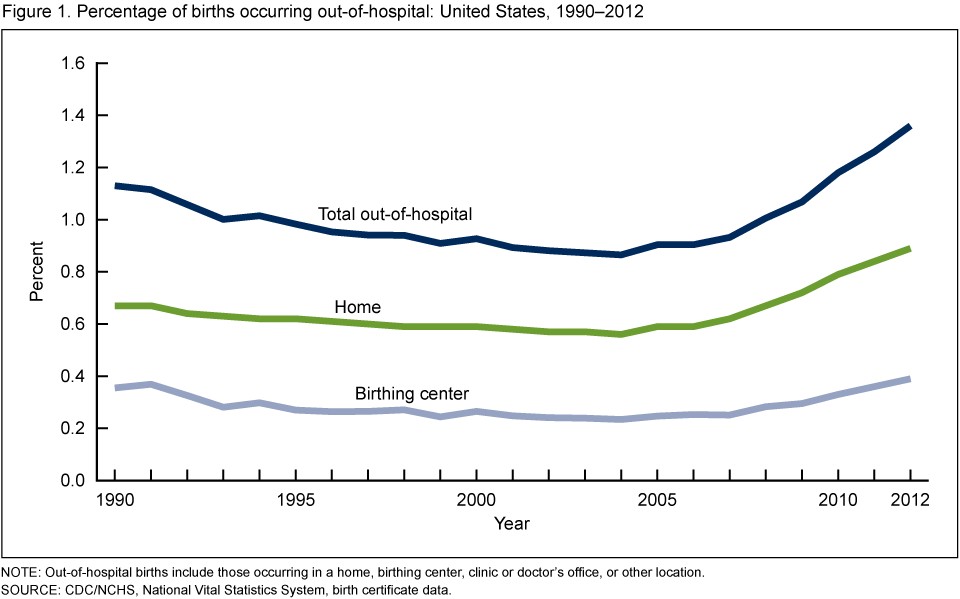 The number of births that occur outside of hospitals has been steadily increasing since 2004, according to a study from the Centers for Disease Control and Prevention. Between 2 and 3 percent of all births in Utah took place outside of a hospital in 2012, researchers found using data from the National Vital Statistics System.
An average of 865 home births occurred in Utah each year from 2010 to 2012, according to birth certificate data from the Utah Department of Health. Some of those births were unplanned, but others involved the help of a midwife.
Certified nurse-midwife Tiffany Lundeen, the resident expert on home and birth center research at the University of Utah College of Nursing, said she believes the demand for home birth has probably remained constant over the years, but that changes to the Utah licensing statute for direct-entry midwives in 2007 made more midwives available because they could practice confidently without the threat of legal prosecution.
"I think women became aware of this change and felt more comfortable," she said.
Based on other studies on home birth from countries like the Netherlands, where the practice is more common, Lundeen estimated a third of all women would qualify for a home birth, according to strict criteria. Conditions where a woman would not qualify for a home delivery by a licensed midwife include pregnancies where there are twins or a baby in a breech position.
Related Story
Those considering a home birth should research all the options available and be willing to transfer to a hospital if something goes wrong, Boerke said.
"It's not for everybody, for sure," she said. "You have to understand what's going to happen and that's just through education and having that trusting relationship. That was probably the biggest thing — trusting my provider, that she would take care of me and she knew exactly what she needed to provide for me to make sure it was safe."
To make out-of-hospital births in Utah even safer, Lundeen said women who choose to have a home birth should do the following:
Accept that there are conditions that can develop in labor that will necessitate transfer to the hospital, and they should not resist a transfer when the midwife recommends it.
Accept that a safe transfer rate to the hospital, according to many studies demonstrating the safety of home birth, is at least 11 to 12 percent (most are having their first-ever vaginal birth).
Be open to interventions available in the hospital.
Expect that the midwife would accompany her client to the hospital in the case of necessary transfer and stay with the woman during her hospital birth.
Expect the midwife to belong to a community of providers — other midwives and doctors — with whom she/he can ask questions, receive professional advice and participate in peer review and quality improvement.
For midwives to provide safe services to their clients, Lundeen said they should:
---
It's not for everybody, for sure. You have to understand what's going to happen and that's just through education and having that trusting relationship (with your provider).
–Sue Boerke
---
Have an intrapartum (during labor) transfer rate close to 11 percent.
Accompany clients to the hospital to facilitate the best care and always bring along prenatal records.
Strictly follow safety protocols; for example, not attempting to induce labor with interventions that are risky to use even in the hospital.
Belong to a community of providers with whom he/she can participate in peer review and quality improvement.
Have all medications on hand that could be useful in an emergency; for example, magnesium sulfate to administer intravenously in case of an eclamptic seizure (on the way to the hospital).
Lundeen said when there are bad outcomes after families planning home or birth center births transfer to the hospital, it is usually because there was mistrust or miscommunication between parents and providers. The best outcomes are when hospitals and midwives work together in an integrated system, she said.

She suggested hospital providers should make it possible for midwives who help in home births to obtain hospital practice privileges, so women can have continuity of care no matter the birth setting, and do everything possible to facilitate a smooth transfer into the hospital.

×
Related links
Related stories
Most recent Utah stories