Estimated read time: 3-4 minutes
This archived news story is available only for your personal, non-commercial use. Information in the story may be outdated or superseded by additional information. Reading or replaying the story in its archived form does not constitute a republication of the story.
SALT LAKE CITY — Crowds were in line for hours to get tickets for the event with demand so high the volume of requests crashed Kingsbury Hall's website and phone system.
He was described as "the scientific equivalent of a rock star" by Ruth Watkins, the University of Utah's senior vice president of academic affairs.
Astrophysicist Neil deGrasse Tyson, host of the "Cosmos" reboot on Fox, spoke to a crowd of almost 2,000 assembled Wednesday in Kingsbury Hall at the University of Utah. Three overflow locations on campus were filled to capacity with 1,200 people.
"Who's old enough to remember when we used to dream about tomorrow?" Tyson asked the audience.
He spoke about the curiosity that existed in the United States in the 1960s, how people talked about the cities, food and lives of tomorrow that "came to a crashing stop" in the 1970s when America stopped going to the moon.
Tyson talked about what he called the rise and fall of science. He brought up the Golden Age of Islam, between the eighth and 11th centuries, when algebra, algorithms and Arabic numerals were invented.
Things changed in the 11th century, not only when Mongols came through but when Imam Hamid al-Ghazali began writing that all things would be controlled by divine rules, he said.
Tyson talked about how al-Ghazali's writings influenced those who read them to believe that anything that happened was something divinely caused, instead of being the product of some external force.
"The God-willing part substitutes for curiosity, and so the natural world became the will of God instead of something you don't understand and you want to go figure out," he said.
The lack of Islamic reliance on science "affects the world to this day," he said.
Tyson said he's concerned about the future of American progress as well. He showed a map that indicated which countries lead in research currently and projections for 10 years in the future. It showed the United States going from a major leader to shrinking in 10 years.
"I don't recognize America today," he said.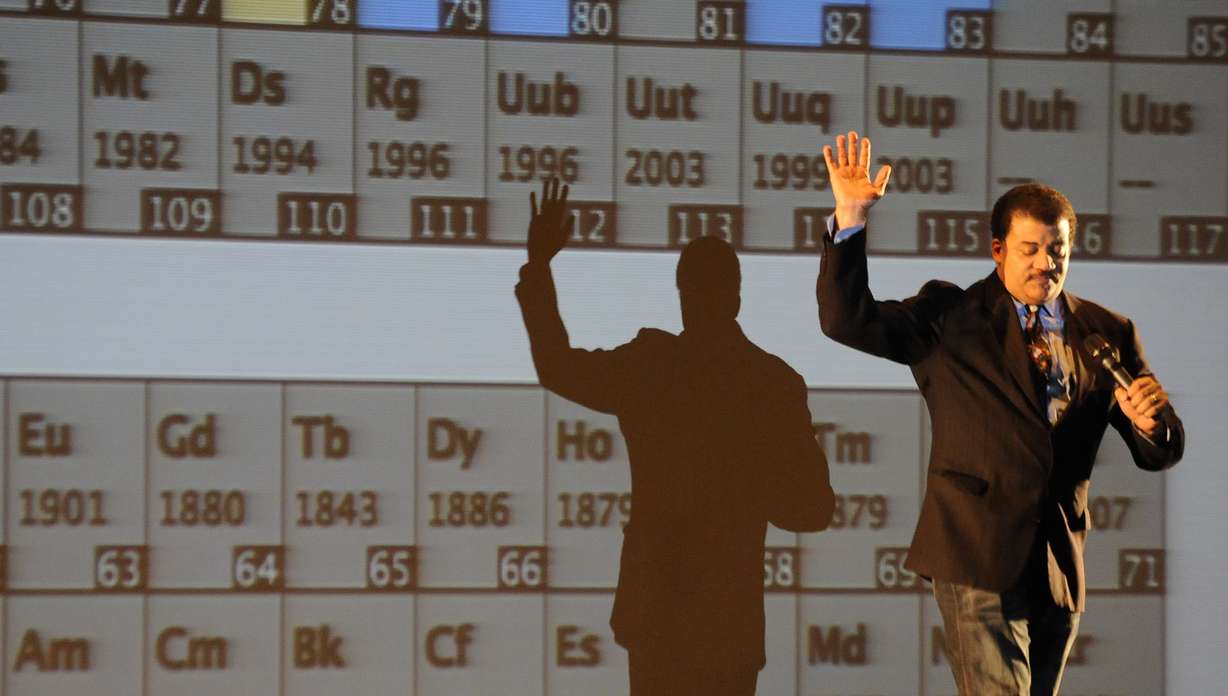 "Cosmos" attempts to reignite the nation's curiosity about science.
"It's a baptism into the world of science with very high-profile graphics. It's to remind you how science works," he said.
Tyson ended his lecture with a picture from Saturn showing Earth as a speck in the universe. He spoke about what he called the "blue dot."
"Our planet is a lonely speck in the great enveloping cosmic dark," Tyson said.
It is up to those on Earth to find ways to preserve the planet and life on it, he said.
"It underscores our responsibility to deal more kindly and compassionately with one another and to preserve and cherish that pale blue dot — the only home we've ever known," Tyson said.
He said it is important to elect those who "recognize the value of science."
University of Utah astronomy and physics professor Dave Kieda said Tyson is able to make science appealing and engaging to wide audiences and does not belittle people when addressing their questions.
"There's a … moral imperative to open people's minds to the world," Kieda said. "Our role in society is to lift and to elevate people and to explain clearly" how the science in the world works.
It's a charge Tyson seems to take seriously in his work as a television host and author, and through his work and educational outreach with the Hayden Planetarium and American Museum of Natural History in New York, as well as his work on national and NASA commissions.
It was also evident in his treatment of his Utah audience Wednesday.
Before his lecture, Tyson met with honors undergraduate students, graduate students and faculty. After his two-hour lecture, he fielded questions from attendees for 45 minutes.
"I'm going to do two more and then the last question," he stalled.
Afterward he signed books for those present.
Contributing: Richard Piatt
×
Photos
Related stories
Most recent Utah stories