Estimated read time: 3-4 minutes
This archived news story is available only for your personal, non-commercial use. Information in the story may be outdated or superseded by additional information. Reading or replaying the story in its archived form does not constitute a republication of the story.
SALT LAKE CITY — Pancakes have a history steeped in unleavened intrigue. But that's a story for another article.
In and around Utah's capital city, pancake seekers have a bevy of choices for some seriously good eating. Some popular pancake houses have been around for decades while others are newer to the scene. If you're looking for some tasty pancake choices, check out these five flapjack joints.
Well worth the drive up Emigration Canyon, Ruth's Diner has been a staple for good home cooking since 1930. Folks flock to the old trolley car for homemade jam, world-famous biscuits and, most pertinent for this article, amazing breakfasts.
Try Ruth's buttermilk pancakes for a truly tasty way to start the day. Add some warmed maple syrup and a generous dollop of butter (if you are the butter-shy type, ask for it on the side) and you'll be won over by the simple deliciousness of this traditional favorite.
During the summer months, take your pancakes on the patio and enjoy the views of the canyon and sound of rustling leaves. Ruth's is a must-visit for anyone in the Salt Lake area who wants to get back to basics and experience pancakes in their most basic and mouth-watering form.
4160 Emigration Canyon Road
801-582-5807
Penny Ann's has become the go-to place in Salt Lake for some of the best pancakes around. Many who know these flapjacks say they are best with or without syrup, and can stand on their own sans topping.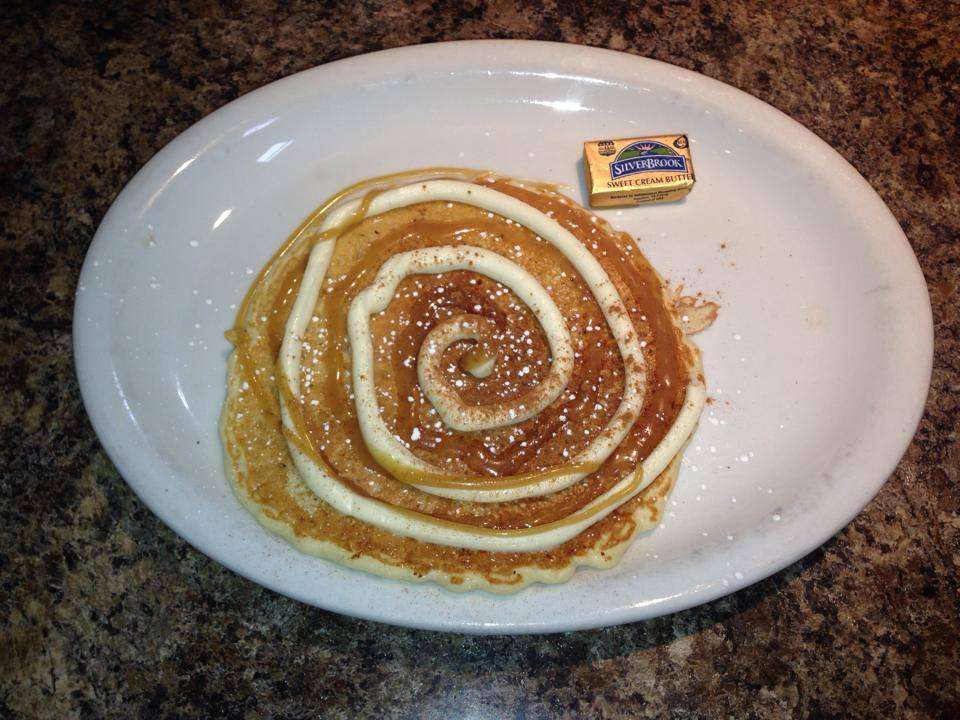 Fluffy and light, Penny Ann's Cafe cooks up its pancakes with sour cream. Dubbed the "Heavenly Hot Cakes," the wait for these mouth-watering cakes can be long on weekends, so plan accordingly.
For the bold and brave, try the "Pancake Sandwich"; three strips of bacon and two eggs housed between two pancakes, topped with butter and Vermont maple syrup.
1810 S. Main Street
801-935-4760
Known for its seriously mouth-watering breakfasts, Blue Plate Diner serves up pancakes all day for those who like pancakes for lunch, dinner or anytime in between.
Prospective pancake purchasers can order up a regular stack of flapjacks or grab the vegan option. Toppings for purchase include bananas, blueberries, strawberries, walnuts, chocolate chips, pineapple or coconut. For those who like a simpler fare, regulars say the pancakes need little else than just a bit of butter and maple syrup.
2041 S. 2100 East
801-463-1151
#Poll
Eggs in the City is more than just a restaurant; it's become a sort of community within itself, serving a group of eager regulars who come to socialize and partake of all things eggs and tasty.
Serving up straightforward and simple food, Eggs in the City is known for its breakfast selection, and most notably, the banana pancakes. Served up with syrup and butter, a stack of three of these beauties will put you in carb heaven.
1685 E. 1300 South
801-581-0809
Located across the street from Liberty Park in downtown Salt Lake, The Park has become a hip place for breakfast and lunch in recent years. Those who frequent The Park rave about the taste to cost ratio, citing it as one of the best values for the yummiest breakfasts in Salt Lake City.
Pancakes from The Park are served in four ways; buttermilk, multi-grain, blueberry or banana. For those with a hefty appetite, seek out the full stack, costing an affordable $5. The Park also offers a pancake sandwich of its own, featuring four slices of bacon and two eggs sitting between two pancakes
604 E. 1300 South
801-487-1670
.
×
Related links
Related stories
Most recent Utah stories